Over the last few days, it's like the national media metaphorically pinched a garden hose together so that nothing could come out, and when they let go, a bunch of really good Chip Kelly articles burst out at once. OK, so not really. There were only two, but they were both very well done.
• First from Chris Brown of Grantland, who wrote about how Chip Kelly is influencing what teams are doing to try to catch up to Chip's innovations, league wide.
When the Philadelphia Eagles hired Chip Kelly away from Oregon in January 2013, they thought they were getting a coach who'd field an innovative offense run at a madcap pace. What they probably didn't realize, and what the rest of the league surely didn't know, was that they were also getting a coach who intended to rethink much about how NFL teams operate, from huddling (why bother?), to traditional practices (too much wasted time), to player nutrition habits (bye-bye, Andy Reid's Fast Food Fridays).
Outstanding read. Check out the whole thing.
• Seth Wickersham of ESPN also had a terrific piece about Kelly. Wickersham's major theme was showing how Eagles players have bought in to Kelly's ways, from the perspective of a star player (LeSean McCoy). Simultaneously informative and entertaining read:
When McCoy struggles, he tends to dance in the backfield. Nothing angers Kelly like throttled speed, and it boils to the surface against the Bucs on Oct. 13 when McCoy is slow to an opening.
On the sideline, Kelly unloads: "Hit the damn hole, Shady!"
"There was no damn hole!"
"Shut up!"
McCoy heads to the bench. But he can't let it go. He brings Kelly a photo of the play and says, "Do you see a hole?"
Kelly returns to the game, and McCoy returns to wondering whether he can coexist with his coach.
But in the team meeting the next day, Kelly says something the players have never heard so explicitly from a head coach: "Shady and I got into it, and I was wrong."
• McCoy also said that Kelly is harder on him than Andy Reid was, via Eliot Shorr-Parks of nj.com:
"Coach (Kelly) pushes me to the max more than any other coach I've been around," McCoy said. "Coach (Andy) Reid, he pushed me hard, but once I kind of got to a point, he let the veterans go a little bit. Chip is constantly on me."
• And from Sheil Kapadia of Birds 24/7, McCoy stated that he wanted to rush for 2,000 yards this season, a proclamation Chip Kelly dismissed:
Chip Kelly was asked today what he thinks about LeSean McCoy's chances of gaining 2,000 yards this year.
"I don't care," Kelly said. "I really don't care, and he knows that. And I've told him that. All we care about is: Are we winning football games? So we've never been driven by individual statistics, and he understands that. But if you ask him if he'd rather win a football game and run for 50 yards… or run for 200 yards and lose a football game, he'll tell you he'd rather run for 50 and win a game."
McCoy Tweeted about his quest for 2,000 yards recently, but clarified today that it was just part of a promotional campaign.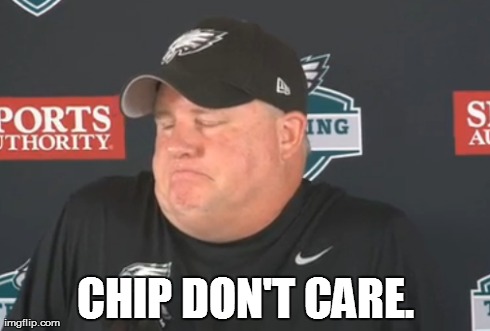 In case you missed it at the Red Zone:
• Patriots NT Vince Wilfork said Jason Kelce is one of the best centers in the NFL.
• Are there really even any noteworthy camp battles left?
Follow Jimmy on Twitter: @JimmyKempski