Alex Henery is going to win the kicker competition over Carey Spear (AKA "Murderleg"), which was fairly evident as far back as Eagles OTAs in June. According to Zach Berman of the Philadelphia Inquirer, unless the Eagles find a better option after the preseason, Henery will be their kicker in 2014.
Many have wondered why the Eagles didn't give Henery better competition than Spear. For example, former Titans kicker Rob Bironas was available (and still is). Bironas, at a minimum, would have pushed Henery much harder than Murderleg did, although it is an unknown whether the Eagles reached out to Bironas, and how much Bironas was looking for, salary-wise.
Henery's missed 47-yard field goal in the second preseason game against the Patriots, which wasn't even close (shown below), has made the fan base all the more concerned about Henery going into the season once again as the Eagles kicker.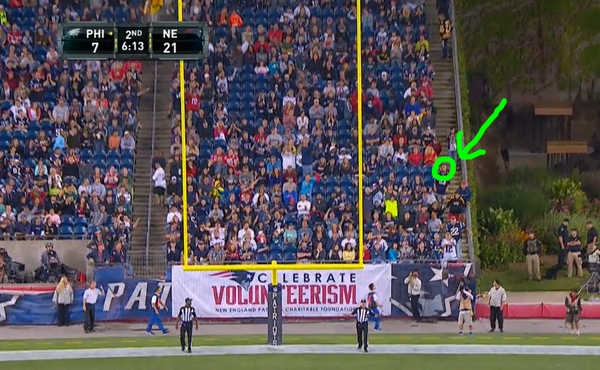 Henery's weakness, as we all know by now, is leg strength:
• Among kickers who have played three full seasons (or close enough) since 2011, Henery is tied with Shaun Suisham for the fewest FG attempts from 50+ yards, with five. The average among that sample size is over 13.
• Henery connected on just two of those 50+ yard attempts, with his career long being 51 yards. Among the same sample size of kickers noted above, Henery's 51 yarder is the shortest "long" FG in the NFL since 2011.
• Since 2011, only 38.4 percent of Henery's kickoffs went for touchbacks. The league average over that same span is 45.5 percent.
• Henery also wasn't very good from 40-49 last season. In fact, only one kicker in the NFL (the Saints' Garrett Hartley) had more misses from 40-49 than Henery in 2013. If you're not going to be a guy who can make kicks from outside 50 or drill deep touchbacks, you better be money from inside 50, and Henery has not always shown that.
So the question then becomes, what kickers could potentially become available after final cutdowns?
The answer could lie in Buffalo, where the Bills have two good kickers in camp. It appears that the Bills' kicker competition is going to be won by Dan Carpenter, who was outstanding for the Bills last year, connecting on 33 of 36 field goal tries, including four of six from outside 50.
That would leave second year kicker Dustin Hopkins on the outside looking in. Hopkins was drafted in the sixth round of the 2013 draft, and he beat out Rian Lindell for the starting job after a perfect (six for six) preseason. Unfortunately, Hopkins injured his groin, the Bills signed Carpenter, Hopkins was placed on IR, and has still yet to kick in the regular season.
In terms of leg strength, Hopkins is everything Henery is not. In his final season at Florida State, Hopkins hit five of six field goal attempts from outside 50 yards. For his college career, he was nine of 15.
Hopkins is also considered a weapon on kickoffs. In the Bills' first preseason game against the Giants, Hopkins produced touchbacks on all four of his kickoffs. Wouldn't it be nice to have a kicker who can consistently do this (below)?
The Eagles placed a heavy emphasis on special teams this offseason by signing special teams standouts like Bryan Braman, Chris Maragos, and Nolan Carroll. Why stop there?
The Eagles may see good things in Henery and perhaps aren't ready to part with him yet, which is fine. However, there's no question that Henery's lack of leg strength hurt the Eagles during their playoff run last season, and it could happen again. Using up a roster spot for a second kicker must make some NFL personnel people ill, but the reality is that the Eagles sorely need a kicker who can kick long field goals and produce touchbacks. Hopkins could be perfect in that role, with the potential of eventually overtaking Henery for the job completely if he also proves to be accurate from inside 50.
Follow Jimmy on Twitter: @JimmyKempski