Taking a trip in the "way back machine," this time last year Nick Foles and Michael Vick were still battling it out for the starting QB job. One day Foles would have the better day. The next day Vick would have the better day. One day Foles would be running with the first team offense. The next day, Vick.
Foles, Vick, Vick, Foles. When you're a few weeks deep into camp in the middle of a contested QB battle, you tend to focus more on which of the two QBs were better, not how they compare to other QBs around the league.
And then Tom Brady came to town, and it was clear that neither Vick nor Foles were anywhere near Brady's level. While that was already obvious, the difference between Brady and Vick/Foles was jarring. Part of that was of course because the Eagles' defense was a mess, as Brady picked apart the Philly's secondary with alarming ease. It was ugly. As Cary Williams mentioned last year, Patriots players were literally laughing at the Eagles defense. Brady completed almost every pass he threw, while Vick and Foles looked like mere mortals.
This time around, unlike last year, the Eagles and Patriots looked like they belonged on the same field together. Both Foles and Mark Sanchez were very sharp today, and the Eagles defense held their own against Brady & Co. There are plenty of reasons why. Foles is better than he was a year ago, the offensive line has more cohesion, there's more quantity (TBD on quality) at the skill positions, and the defense now knows what it's doing
That led me to a very simple conclusion -- The Eagles are a better team than they were this time last year. It felt a little bit like they were promoted to the adult table at Thanksgiving.
More notes:
• On a similar note as the "Wow, Brady is way better than our guys" theme, watching Alex Henery and Murderleg battle it out during camp, it's been clear that Henery is the better kicker. He is going to win the kicking job unless the Eagles sign a veteran to give him legitimate competition. However, that does not necessarily mean Henery is the right man for the job. Watching the Patriots' Stephen Gostkowski consistently kick the ball 5-10 yards out the back of the end zone on kickoffs was a harsh reminder that the Eagles will always be at a significant disadvantage on their kick coverage teams because Henery simply doesn't have a strong leg.
• The Eagles and Pats ran a lot of team drills today. Almost all of those reps went to Foles and Sanchez. Matt Barkley barely saw any action at all. Eliot Shorr-Parks of nj.com, who has been tracking QB reps since the beginning of camp, had Barkley's total rep count at five.
I had GJ Kinne at six reps today with the fourth team -- one more than Matt Barkley took with the third unit. #Eagles

— Eliot Shorr-Parks (@EliotShorrParks) August 12, 2014
• Fletcher Cox has been very quiet this training camp, which is disappointing. Cox should be a beast. He's big, he's strong, and he's quick, but his physical attributes have not always led to production on the field. During camp, there seem to be "gentlemen's agreements" in which the first team OL won't go hard at the first team DL, and vice versa. That's not anything I've ever verified with any of the players, mind you -- It's just the feel that I've gotten. And that's fine. As long as the vets are in shape and ready to go Week 1, there's really no reason to punish each other in camp.
However, I was curious to see what Cox would do in joint practices against the Patriots. Basically, he did diddly squat. Cox was a complete non-factor going up against RT Marcus Cannon, who seemed to be able to control Cox easily. While a lack of effort is not good, it's the better of two evils here. Maybe Cox is just waiting in the weeds, and he will come out and be a great player Week 1. We'll see. But he has not had the look of a player ready to make a huge leap in his third year with the team.
• Vinny Curry set up shop in the Patriots' backfield today, and just stayed there.
• Cedric Thornton had a batted pass today. The Eagles emphasize batted passes, however, they don't allow the DL to bat down passes against their own offense because they don't want to waste the rep during practice. However,against another team, it's a different story. The Eagles had several batted passes last Friday in Chicago, and that has carried over into joint practices.
• Another thing that carried over from the first preseason game was Jordan Matthews' drops. On his first rep in1-on-1's... Drop. Bad one. Matthews did however play better the rest of the day.
• After a shaky first preseason game, the Eagles' first team OL was much better today. They gave Foles plenty of time to throw.
• Donnie Jones threw a TD pass to Allen Barbre on a fire drill play. Jones was previously intercepted by Malcolm Jenkins running the same drill during Eagles-only practices. That leads me to the following conclusion -- Donnie threw the pick to Malcolm Jenkins on purpose to boost the FG block team's confidence, but against the Pats no such courtesies were extended. That's just the kind of teammate Donnie Jones is. Jones' updated stat line throughout camp
Barbre actually made a pretty good catch on the play, by the way. If the Eagles try a tackle eligible play at the goal line this year, Barbre could be the guy who gets the call.
• I've always enjoyed Peter Griffin's work on 'Family Guy,' but it was exciting seeing him in the flesh for the first time.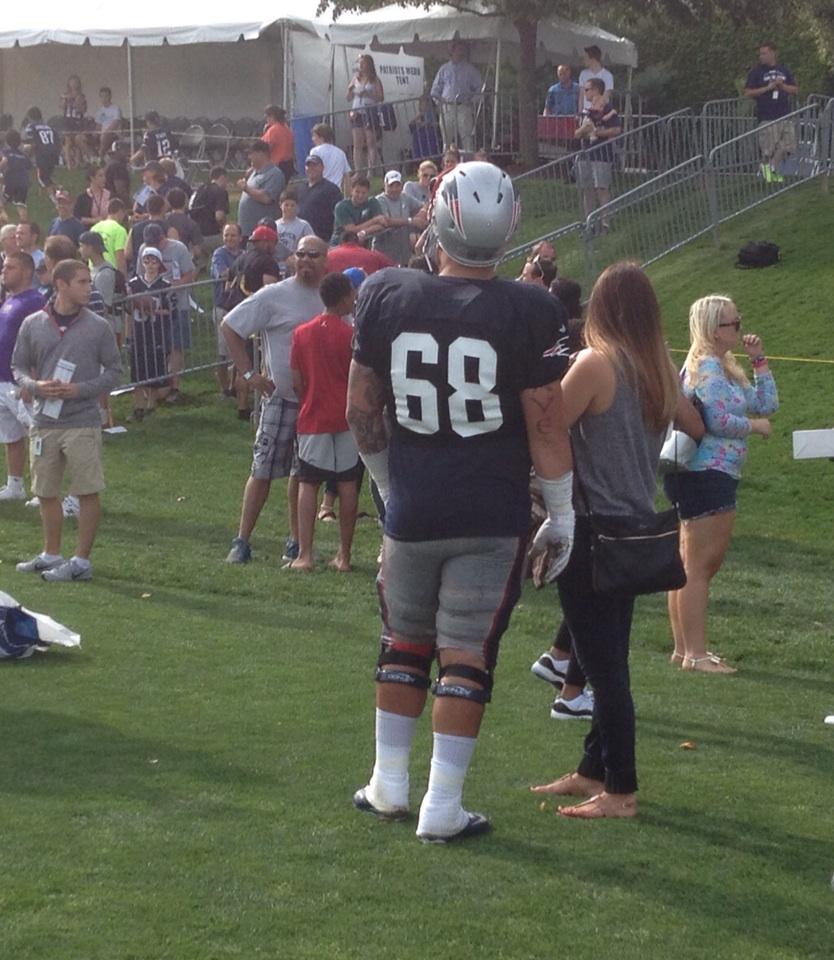 • On my drive up to New England, I stopped at a diner called "Chip's Family Restaurant." Basically, it was a diner claiming to have the best pancakes in Connecticut. A screenshot from their website:
Come on. Voted "six years straight?" By who? The Pancake Police? How official are these pancake votes? I'm not as gullible as Buddy the Elf, ya know...
Still, as something of a pancake connoisseur, I was curious. And when I opened the menu, I saw this:
"Laced"is pretty much the perfect word there, because it was almost like the Cinnabon drizzle was a sweet, delicious drug. Seriously, I would freebase these things.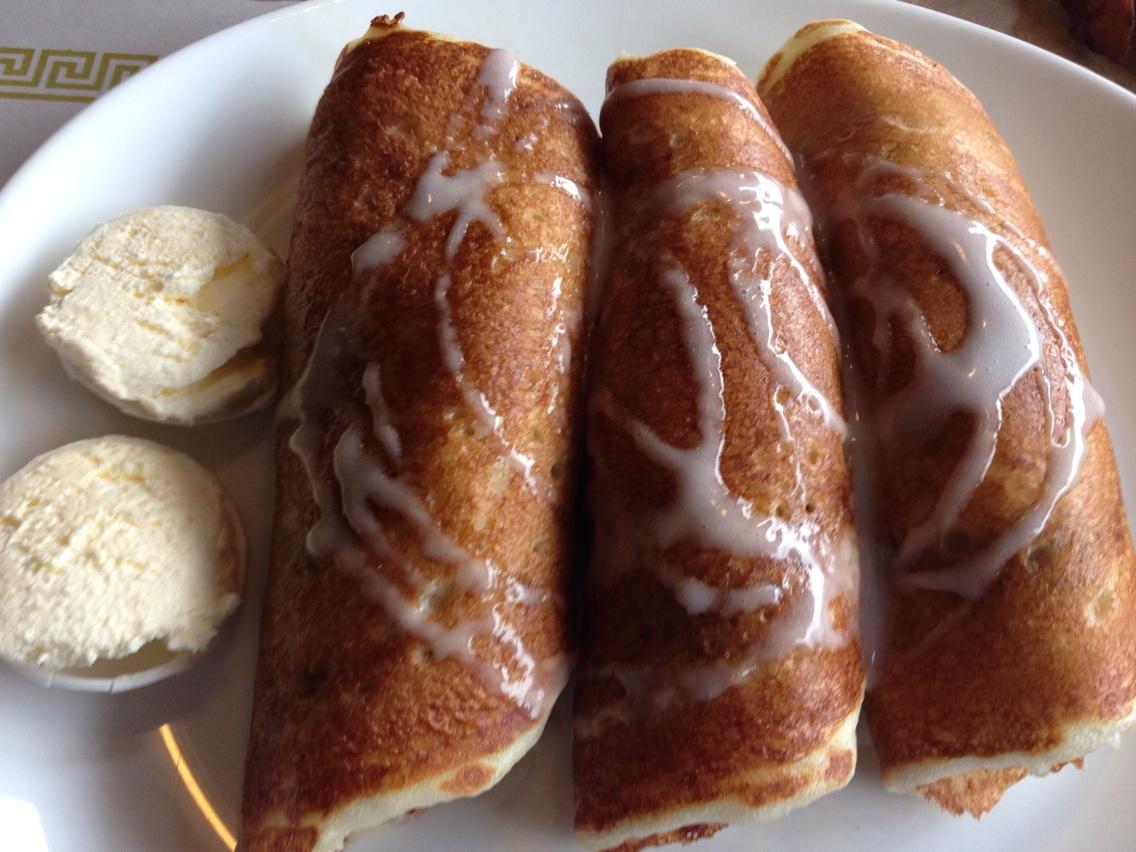 Cinnabon drizzled pancakes should just be called "pancakes," while everything else should be called, "Pancakes, hold the amazingness."
Chip's Family Restaurant, much like Chip Kelly, is changing the game. Hats off to you and your Cinnabon pancakes, you innovative bastards.
Who won the day?
Considering how badly they looked against the Pats during joint practices last year, let's just give it to the whole team.
July 26: Mark Sanchez
July 27: Eagles running backs
July 28: Jordan Matthews
July 30: Malcolm Jenkins
July 31: Cary Williams
August 1: Nolan Carroll
August 3: Jordan Matthews
August 4: LeSean McCoy
August 5: Brandon Boykin
August 12: Everybody gets a gold star!
August 13:
Follow Jimmy on Twitter: @JimmyKempski