Eagles wide receiver DeSean Jackson, like most Eagles fans, is getting acclimated the new Eagles regime under head coach Chip Kelly.
On Wednesday night, however, Jackson took some time to remember his former coach Andy Reid, via his Instagram account (jaccpot10). Here is his post: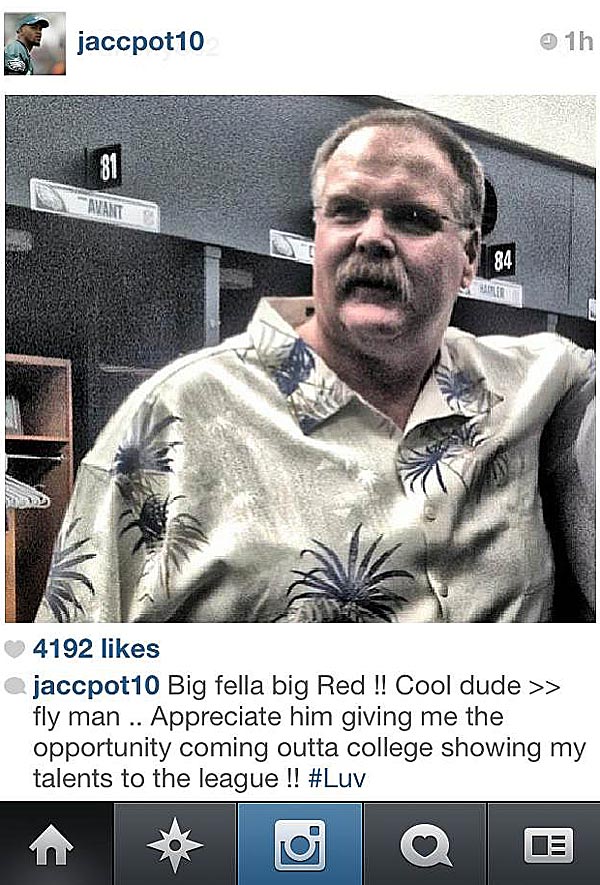 Coming out the University of California after three seasons, Jackson was regarded as one of top wideouts available in the 2008 NFL Draft. However, teams were concerned about Jackson's small frame, measuring 5-foot-9 and 3/4 inches, 169 pounds at the Combine.
Jackson slipped out of the first round, but the Reid and the Eagles nabbed the wide receiver in the second round with the 49th overall pick.
Jackson rewarded the Eagles and Reid with 274 receptions for 4,785 yards and 23 touchdowns in his first five seasons with the team under Reid. Jackson added three rushing and four punt return touchdowns also.
Reid, of course, is now the head coach of the Kansas City Chiefs, but Jackson still shows his appreciation for the opportunity Reid afforded him.