Eagles-Saints: What did we learn?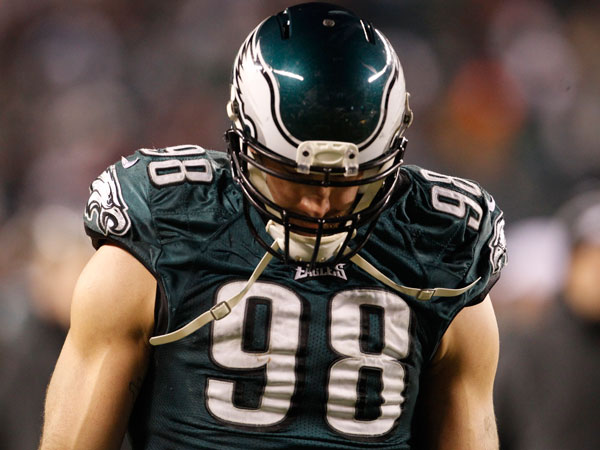 The Eagles' season ended with a 26-24 loss after Saints kicker Shayne Graham booted a game-ending 32-yard field goal as time expired. It was a tough finish considering the Eagles went ahead with five minutes left to play and the fact they left a number of plays and points out on the field. But, overall, it was a successful first season for Chip Kelly. Here are some observations:
Eagles-Saints: What did we learn?

The Eagles' season ended with a 26-24 loss after Saints kicker Shayne Graham booted a game-ending 32-yard field goal as time expired. It was a tough finish considering the Eagles went ahead with five minutes left to play and the fact they left a number of plays and points out on the field. But, overall, it was a successful first season for Chip Kelly. Here are some observations:
-- The kickoff. After the Eagles went ahead, 24-23, Alex Henery kicked off two yards deep into the end zone. He said the kick was designed to go right. It was only the second time one of his kickoffs reached the end zone on a frigid night. The Saints' Thomas Morestead specializes in kickoffs and all of his boots landed near the goal line and were returned. Henery said he felt good about the kick. But someone – or more than just one Eagle – lost containment on the return. Colt Anderson shouldered the blame after the game. I'm not sure if he was at fault. Watching the replay, he did get blocked way off line. But there were a number of Eagles that got clogged up in the middle. Darren Sproles returned the kick 39 yards around the right end. Cary Williams was the last line of defense and he pulled Sproles down by the horse collar.
-- The horse collar. Williams, of course, was penalized for the tackle. He said he wanted to save a sure touchdown and give the defense a chance to make a stop, which, of course, it did not. But watching the replay, it looked like Henery or Roc Carmichael would have angled Sproles out of bounds. I can't completely fault Williams. He probably thought that if Sproles turned the corner he was gone. Sproles would have had at least ten more yards, so Williams' penalty really only added several more yards at the end of the play. The bigger blunder was on the kick coverage.
-- The 2d and 11. On the ensuing possession, Mychal Kendricks and Brandon Graham dropped Mark Ingram for a one-yard loss and the Saints faced second and 11 at the Eagles 49. The Eagles run defense had been stout for most of the season, but failed to show up tonight. Some of that fell on defensive coordinator Bill Davis, who said he schemed to stop the Saints' lethal passing attack. But 185 yards on the ground without Pierre Thomas? Losing Thomas might have been the best thing for the Saints because Ingram (18 carries for 97) and Khiry Robinson (eight carries for 45 yards) gashed the Eagles. And on that second down, Robinson bolted up the middle for 13 yards and the Saints were instantly in field goal range. Devastating.
-- Henery. I was waiting for Chip Kelly to say something like, "Well, we can all count," when he was asked about Henery's hooked 48-yard field goal try. You may recall Andy Reid saying the exact same thing after the Eagles' last playoff game three years ago when David Akers had two missed field goals and the Eagles lost 21-16 to the Packers. But Kelly said nothing close to that. He was asked about Henery's future, but understandably said he wasn't there yet. Henery said he and special teams coordinator Dave Fipp had decided that 48 yards would probably be his max considering the frigid conditions. It wasn't so much that he missed the kick, but how he missed it, if you asked me. The ball traveled awkwardly when he hooked it wide left. Henery has a natural draw, but the best kickers kick end over end. It was something that bothered me the first day I saw him at training camp in 2011. Henery has had an up-and-down three seasons after the Eagles selected him in the fourth round. His percentage has been decent, but he's missed big kicks and was never asked to connect on a BIG kick to win a game. It's difficult to kill him for a 48-yard miss, but his counterpart nailed a 46-yarder, along with three other field goal, including the game winner. And considering his history, it wasn't a good way to end the season. I wouldn't be surprised to see Henery gone next offseason, although it's more likely the Eagles bring in an established kicker to compete with him.
-- Patrick Chung. Where to start? The Eagles safety should not be the sole target of fan ire after the Eagles defense allowed 26 points and 434 total yards to a very good Saints offense. But he had another forgetful game. There was a combination of plays in the fourth quarter that really signaled the end to his short career with the Eagles. He got beat for 40 yards when Robert Meachum ran a post and Chung couldn't catch up. And then two plays later he missed a tackle near the line when he had Robinson dead in his sights. The Saints were held to a field goal on the drive, but to me, those two plays were examples of how Chung had become a liability in coverage and as a run stopper. Not a good combination for a safety.
-- Nick Foles. I asked Eagles owner Jeffrey Lurie after the game if he thought he had a franchise quarterback. "I don't want to comment on any player, but how can you not be impressed with Nick?" It was a good non-committal answer, but I think the obvious is that Foles will be the starter next season. Will he be the franchise? Not quite in terms of money. The Eagles aren't required to give him a long-term contract extension next season, so they essentially have another year to figure out their long-term plans. Foles was solid against the Saints. He wasn't flashy, but he got the job done and had the Eagles up by a point with five minutes left in the game. He didn't turn the ball over again. He took a really bad sack in the first quarter that backed the Eagles 11 yards. Overall, he completed 23 of 33 passes for 195 yards and two touchdowns.
-- Riley Cooper. He dropped a sure completion on third down in the third quarter that could have gained big yards. It's another moment magnified in the playoffs. Cooper said he had only one other drop this season. Eagles receivers have been sure-handed most of the year, but that one hurt. Cooper did have some very good catches. His leaping 10-yard touchdown catch was excellent. He led all Eagles receivers with six catches for 68 yards.
-- Davis. Considering the hand he was dealt, Davis had a positive season as defensive coordinator. Was he great? No. Was he good tonight? No. But his defense forced two turnovers, held Brees and company to 26 points – not good, but doable – and had Chung at safety. Again, he had Chung at safety. Did I mention he had Chung at safety? Davis said he spent the week focusing primarily on stopping the Saints passing game. He did that in the first half. Brees completed only 10 of 18 passes for 98 yards and was intercepted twice. But he sacrificed the run defense and the Saints ran for 94 yards before the break. And in the second half, Brees bludgeoned the secondary, completing 10 of 12 for 156 yards and a touchdown. Brees hit nine different receivers on the day.
-- LeSean McCoy. The Saints did an effective job against the all pro running back in the first half, holding him to 32 yards on 10 carries. McCoy broke free a few times in the second half and collected 45 yards on 11 totes, but he was never a major factor. The holes just didn't seem to be there. He never really got to the second level where he makes so many defenders miss. Kelly and the Eagles really didn't have much of an explanation for why McCoy couldn't get free. Gotta watch the tape.
-- I'll finish with Kelly. And, of course, I'll have much more over the next few days as I wrap up the season. I wrote about Kelly in my column for the newspaper. I think, on the whole, it was obviously a successful season considering last year's 4-12 finish and the changes he installed. But Kelly's offense left points out on the field. His play-calling was scattershot, especially in the first half. It was mostly the execution that failed, though, and the Saints deserve a ton of credit for taking the Eagles out of their comfort zone. But the Eagles gained only 256 total yards – their second lowest total on the season after the loss to the Giants with Matt Barkley at offense. The Eagles converted only 3 of 12 third downs. The big play – the Eagles set an NFL record with the most plays over 20 yards this season – was hardly there. DeSean Jackson caught a 40-yard pass. Brent Celek had a 24-yard grab. Cooper caught one for 22 yards. But that was it. McCoy's longest carry was 11 yards. Rob Ryan won in the battle against Kelly.