Besides being the only Eagles outside linebacker to play in a 3-4 scheme in the NFL, Connor Barwin is the most versatile of the group.
He displayed that versatility against the Jaguars on Saturday night when he sacked and intercepted quarterback Chad Henne. Barwin is the Eagles' best outside linebacker in coverage. He's also a decent pass rusher, but he may end up having more sacks than either Trent Cole or Brandon Graham because opponents may have to guess more on whether he's coming or dropping.
He helped break down both standout plays after the game and on Monday following practice:
THE SACK: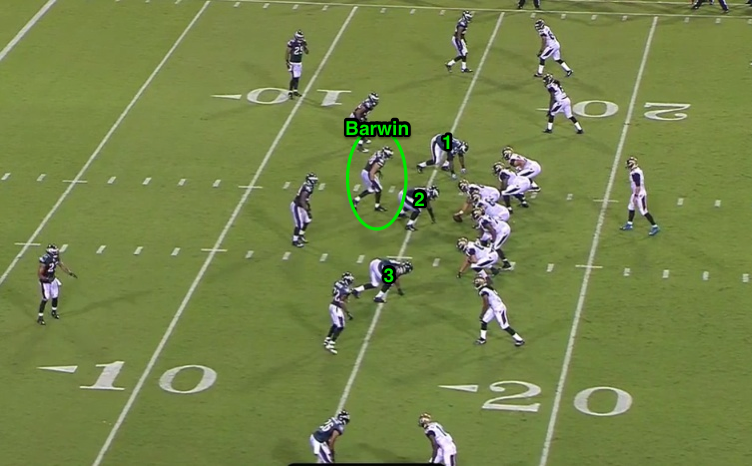 The Jaguars faced third down and five at the Eagles 11 early in the second quarter. The Eagles were playing man with two safeties deep. They had three down linemen and Barwin and linebacker DeMeco Ryans started out standing off the line. Barwin had a few options here, which is why he was potentially dangerous.
"That's what you do with outside linebackers," he said after the game. "You can drop into coverage, you can rush like a 4-3, you can insert up the middle."
This time Barwin inserted in the middle, over the "A" gap -- like a Joker -- to the left of Cedric Thornton, who was playing nose tackle.
It's the kind of confusing look Chip Kelly and defensive coordinator Bill Davis have talked about when giving their reasons for switching to a 3-4. It makes it much more difficult for offenses to know who is rushing, especially when another defender (Ryans in this case) also inserts into the line.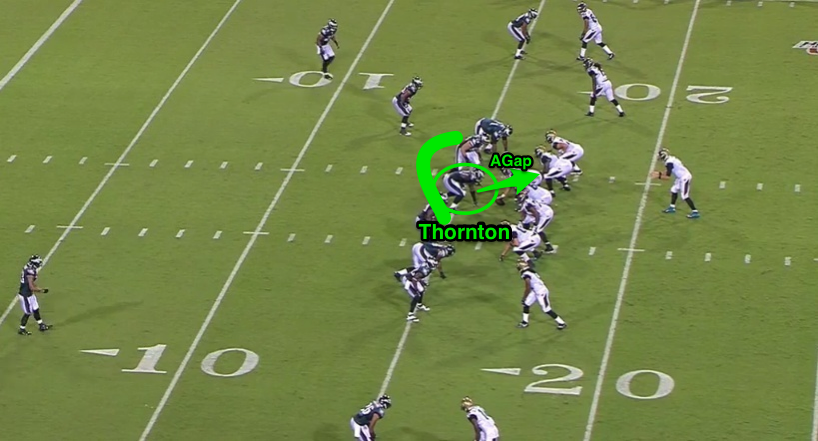 "That's an odd front and we do different stuff with it," Barwin said. "I insert at different places. We haven't really showed it. It's the first time we showed it."
Barwin had planned to run a twist and he said he told Thornton before the play what he wanted to do.
"I had said I'm going to come from the left, so I just snuck up," Barwin said. "I started behind him and snuck to the left. I think the guard thought I was going to go left."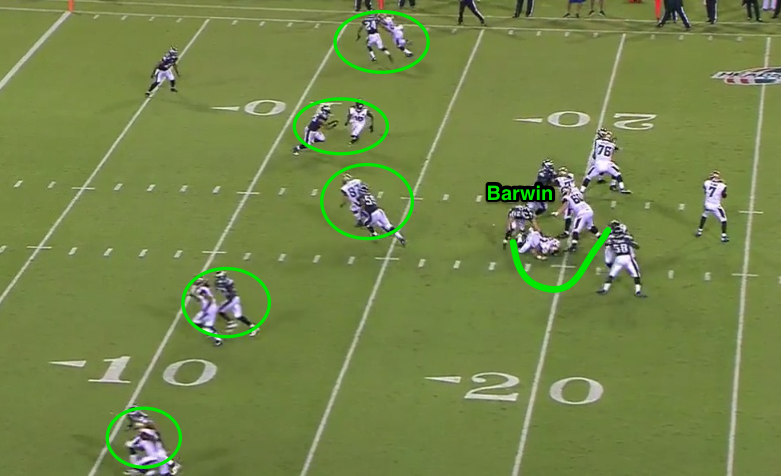 But Barwin went right and Thornton went left. I pause for a second to point out that Barwin's sack would have never happened if it weren't for how the Eagles covered in the secondary. There were five receivers and not one was close to open. Barwin actually tripped a little during his twist, as you can see, but he got back up after the o-lineman had fallen and had a clear path to Henne, who was still looking for a receiver.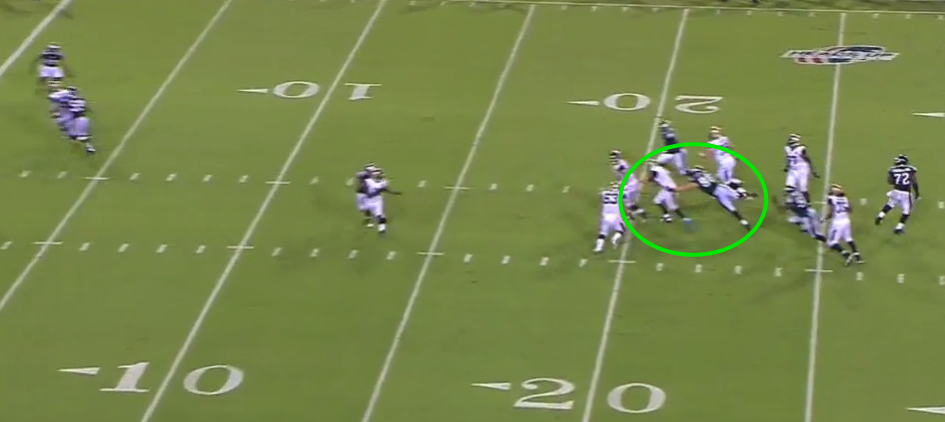 Henne felt the heat and stepped up in the pocket. He only briefly eluded Barwin, who stretched out and brought the quarterback down one yard shy of the line of scrimmage. The Jaguars were forced to kick a short field goal.
THE INTERCEPTION:
Earlier in the quarter, the Jaguars were backed up after Thornton sacked Henne. It was second down and 19 and the Eagles only rushed four -- three down linemen and linebacker Mychal Kendricks. Barwin and Cole had slot receivers on both sides.
"I think we were in a Cover 4 and I had the slot receiver," Barwin said. "I just re-routed him and he ran a little dig behind me."
Barwin jammed Jaguars receiver Mike Brown off the line, with his eyes still on Henne, who was clearly looking his way. Brown is 5-foot-10, 200 pounds, while Barwin goes 6-4, 264. It was a potential mismatch for the Eagles as Barwin let Brown get to the next level of the zone.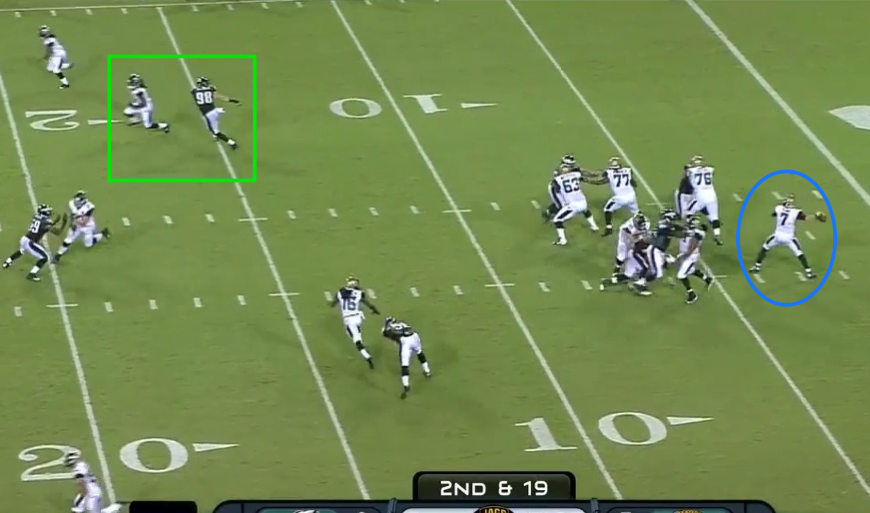 But Barwin read the quarterback perfectly and turned to catch up with Brown. He recalled there being play-action, but there wasn't. Nevertheless, his explanation for turning his body away from the quarterback bears repeating.
"You'll see us just bail because obviously play-action passes are meant to go downfield," Barwin said. "So those are the times when we have to turn and really make sure we get our depth."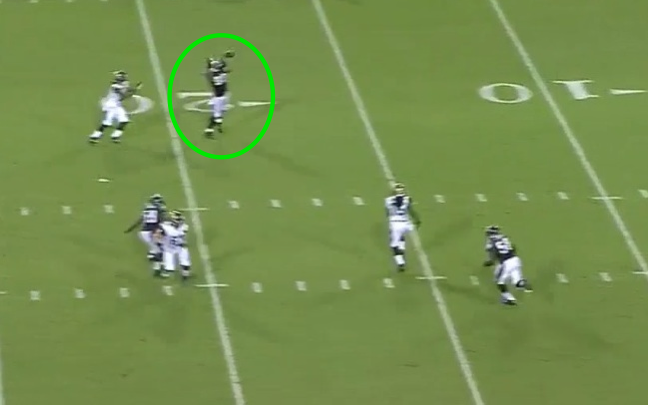 Barwin then turned back, jumped up to tip the ball and maintained body control to record the first interception of his professional career. I asked Barwin if he was reacting to the receiver when he timed his jump or if it was just muscle memory. He said it was muscle memory.
"You react, you re-route, you see a dig behind you, you react back to it," Barwin said. "And I reacted back. Luckily I got my head around before the ball was in there."
The Eagles defense will have plenty of forgetful moments this season as it transitions to a 3-4. But judging by his play through three preseason games, Barwin should make it less painful.