DeSean Jackson has seen his name show up in media reports quite often as of late, and the receiver recently acknowledged these reports on his Instagram account.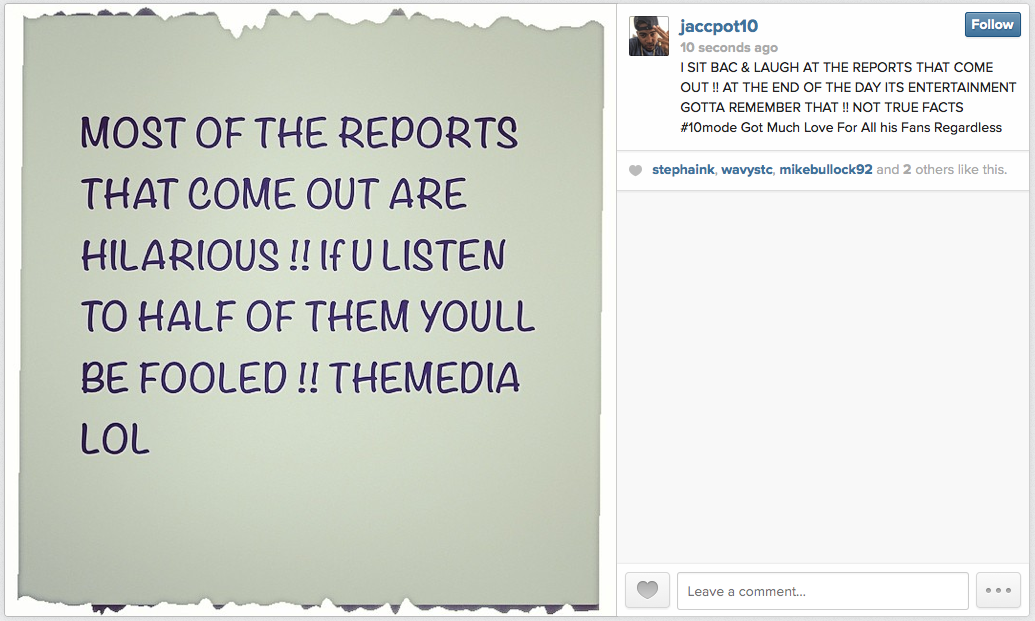 His message reads as follows:
MOST OF THE REPORTS THAT COME OUT ARE HILARIOUS!! IF U LISTEN TO HALF OF THEM YOU'LL BE FOOLED!! THEMEDIA LOL
The reports he is referring to involve his departure from the Philadelphia Eagles, the team that selected him in the 2008 NFL Draft.
Along with the Instagram image, Jackson wrote the following message:
"I SIT BAC & LAUGH AT THE REPORTS THAT COME OUT !! AT THE END OF THE DAY ITS ENTERTAINMENT GOTTA REMEMBER THAT!! NOT TRUE FACTS #10mode Got Much Love For All Fans Regardless."
According to the Inquirer's Jeff McLane, Jackson called some teammates today to inform them that he would remain an Eagle, despite earlier reporting that his days with the team are all but over.
Meanwhile, Les Bowen of the Daily News is reporting that Chip Kelly called Jackson and told him not to worry.
That may seem confusing, but take into account the fact that the Eagles are refusing to comment - or even refute - any of the reports.
Funny how DeSean complains about media reports when his own organization's refusal to refute them (or speak at all) has fueled a lot of this

— Matt Mullin (@matt_mullin) March 25, 2014
Yesterday, philly.com's Jimmy Kempski reported that the Eagles decided to move on from Jackson over a month ago, and Vegas is actually taking odds on the receiver's future.