UPDATE [3:55 p.m.]: The Bills will not place the franchise tag on safety Jairus Byrd, according to ESPN's Adam Schefter.

From earlier: Monday 4 p.m. EST is the deadline for franchise tagging players who are eligible for unrestricted free agency, and there was interesting news over the weekend. According to Joe Buscaglia of WGR 550 in Buffalo, the Bills reportedly made a substantial offer to safety Jairus Byrd, which he rejected. The Bills are also not expected to tag Byrd.
What makes tagging him somewhat hard to do is the fact that he would essentially be a one-year rental for whoever deals for the safety. With Byrd hesitant to sign the "substantial" offer, the possibility remains that they're unable to move Byrd which could lead to another stand-off ahead of the regular season.
What exactly does "substantial" mean? According to Ian Rappaport of NFL.com, it means that the Bills wanted to make him the highest paid safety in the league:
Bills made Jairus Byrd an offer that would've made him highest paid S for a portion of his deal. Was rejected. Team still wants to sign him

— Ian Rapoport (@RapSheet) March 2, 2014
Byrd's motivation is unclear. Does he want absurd amounts of money, or does he just really want out of Buffalo? The Eagles, like many other teams around the NFL, should have interest, but at what cost?
***
UPDATE [2:15 p.m.]: The Redskins tagged Brian Orakpo.
Redskins announced they have placed the franchise tag on linebacker Brian Orakpo.

— Adam Schefter (@AdamSchefter) March 3, 2014
From earlier: Another name to watch as the franchise tag deadline approaches is Redskins OLB Brian Orakpo. The Redskins have plenty of cap space and a defense that is almost completely devoid of good players. Allowing Orakpo to walk would open up yet another hole on a team full of them, but would cost them $11.5 million this season. That seems to be the internal debate in Washington.
If Orakpo shakes free, would the Eagles have interest?
Sacks are certainly not the end-all, be-all stat in terms of the effectiveness of a pass rusher. However, despite his narrow lead of 10 sacks to Trent Cole's 8 last season, Orakpo got to the QB with much more frequency than Cole when he got his opportunities. Cole had 446 pass rush opportunities last season, according to ProFootballFocus. Orakpo only had 71 fewer, with 375.
In fact, terms of sacks per pass rush attempts, Orakpo sacked the QB every 37.5 times he rushed the passer last season, which was 7th in the NFL among 3-4 OLBs. Cole was 17th. (On the chart below, in the "rushes per sack" column, the lower the number, the better).
Based on his 37.5 rushes per sack number, if Orakpo would have had as many opportunities to rush the passer as Cole in 2013, he would have had a projected 12 sacks on the season. Cole will be 32 in October. Orakpo will be 28 in July. Orakpo would be an upgrade, but again, at what cost?
***
This is pretty awesome. Ourlads.com has data on how hard QBs threw the ball at the Combine since 2008, in MPH. Virginia Tech QB Logan Thomas threw 60 MPH at the Combine this year, which is the highest in that span. The two Eagles QBs on the list were Nick Foles (57 MPH) and Matt Barkley (did not throw because he was still recovering from an injury).
As long as we're talking about Ourlads, a quick note on them: They do the best job, by far, of updating their NFL depth charts, and it's not even close.
***
The Buccaneers have new uniforms.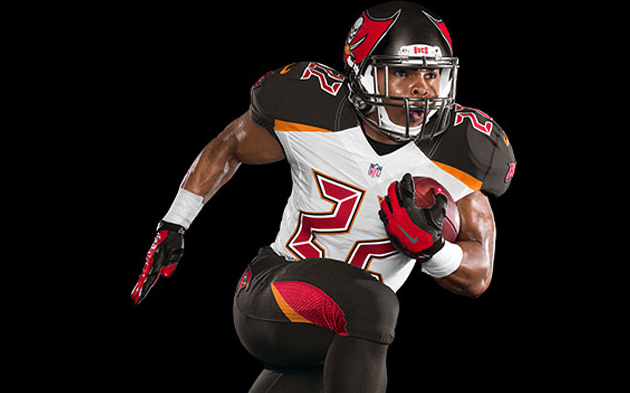 They have officially forfeited any chance of signing free agents.
Personally, I loved the old Bucs' unis, but I'm sure I'm in the minority on that.
***
In case you missed Connor Barwin's article at SI's MMQB site about NFL locker rooms, it's a tremendous read.
***
In case you missed it at The Red Zone...
• There's a case to be made that the Eagles could try to trade DeSean Jackson.
• Here are 3 projected late round pass rushers who could interest the Eagles.
Follow Jimmy on Twitter: @JimmyKempski