Cynthia Gouw
Ever picture yourself at the helm of a successful business, gazing out the window of your corner office at a sweeping view of the city? Us too. Unfortunately, you're not getting any younger sister, and it's time to make that dream a reality!

Enter chic Philly-based (and women run!) branding agency, letter27. In a three-part crash course on branding basics, co-founders and business partners Staci Katz and Nicole McGann will show you everything you need to know about marketing the most important resources you've got: yourself and your ideas. Tickets run a budget-friendly $30 per session in advance or $35 at the door, and seventy-five bucks gets you into all three. In addition to a q and a session and one-on-one advice from a letter27 partner, there will be time to chat it up with your fellow ambitious Philly chicks. And did we mention that the workshops are being held at one of our fav Philly dens of decadence, the Naked Chocolate Cafe, on 18th street, and that there will be plenty of hors d'oeuvres? Yum!

So show up on Tue, May 18th, for the first workshop, "Who Are You (As a Brand)?", which runs from 5:30pm-7:30pm. Bring your dreams and your appetite. Because it's time to get that cafe-cum-bookstore-cum-doggie playland you've been dying to open off the ground...and there will be chocolate.

More info is at http://letter27agency.com or call 267-519-9407.
Cynthia Gouw
Spring is finally here! Let the search begin for the perfect pair of puddle-splashing galoshes, the ever-functional-yet-trendy trench coat, and colorful cardigans that would make a bag of Skittles jealous. To help satisfy your inner shopaholic without having to worry about next month's credit card statement. We've been waiting to peruse through the spring bargains at the Third Annual Old City Sidewalk Sale & Stroll!

From Front to Sixth Streets and Vine to Walnut Streets, the always fashionable Old City will be celebrating spring this coming Saturday and Sunday, 11am-6pm, for a two-day bargain-shopping, art gallery-hopping, and live music-bopping event! Over 50 merchants are participating at the Sidewalk Sale & Stroll, so be prepared to indulge in coveted discounts!

Third Street Habit, located at 134 North Third Street, will be offering 25% off beachwear, sandals and summer vintage. Down the street at Sazz Vintage, shoppers can enjoy a discount rack of men's and women's clothing priced at an irresistible five dollars! Meanwhile, the fabulous Three Sirens Boutique will be hosting a trunk show of locally designed jewelry.

In addition to spring acquisitions for your wardrobe, the Sidewalk Sale & Stroll also presents the perfect opportunity to stock up on other necessities for spring. The Papery, which SnapGlow.tv visited for Mothers' Day gift ideas, is presenting shoppers with 50% merchandise outside and 10% off all personalized stationary orders made during the event! Moko, the organically-inclined salon and spa located at 55 North 3rd Street, is offering a sale on European Skin Care Line Brown Earth products as well as 50-70% off an assortment of their eco-friendly soaps and bath oils. And, for that special pup in your life, be sure to stop by Bonejour for 25% off all nonfood pet items, as well as storewide clearance.

All in all, the Old City Sidewalk Sale & Stroll looks to be the perfect way to kick off spring (-- and hopefully in a fabulous new pair of shoes from one of the vendors)!

For more information, visit www.oldcitybusinesscollective.org/concrete5/index.php/visit-old-city/.
Cynthia Gouw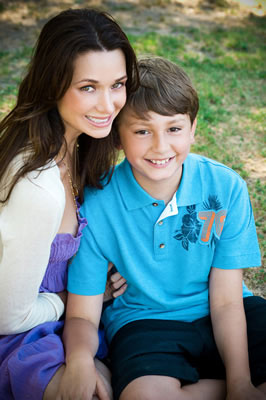 We settled in for a little chat with one of the hottest moms in Hollywood. Jessica Denay, celebrity mom and author of "The Hot Mom to Be Handbook," not only has hosted star-studded baby showers for dozens of celebrities including, Trista Sutter, Alison Sweeney, Angie Everhart and Brooke and Charlie Sheen, she also has some hot ideas for gifts for the hip mom in your life.
"Giving Mom time to herself, is the greatest gift you can give to a mother," says Jessica. Because moms are always constantly changing diapers and kissing boo-boos, they rarely find a moment to lavish time and energy on themselves. This Mothers' Day, the best gift to give a Mom is to watch the kids so she can have time to pamper herself instead of shopping for Pampers!
Gift certificates for an afternoon at the spa are always popular, as are restaurant certificates for a night out on the town with her girlfriends. Offering mom a few hours to herself, or drawing her a luxurious, uninterrupted bath (-- recommended with lavender candles) also make for great gift ideas. For the little ones, crafting a coupon booklet for Mommy, featuring coupons for free massages, room-cleaning sessions and quiet time, which is sure to be received with lots of hugs and kisses! After all, Jessica reminds us, "Little things go a long way."
Cynthia Gouw
Get thee to thy private jet and head to a private island for a kick-off to summer! Ya, ummm, right. For most of us, who could only long for that kind of travel, a little addition to one's wardrobe may be at hand as a fitting, yet more down-to-earth substitute.

Our video shoot at Piazza Sempione satisfied a bit of the jet-set longings, and thankfully it cost only a couple of bucks of gas to get me to the King of Prussia Mall. Their new store just opened next to Neiman Marcus, and this international Italian brand makes you feel like you've headed to a little resort with its crystal chandeliers, bumping music and clothing crafted with care.

Our SnapGlow.TV team filmed the top looks for the season. Reviewing the collection of stunning colors and casual-luxe styles, I felt myself transported to the Amalfi coast; aquas of the Mediterranean sea splashed onto breezy silks, while effervescent greens of tree leaves painted themselves onto cotton tunics and linen sheath dresses. Prices were on the higher side, thanks to the euro-dollar conversion (which is thankfully coming down a tad).

Kelly Van Zant of Piazza Sempione told me that African safari-inspired palettes are also a key trend this season. Laden with warm yellows, smoky browns, and vivid oranges reminiscent of sunsets over the Zambezi, the dresses transported you to your own personal safari.

The shoot went off without a hitch. However, afterwards, one of the models discovered she had lost her car keys and wandered around the mall looking for them. She came back with four men in tow who were quite happy to help out our damsel-in-distress. With the help of her manly-man team, she found the keys on the ground near the elevator and then jumped into her car and headed off into the sunset.
Cynthia Gouw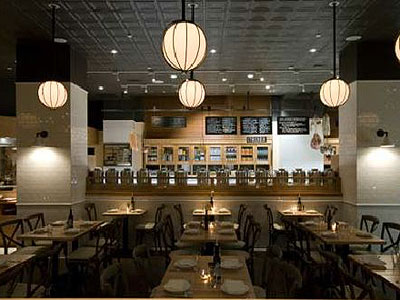 Bargain canneles bordelais and delish Salade Lyonnaise...the new go-to girl's restaurant in town is Garces Trading Company.
Exhausted from a production shoot at Mercato Restaurant BYOB (the oven caught on fire, but otherwise, the shoot went off without a hitch), my assistant and I walked two blocks over to Iron Chef Jose Garces' Garces Trading Company for a power lunch at 1111 Locust Street.
Along with being an upscale casual restaurant, GTC is also a marketplace with a supplementary charcuterie and cheese counter, a pastry and coffee corner, flowers for sale and even an impressive wine store right inside! (An impressive bottle of Rioja for under $15? Yes, please!)
Cynthia Gouw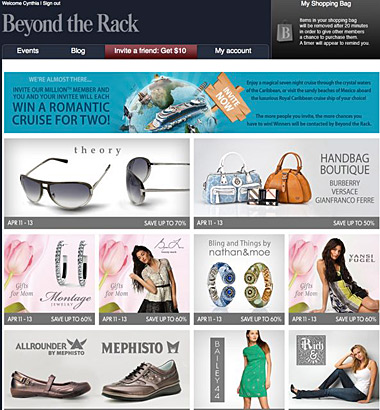 What is love? My parents, my husband and my 18 month old bless me with the utmost joy and happiness.
But, honestly, who do I have a standing date with Monday through Friday? Who makes me return slavishly to them over and over again. It's not my dear baby, or anyone that can hug me back. It's not even a person, but an inanimate object that spreads the joy and love like no other. I can't stay away, even when warned of the consequences. You see, I have a standing date with my favorite "flash" shopping website. Yes, I mentioned this late last year, but now I am truly addicted with no sign of recovery in sight.
Out with the old and in with the new! That's what we all have to do this spring. I know I'm the perfect candidate. I hoard things in my closet, because they "remind me of my first job", or "for certain will be back in fashion", like my white gauzy harem pants. I just know they'll come back and when they do I'll be the first one to strut down Walnut Street with them weariing a pair of gold lame sandals I also have. Joan Shepp, eat your heart out! Uh...yea...keep on dreamin', Jeannie!
But some of us are altogether more altrustic. Instead of clearing out closets to stuff more clothes inside, a local fashion-forward teen cleaned out her closet and encouraged friends and family to do the same all in the name of community service.
Cynthia Gouw
Darlings, if you've got serious cabin fever, join the club! Complaints abound that high heels haven't been seen in weeks. Who can blame anyone? Why risk your neck on the snow? I know that I've been wearing my dowdiest snow boots with a thickest lug sole since Planet of the Apes. Nice.