Cynthia Gouw
Beauty insider and stylist to the stars, Philly's own Carie Brescia sprinkles her magic on famous faces like Taylor Swift, Dennis Quaid, and Jane English. Carie also keeps Philadelphia's NBC 10 Team looking fresh and flawless.

Carie currently spends her time helping women everywhere look and feel fabulous, whether they're posing for the red carpet or at home vacuuming the dirty carpet (alas!). With the launch of Carie Brescia Cosmetics, Carie hopes to offer a collection of quality products that is accessible to all women.

However, it was when Carie decided to host make-up sessions for her clients that she set a new standard in beauty

"After I launched my makeup line, I realized that no one out there is offering their makeup customers a more extraordinary experience," Carie explains. "None of my fab clients want to go schlep to the cosmetic counter anymore to be oversold."

Carie's next "Beauty Lounge" will be held tonight at Ardmore's Apricot Lane Boutique from 11am to 7pm. Guests will be treated to a fabulous day of pampering (champagne, cosmetics, clothing - need we go on?) and, most importantly, a personalized consultation showcasing the best looks for you!

For more information on Carie and her Philly fabulous line of cosmetics, visit www.cariebrescia.com!
Cynthia Gouw
The words "green," "local," and "eco-friendly" usually bring to mind images of Priuses, canvas bag-clad grocery shoppers, and well, the previous life of the food on my dinner plate. Sadly, I sometimes associate fashion (as much as I love it) with words like "extravagance" and "waste" (particularly when the guilt sets in after I've dropped two-hundo on those new Dior sunglasses...sigh).
Not so with Philly's own SA VA, an affordable, stylish, and yes, green fashion label and retailer, whose 17th and Sansom Street outpost opened almost a year ago. The store features CEO Sarah Van Aken's ready-to-wear apparel, custom jewelry, and both local and fair trade accessories, most of which are produced here in the Philly area. Plus, Van Aken created twenty area manufacturing jobs simply by hiring and training a team of local seamstresses and tailors to work in the loft above her Sansom showroom. Cool!
Aside from SA VA's commitment to the environment, Van Aken also wanted her company to involve customers in the design process. There's an interactive website that allows you to try your hand—er, mouse—at the design process by contributing tear sheets of what you want your clothes to look like, as well as a blog that can help you answer all of your most dire fashion questions.
Cynthia Gouw
Attention fellow beauty bargain-istas: Friday, June 18th, is the grand opening of the new ULTA Beauty store in Horsham, and if you're one of the first one hundred customers to show up at the store, you'll get a gift certificate ranging from five dollars to one hundred bucks! The store is also offering all sorts of freebies all weekend long, including makeovers, hair consultations, and Dermalogica Face Mapping (a process that uses the past and present condition of your skin to prescribe a personalized at-home skin care regimen).
If you haven't been to ULTA before, here's what you need to know: the stores are all equipped with a full-service, in-store salon; offer over 21,000 beauty products; and are lit by natural light—a major plus, since no one wants to leave the store looking like a clown. Sweet deal!
Cynthia Gouw
Memorial Day weekend marks the official start to summer—at least in my book—and with the sweltering temperatures we've been having here in Philly lately, I'm ready to break free of my beauty routine and embrace the old saying "less is more." Less make-up, less products, and yes, less clothing (hey, it's hot!).
So I'm excited to hear about some new products from Walnut Street's purveyor of all-natural, not tested on animals, 100% vegetarian cosmetics, LUSH. The self-professed "cosmetic-deli" just debuted lighter-than-moisturizer solid facial serums (one for oily or acne-prone skin and one for sensitive or aging skin), as well as four new make-up color bases (called Colour Supplements) that can be custom-blended with any of their facial moisturizers to make—voila!—tinted moisturizer. Goodbye, three- or four- product ritual; hello, make-up simplicity.
Cynthia Gouw
Sizzling sunshine, beckoning beaches, and sexy cocktails in the city! It's pedicure weather and we got the style report for this summer's hottest shoe trends. Check out all the looks at SnapGlow.TV's "Sexy Summer Shoes" photo gallery.
Cynthia Gouw
Hey Y'all! This is SnapGlow Team Member Chelsea:
Cynthia Gouw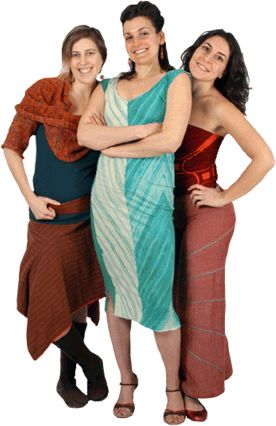 Attention, All Fashionistas -- Trunk show alert this Sunday!!

"3 by Three," made up of up-and-coming Philadelphia designers Melissa D'Agostino, Rachel Sherman, and Janell Wysock, hosts a collaborative trunk show to celebrate wearable art and to provide fashion-conscious women an innovative approach to expressing their own individual style. The dynamic designing trio, all of whom studied at Moore College of Art and Design, has an intelligent take on textiles, focusing on the fabric and how it best works to flatter and fit the body. Oh lala!

Melissa D'Agostino of D'Agostino, boasts an comfort-chic aesthetic, mixing shibori prints and abstract patterns on a range of lush materials. Her use of draping is particularly swoon-worthy, juxtaposing organic layering with a tailored form.

Rachel Sherman of Malagueta, concentrates on the movement in her collection, featuring a fabulous series of vibrant colors and fluid lines. Sherman's colorful creations are especially enticing for spring and summer, as they sizzle to elicit a bold statement that is funky yet feminine.

Janell Wysock of Wysock's Wearables, takes a micro-approach in her designs, making fine art within the fibers of her material. Wysock has a knack for using obsolete media in textile -- such as weaving audiocassette tape into her creations! - establishing a signature style that is both environmentally sustainable and artistic.

The "3 by Three" Trunk Show will be held Sunday, May 23rd, 11am to 5pm, at Material Culture, located in the Philadelphia Design & Distribution Center. The trunk show will showcase current collections from each of the fab designers, while offering handcrafted, custom-order pieces and samples for purchase. And of course, like any trunk show worth visiting, there will be light refreshments served at the event!

So set your alarm clocks this Sunday, ladies and don't miss out on this wardrobe-inspiring opportunity!

For more information on the "3 by Three" Trunk Show and the featured designers, visit www.3bythree.com.

Cynthia Gouw
Now that you've taken the first steps towards making your own dreams come true - and if you haven't, you should really read our last blog post and get on that, sister! - it's time to celebrate other Philly phemales who have accomplished theirs. On Thursday, May 20th, from 11am-2pm, the Women's Resource Center's fourth annual Leadership Luncheon is being held at the Union League, and it's sure to be inspirational!

For four reasons why, see this year's WRC leadership award winners, who are being honored not just for their own success, but for the difference they've made in the lives of other women:

There's Andrea A. Agnew, who is the Director of Diversity and Inclusion for Comcast Cable Communications in Philadelphia, and the President of the Philadelphia Chapter of the National Association of Multi-ethnicity in Communications (NAMIC), but who also finds time to lead her daughter's Girl Scout Junior troop for special needs and volunteer with numerous Philly organizations. Then there's Natalie de Vane, Vice President of Communications for Pfizer's Specialty Care Business Unit; Mary Schafer, a dedicated mentor; and Mildred E. Bell, who is a founding member of the Coatesville Cultural Society, a member of the Terri Lynn Lokoff Foundation, The Women's Referral Network, advisory board member of Chester County Domestic Violence and board member of the Women's Resource Center, and who also established an award for other women, the SHS "Women of Beauty and Dignity" award, which honors those who have taken the time to help others during their own struggles for success. Talk about impressive!

After supporting (and being awed by!) your fellow Philly sisters, there will be time to network with some of the three-hundred-plus business leaders and decision makers slated to attend the event. And, of course, you can treat yourself for being a fabulous, inspirational, and proactive woman in your own right with some shopping at one of the many vendors selling their wares at the event, or by putting your name in the pool for any or all of the beautiful themed baskets that will be raffled off at the luncheon. So there you have it, the WRC Leadership Luncheon: step two on the road to fulfilling your dreams!

Website: www.womensresourcecenter.net
Phone: (610) 687 - 6415 .