Cynthia Gouw
At the risk of sounding cliché, I'm going to be truthful—there is, perhaps, no touchier subject for a woman than her body. Why so many of us see our self-worth as directly related to the number on the scale or the size of the bump on our nose is baffling, but even the most self-assured and confident ladies have moments of obsessing over minor flaws or feeling downright fugly. And yes, I mean fugly.
Enter the In My Body project, aimed at exploring and impacting body image in the 21st century through photography, song, dance and discussion. The event is running through January, and it features three key elements, with the first being a photo exhibit (and the inspiration for the project) by local photographer Leah MacDonald. MacDonald, who has been photographing a diverse mix of women for over twenty years, created the exhibit to celebrat the female form while pondering its relationship to self-perception, body image and human emotion. Though it opened this past Friday, Leah's photos will be at the Wexler Gallery for your viewing pleasure through December.
The second major component of the project is the roundtable discussion, which will be held on December 12th and features a panel of experts in a variety of fields and industries, plus members of the general community. Admission is $20 and includes brunch and a viewing of MacDonald's photographs. With the question, "Are we ever truly at home in our own body?" at the forefront of the discussion, it's sure to be a lively debate.
Cynthia Gouw
For all of you Philly beauties who missed them at Fashion Week, Earthly Beauties will be holding a holiday fashion show and shopping event next weekend, on December 11th and 12th, at CITYSPACE. In addition to a screening of the original Earthly Beauties Fashion Show video (created by Mechelle LaVelle), you'll be able to shop looks from five local designers and two of Philly's best boutiques, Arcadia and BUS STOP, and view (or buy!) looks straight from the Fashion Week runway. There will be a DJ and cocktails and a live fashion show, scheduled for Saturday at 5 p.m. A portion of the proceeds from the event will go to The Career Wardrobe, a non-profit organization for women in transition (see careerwardrobe.org for more info).

Earthly Beauties started last April with collaboration between three of Philly's emerging, eco-friendly textile designers and snowballed from there into an even larger collaboration. For more info on the event, check out busstopboutique.com or arcadiaboutique.com. (-ck)

Earthly Beauties Fashion Spotlight & Shopping Extravaganza
Saturday, December 11th, from 12-8 p.m.
Sunday, December 12th, from 12-6 p.m.
CITYSPACE
2200 Walnut Street
(215) 625-3650
Cynthia Gouw
As I'm sure all of you fabulous SnapGlowers have noticed, many city retailers have holiday paraphernalia (wreathes, lights, candy canes) on display. Yes, already.

Now, whether that makes you feel all warm and fuzzy inside or completely panic-stricken, it's safe to say that we all want to look our best for the rapidly approaching season. So, on November 17th from 7-9 p.m., Giovanni & Pileggi (along with Sebastian Professional and Elle) will be hosting a Holiday Style Refresh party to help you revamp a major part of your look: your hair. In addition to tutorials on all of the hottest holiday styles, the salon will be offering complimentary hair touch-ups with the purchase of any (discounted!) Sebastian product, not to mention goodie bags, drinks and apps. And bonus: guests who spend more than $25 will also receive free tickets to Christina Aguilera and Cher's new movie, Burlesque. Happy-early-holidays! (-ck)

Giovanni & Pileggi
256 South 16th Street
Philadelphia, PA 19102-3334
(215) 568-3040
www.giovannipileggi.com/

Cynthia Gouw
Philadelphia Fashion Week's "School Night" sure gave us an education here at SnapGlow! After watching gorgeous collection after gorgeous collection parade down the runway, we went backstage to hear from the fledgling student designers themselves on everything from inspiration and favorite pieces, to advice for other aspiring designers. Here are three fabulous lessons we learned from the equally fabulous (and inspiring!) fashion mavericks:
1. Inspiration is key! Most of the designers we spoke to had a single image or idea in mind before creating their collection. For Erica Reed, of Drexel University, it was as concrete as "the silhouette of a Spanish violin," but others, like Daimon Arrington of the Art Insitute, had a more, uh, fluid point of reference in mind—his inspiration was water! The point is, there has to be a starting point from which everything else just flows (and we promise, no more water puns for the rest of this post!).
2. Don't procrastinate! At least three of the designers we spoke to emphasized that putting things off was their biggest pitfall. "Drink coffee, keep going, don't stop!" warned the Art Institutes's Paula Sim, who showed her collection on the runway at Fashion Week for the first time. So get started early, and stick to your timeline…or you will regret it later.
Cynthia Gouw
Even though I've been out of high school since flared jeans and baby tees were cool, something about the return of Fall never fails to evoke thoughts of A New Year, which in turn creates a frantic high school-ish urge to "reinvent" my look and my wardrobe.
To satisfy that urge, Cherry Hill's Salon Rouge is teaming up with trunk show vendors Rack & Roll Clothing, handmade hair-accessory purveyor Monalda4, and sweet spot Pretty Sweet Bakery for the Back-to-Style Trunk Show on Thursday, September 30th from 5-7 p.m. There will be tons of cute clothes, yummy treats and special deals on hair accessories. Plus, Salon Rouge will be staying open until 8 p.m. with stylists on hand to dish out tips or salon services, and will be offering up complimentary conditioning treatments to undo summer hair damage. Basically, the Back-to-Style Trunk Show is the one-stop makeover shop I wish I had back in my high school days. Still, there's always the dreaded reunion, right? (-CK)
Salon Rouge
2110 Marlton Pike E #6
Cherry Hill, NJ 08003
(856) 424-3611
www.Salonrouge.com

Last week's episode of "Project Runway" had us first waiting with bated breath then sighing in disappointment as Germantown native Kristin Haskins-Simms was eliminated from Season 8. But Haskins-Simms isn't letting it get her down: the Penn grad has big plans to continue designing and marketing her fashion line, Strangefruit, including a planned debut at Philly Fashion Week and a revamp of her website, bestrangefruit.com (check out her gorgeously drape-y skirts, tops and dresses!).
In addition to her beautiful clothes, you gotta love Kristin's honesty—she says she was more surprised to have been selected to do the show at all than she was to have been eliminated, and calls the stress level during the competition "unbearable," even copping to getting medical help in an interview posted on Philly.com: <http://www.philly.com/dailynews/columnists/dan_gross/20100824_Dan_Gross__Haskins-Sims_votes_for_South.html>. Still, Kristin ultimately says competing on "Runway" was a "blessing," and admits she has her own favorite to win this season: freelance designer Andy South.
Check out Kristin's designs at bestrangefruit.com, and at Philadelphia Fashion Week on Friday, October 8th!
Cynthia Gouw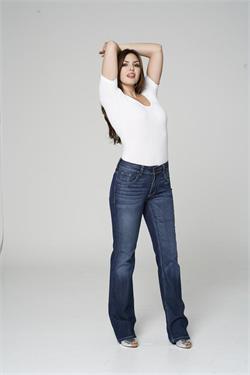 If you are a curvy fashionista, never fear! Liz Ayerle of Fresh Ayer in Wayne, PA knows just how to find the right jeans, outfit and accessories to cultivate your inner curvy desires. Whoo hoo! Plus, she's having a sale of designer denim jeans, like Kiyonna, Svoboda, C. enne V. for under $40 bucks.
Cynthia Gouw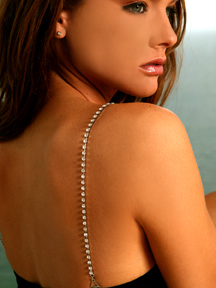 Mom always said never to mix business with pleasure, but would she approve of mixing business with shopping?
Rack and Roll Clothing is a "mobile boutique" in Philadelphia that schleps their wares around town to host personal trunk shows featuring the hottest styles of the season. Because Rack and Roll works to accommodate your schedule, coordinating the events at a time and place convenient for you (yes, you can even have it at the office!), the "mobile boutique" concept is ideal for gals-on-the-go and stay-at-home moms, alike.
Oh, but what would Mom say about overindulging?