Sixers likely to 'pretty much stand pat'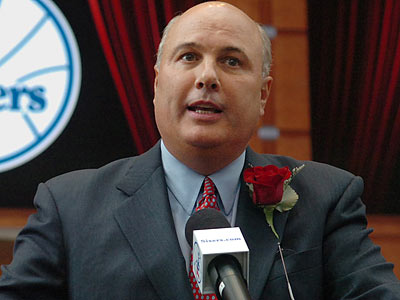 You never know for sure until the trade deadline passes, but asked about the Sixers' situation as the deadline approached tomorrow at 3 p.m., president and general manager Ed Stefanski told the Daily News: ''Nothing's hot. Nothing's hot right now.''
Sixers likely to 'pretty much stand pat'

You never know for sure until the trade deadline passes, but asked about the Sixers' situation as the deadline approached tomorrow at 3 p.m., president and general manager Ed Stefanski told the Daily News: ''Nothing's hot. Nothing's hot right now.''
Stefanski maintained his stance of trying to acquire helpful players rather than expiring contracts. As of this afternoon, he had not been able to do that. He vowed to keep trying, although it seemed as if he might have to settle for something less than a major acquisition, perhaps adding an additional support player.
''We're going to pretty much stand pat, from what I understand [from Stefanski]," coach Eddie Jordan said after practice. He also distanced himself from the waves of speculation, saying ''I said from the beginning, I'm coaching the team that's in the locker room.''

*
Jordan said he had not been aware of the occasional "Fire Eddie" chants from the stands during Tuesday's blowout loss to Miami. His players were.
"I heard that, too," Elton Brand said. "You've got to tune it out. He wasn't out there playing defense."
Of the booing, Andre Iguodala said, "That's just the nature of our fans. When we're not playing too well, they're not happy. When you're winning games, they're happy."