Agent denies Speights to Greece report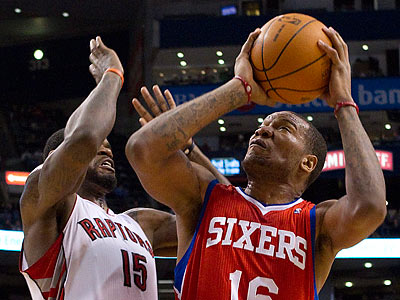 UPDATE: Speights' agent, Andy Miller, issued a statement via Twitter in response to the report. Miller said: "Speights has not accepted a job in Greece. We appreciate the interest in him but have decided to hold off at this time."
Agent denies Speights to Greece report
UPDATE: Speights' agent, Andy Miller, issued a statement via Twitter in response to the report. Miller said: "Speights has not accepted a job in Greece. We appreciate the interest in him but have decided to hold off at this time."
With the NBA lockout ongoing, Sixers forward Marresse Speights has signed with Panionios Athens in Greece, according to a report.
Speights replaces former NBA player Byron Mullens, who left the team to return to the United States.
Speights and Mullens are both represented by agent Andy Millers.
Speights, the Sixers first-round pick in 2009 out of the University of Florida, has averaged 7.2 points and 3.7 rebounds in his career. He averaged 5.4 pounds and 3.3 rebounds per game in 64 games last season.