It's baaaack. NBA owners and players agree to deal.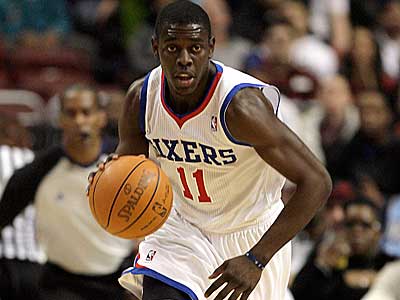 In the wee hours of Saturday morning, a tentative agreement was reached and there should be NBA action starting on Christmas Day.
It's baaaack. NBA owners and players agree to deal.

Whether you care or not, and many have certainly professed their lack of interest during a long lockout that spanned 149 days, the NBA owners and players came to a tentative agreement in the early hours this morning, meaning professional basketball could be back in action starting Christmas Day.
Lawyers for both sides still have to iron out all the details that were reached in New York and other details remain, but it appears that training camps will open on Dec. 9. Free agency also is expected to open that same day. There will be a quick free-agent period and shortened training camp (likely to include a couple of exhibition games) before the season opens on Christmas Day with three prime matchups, none of which includes the Sixers.
While the news of an agreement is certainly welcomed by the players and coaches, the starting time of the season isn't a very good one for the Sixers. Every year the Sixers are forced out of the Wells Fargo Center during the holidays as Disney On Ice invades the building. The Sixers were originally scheduled to be on a West Coast trip during the holidays, not returning home until a January 6 date with the Detroit Pistons. The NBA is looking to fit in a 66-game schedule, meaning an altered schedule will be made for all teams.
For the Sixers, no matter what, they will start the season at a disadvantage, perhaps with as many as their first six games on the road.
Coach Doug Collins and his asistants have been in Philadelphia the past few weeks, getting ready for the season and overseeing a slight overhaul of the team's practice facility at Philadelphia College of Osteopathic Medicine. Most players have been scattered all over the country, getting in their individual workouts. It shouldn't be long before they will all be arriving in Philadelphia to start working together.
Of course, this season brings a different look as new ownership, led by Joshua Harris, takes over the team. Out is general manager Ed Stefanski, leaving the bulk of the basketball decisions in the hands of Rod Thorn and Collins.
As for on the court questions, the main one will surround second-year player Evan Turner. After an up-and-down rookie season, Collins, and Sixers' fans, are looking for a huge improvement from the Ohio State product. Andre Iguodala is still with the team, despite what appeared to be major efforts before the lockout to move him. Rookie Nikola Vucevic should help add some bulk to the frontcourt, and point guard Jrue Holiday looks to continue his improvement.
"Lockout is over. Time to hop on the eliptical for some cardio," Turner tweeted this morning.
Two other Philly athletes who are basketball fans also weighed in on the end of the lockout:
"Let's hoop it up...... #SlamDunk on Christmas Day! NBA is back," Shane Victorino said on Twitter.
Added Michael Vick: "The NBA is back baby!!! Congrats to the players."
More to come. Stay tuned.