Since we've already examined Andrew Wiggins and Jabari Parker, let's take a look at another potential No. 1 pick in the 2014 NBA Draft, Kansas' Joel Embiid.
Joel Embiid, C, Kansas, freshman, 7-foot, 250 lbs
NBA Comparison: Sammy Dalembert
NBA Potential: Hakeem Olajuwon
Strengths
• Embiid has the potential (as he's shown with his post footwork) to be something as great as Hakeem Olajuwon, but without getting one's hopes up before he hits an NBA floor, he currently projects as Samuel Dalembert
• He has a very advanced game even though he started playing basketball around 2011, originally starting as a volleyball and soccer player
• Shows good balance with his back facing the basket and a midrange arsenal when face-up
• Body control, lateral quickness and recovery when beat defensively are superb for a seven-footer
• Solid athleticism
• Strong and developed upper body for a younger player, broad shoulders
• Very agile, can get out and run the floor after a rebound and finishes well above the rim, doesn't run like a seven footer
• Useful above the rim because of his ability to catch lobs and finishes with tip slams on missed opportunities
• Shot 71.4 percent inside near the paint, size and strength are an issue for defenders to deal with
• Has the potential to be an elite NBA defender at the rim (had 4.6 blocks per 40 minutes), because of his frame, he can play well defensively guarding the interior. His frame and wingspan allow him to alter shots at the rim and make plays in the passing lanes or on entry passes to the post
• Very good rebounder on both ends, boxes out well and can rebound in traffic, has the tools to improve on the glass but does well getting position on his box outs and picks missed shots out of the air with his wingspan, offensively he added possessions to Kansas' offense with his O-boards
• Has the upside offensively to make a difference, has shown advanced post moves and counter moves as well as a midrange game, very quick for his size and shows strong shooting mechanics. Has jump hooks with both hands, up-and-under moves, dream shakes, post-spins, solid footwork and drop-steps
• Solid touch around the rim, has shown ambidexterity and the ability to pass from the post, especially to players cutting to the rim
Weaknesses
• Embiid has shown fluidity with his post movements but they are often slow, especially when ascending vertically
• He's not quick off the ground and spends too long gathering or purveying the situation before jumping
• Doesn't keep his hand high, can get plucked by more elite post defenders because of poor post mechanics
• Has to polish some of his back-to-the-basket moves and footwork, some of it becomes sloppy and he slips before getting to the rim or making the proper move
• Has a questionable shot selection and needs to learn how to react to defense around him, seems like he's still learning how to play effectively on offense
• Doesn't know how to react when the defense collapses on him in the post, doesn't always show patience with the ball
• Has a habit to take three-pointers early in the shot clock
• Is very turnover prone, gets stripped in the post or loses the ball on his own or during his post movement
• Still a work in progress defensively, gets lost on the ball, gambles in the passing lanes, over-rotates and is often caught in the air on pump-fakes, looks lost defensively in on-ball situation, very foul prone (seven fouls per 40 minutes)
• Doesn't defend the pick-and-roll very well
• There are questions about his toughness: doesn't seem to like contact, doesn't go up strong on interior shots which causes him to get stripped or even blocked
• Not very physical on defense when defending the post, Florida's Patric Young had a field day with him, and he's one of the strongest players in the class, how does he defend against Paul Millsap, Al Jefferson and others?
• Doesn't always establish deep post position
Now let's look at a few plays where Joel Embiid shined during his freshman season with Kansas
1) Kansas vs. New Mexico: Embiid's post footwork, midrange game and Olajuwon comparisons
So this is where Embiid originally made the comparisons to Olajuwon. In the first shot, Embiid grabs a lob from Naadir Tharpe and establishes post position, after which he commands the attention of his post defender and others on the floor: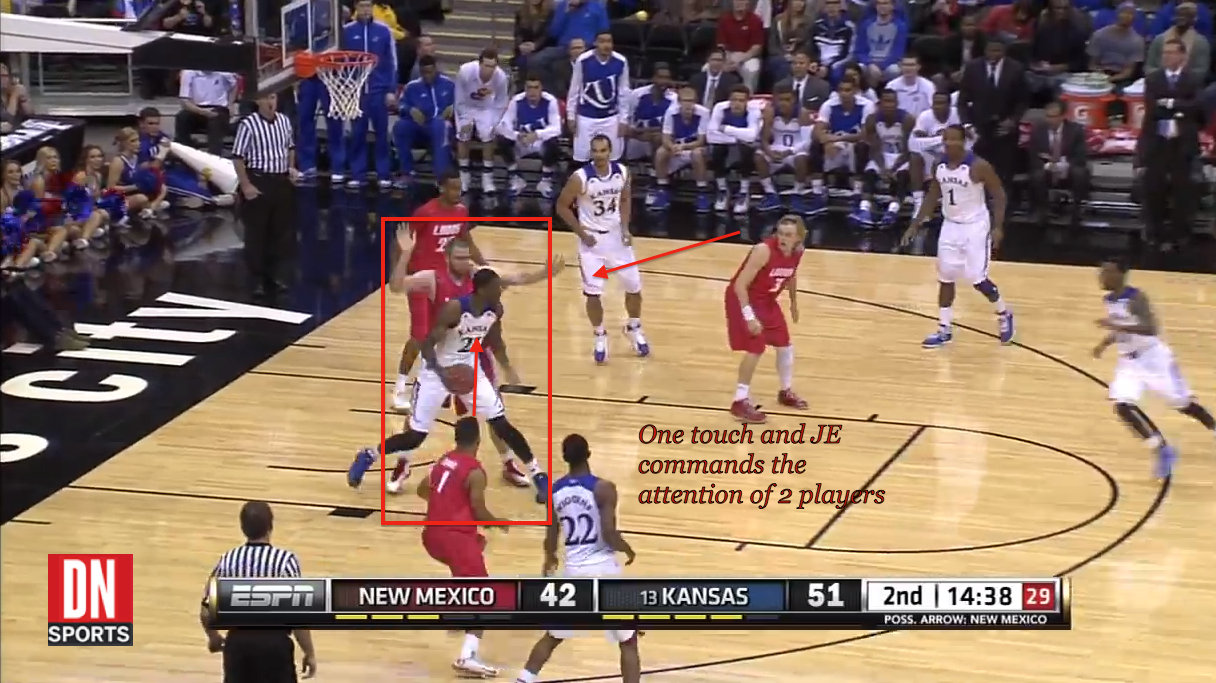 Then he hits his defender with a little shoulder move reminiscent of Olajuwon (aka the "Dream Shake) and he gets by his defender pretty easily as three players swarm to his position in the post: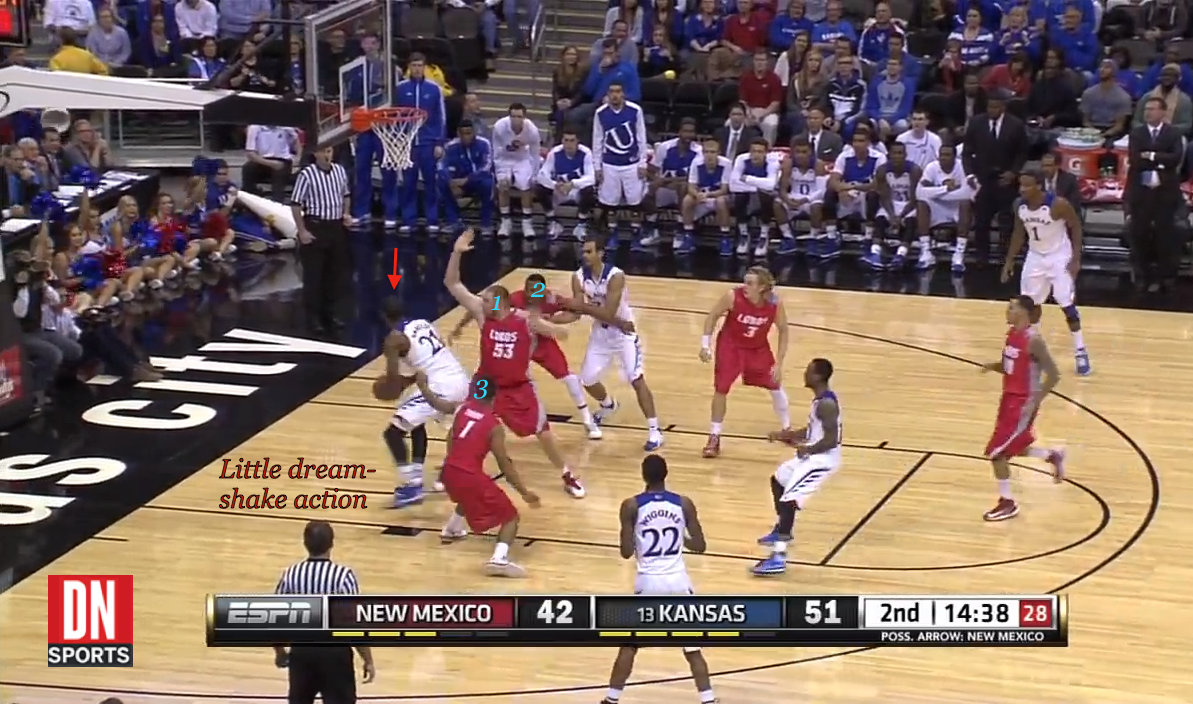 He then uses a little up-and-under move, flashing some more good post footwork, and uses the glass to finish the nifty play. Embiid has shown flashes of elite players, but don't classify him as so until he shows it against elite competition 24/7.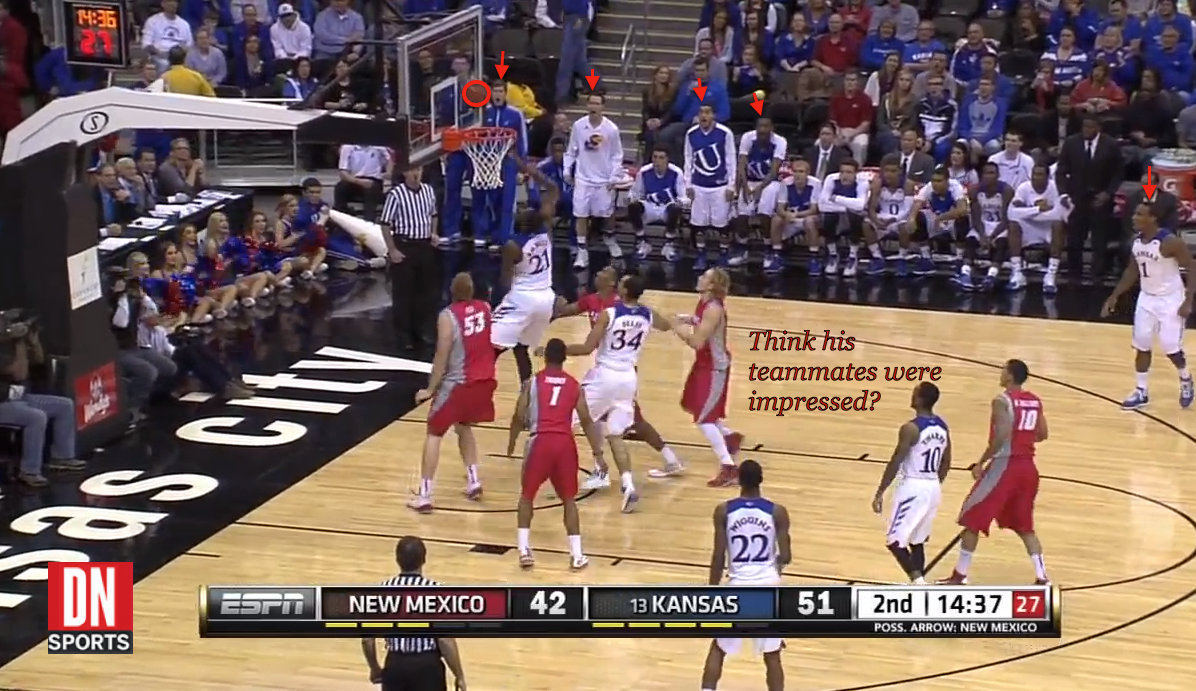 Earlier vs. New Mexico
Even a few possessions earlier in the game, Embiid flashed his fancy footwork. Here he has NBA potential-draftee Cameron Bairstow guarding him. That really didn't matter though.
Embiid establishes post-position after an entry pass from Andrew Wiggins and, again, has many eyes on him before he even touches the ball: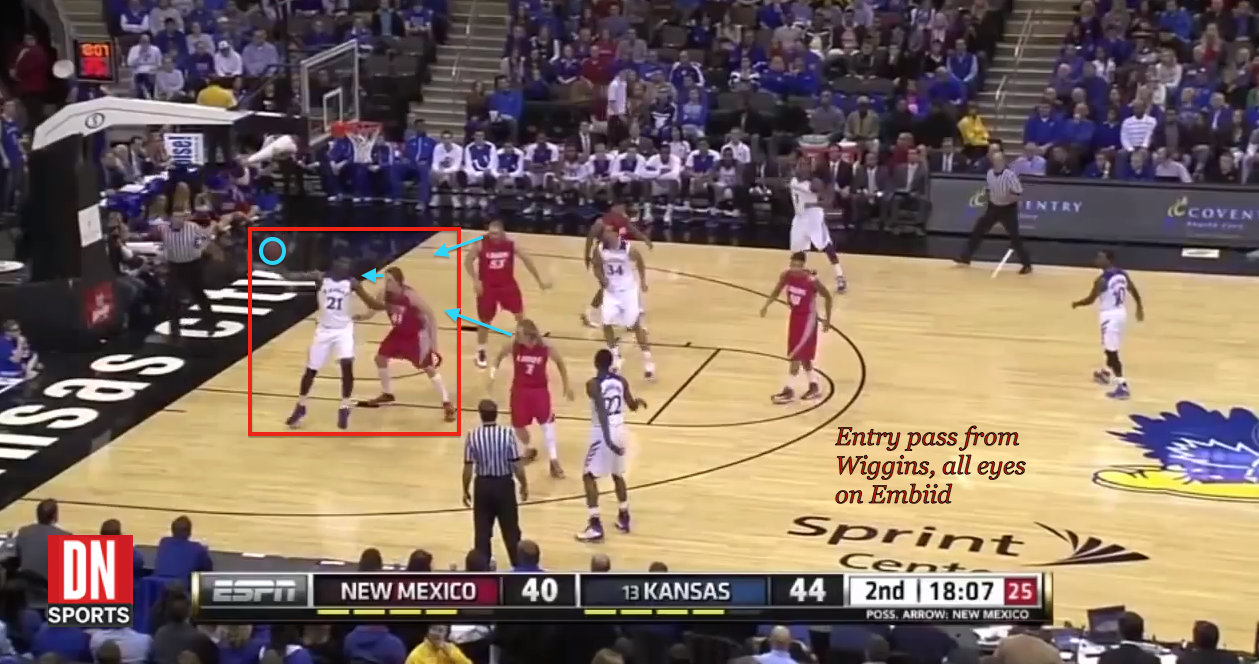 Bairstow does a good job getting his hand in Embiid's face to try and stop the jump shot that's happening, but Embiid faces up from his post position with his back-to-the-basket and gives him a few jab steps before pulling the trigger.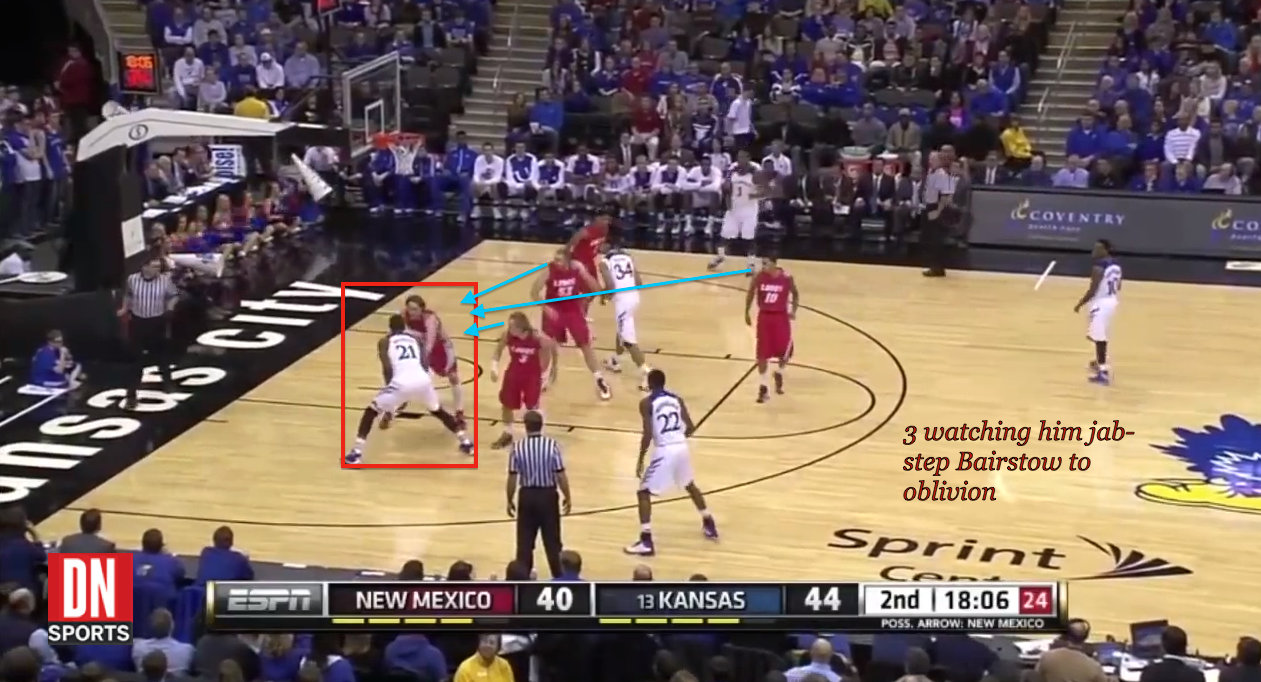 Even with Bairstow's hands up while Embiid rises for the shot, it's not use. There's no blocking a seven-footer straight up unless one is, well, also seven feet: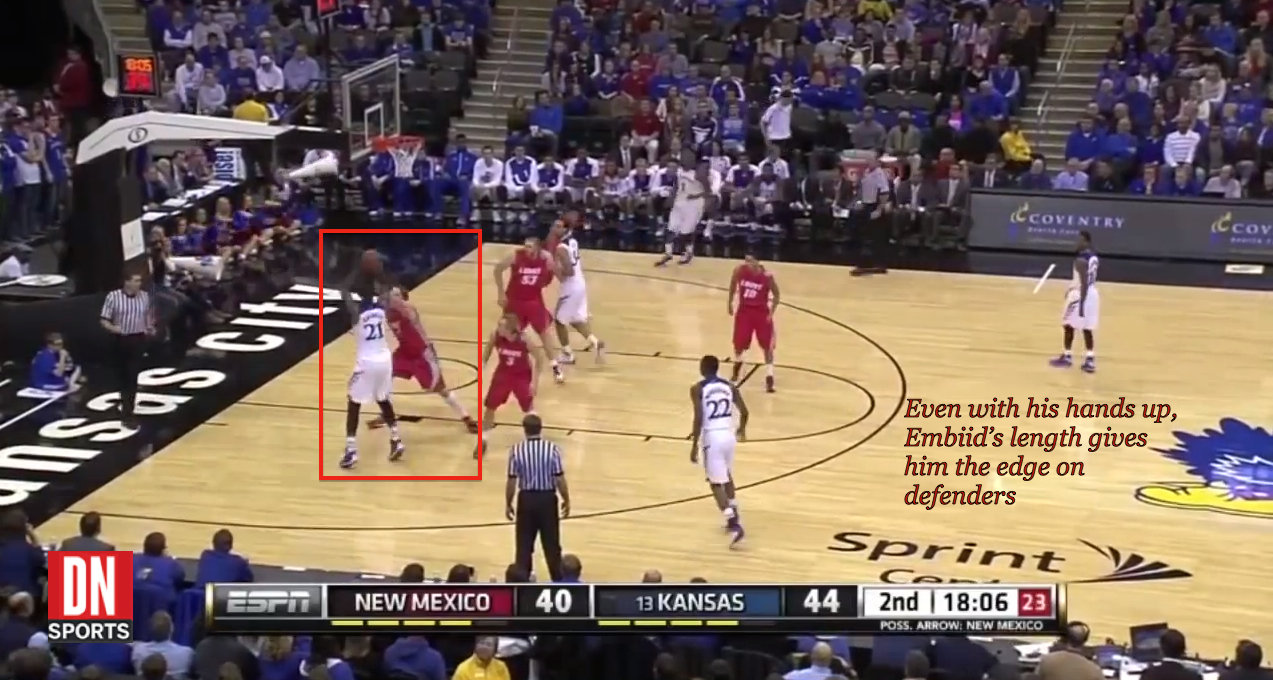 2) Kansas vs. Iowa State, Joel Embiid's potential as an elite rim protector
In a Big 12 matchup against Iowa State, Embiid showed some defensive potential, blocking five shots while majorly guarding Melvin Ejim - a player with late 1st round potential - and really shut him down.
In this play, Embiid leaves the post to come get Ejim who already has the ball in his shooter's pocket and is about to fire. Embiid is around five to seven feet away from the perimeter at this time.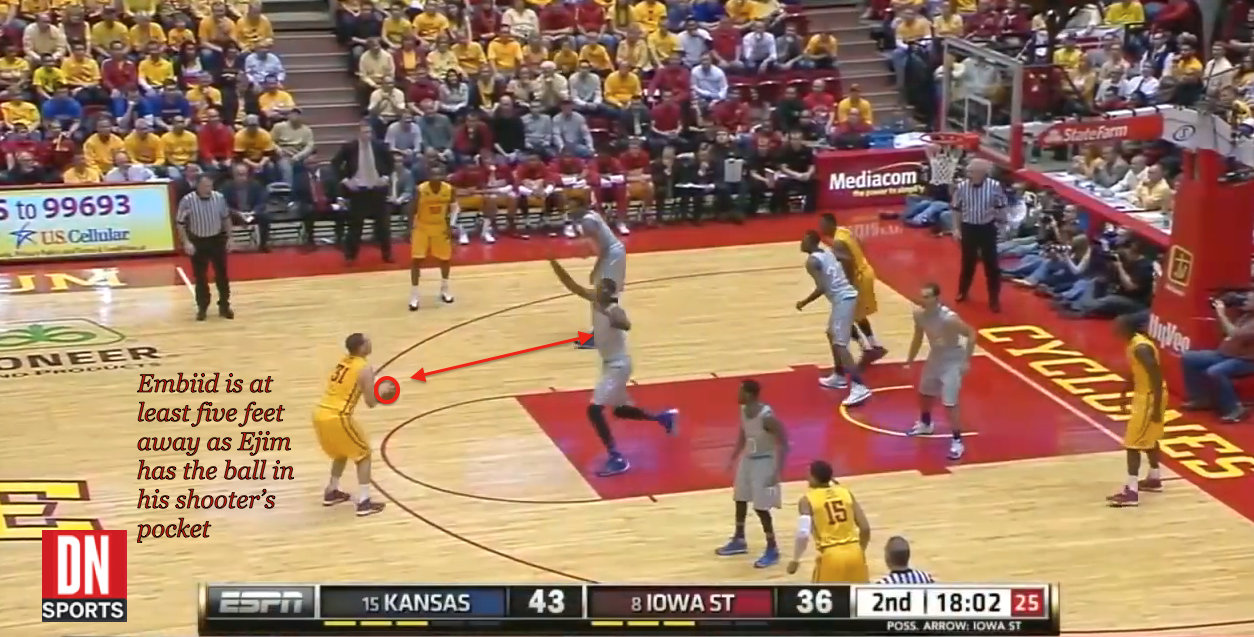 Embiid leaps from around the foul line and gets to the shot and stuffs it. Combining his height, foot speed, quickness and athleticism, Embiid blocks a shot that not many defenders (let alone 7-footers) could get to from where he originally was: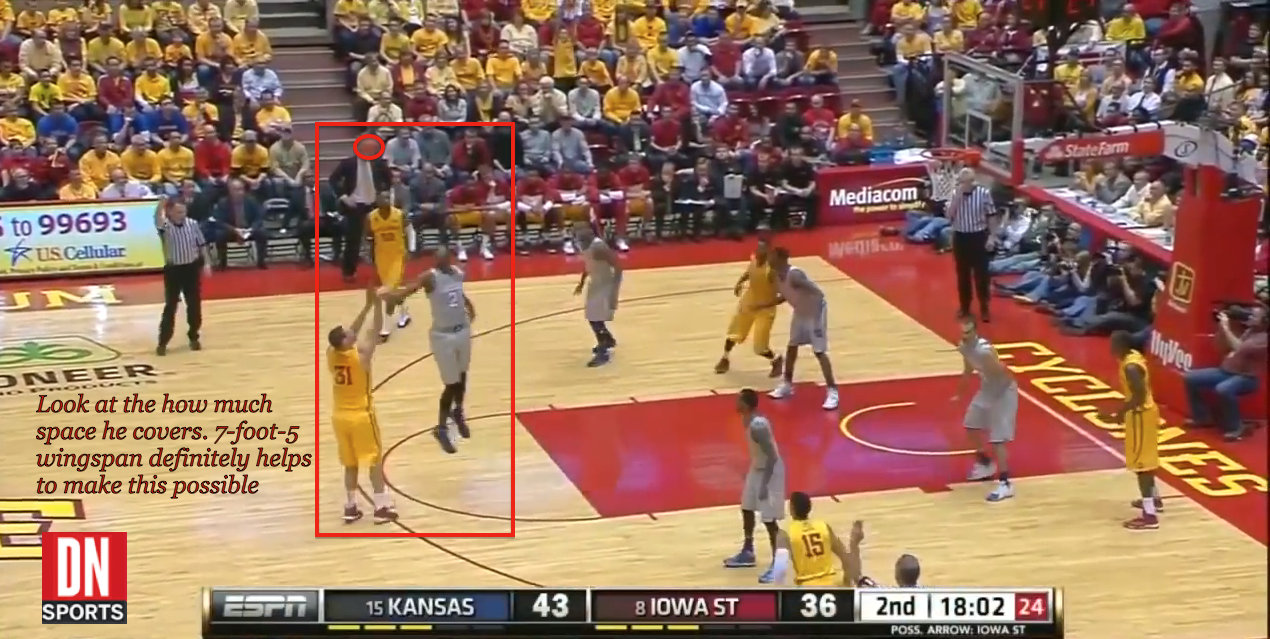 Later in the half
In another play about five to six possessions later, Embiid is matched up with Ejim again, this time he starts by shadow guarding him about 17 feet away from the basket. Outside of his rim protecting, this showed that Embiid could - if he had to - step away from the basket and guard a defender. This means he has the potential to be able to guard multiple positions.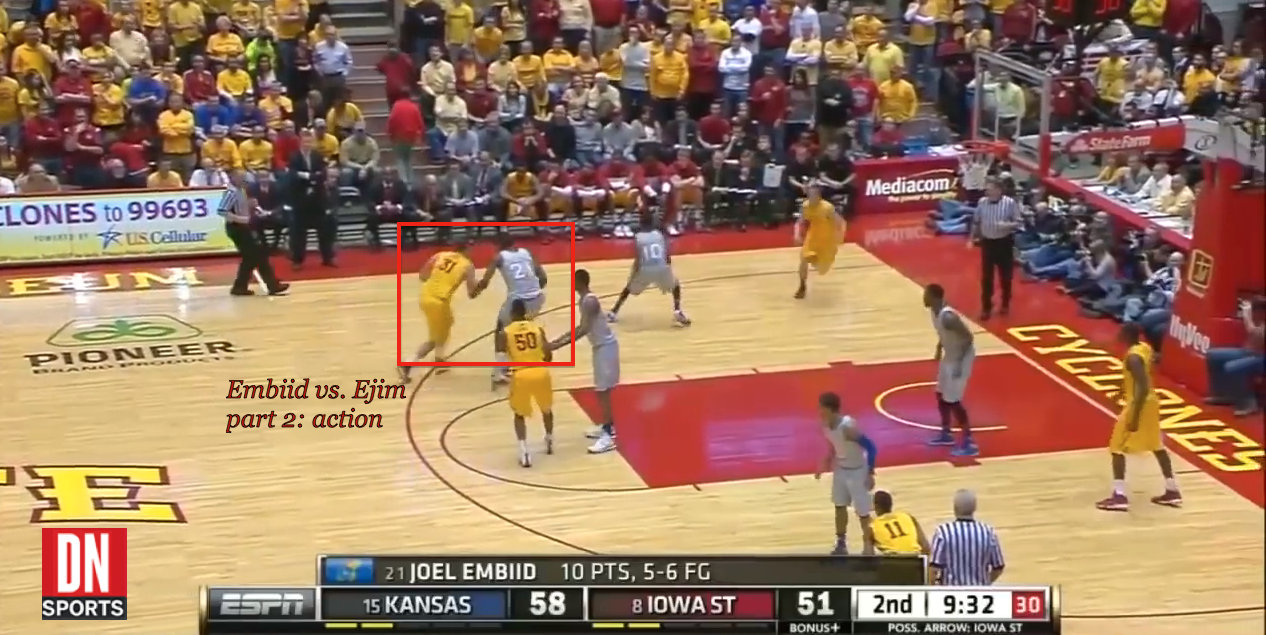 Ejim, after being blocked a few plays before, makes the smart move and gives up the pass to a teammate who then sees he's surrounded by Kansas Jayhawks, so he then gives it up to another Iowa State forward on the baseline. But that doesn't really faze Embiid. He's block hungry.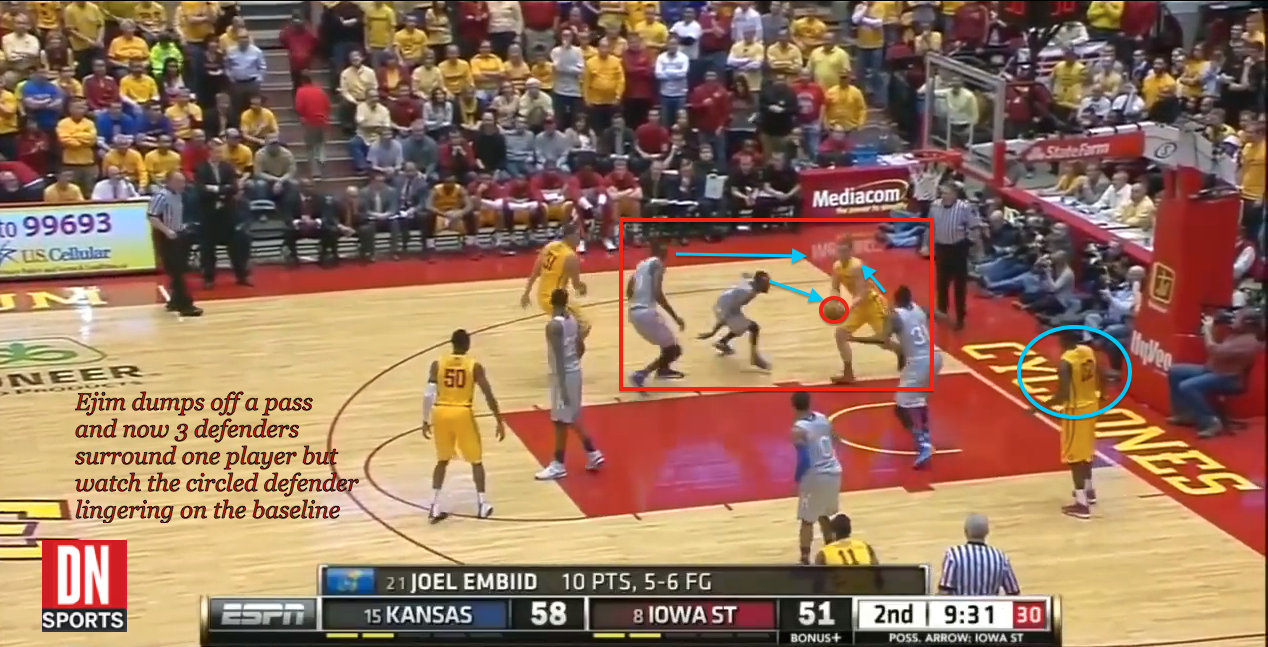 Embiid slides his feet, and rotates to the ball and meets the forward at the climax of his shot for an emphatic block. He has the instincts to be a good rim defender and overall defender, but he has to continue to be developed and coached properly.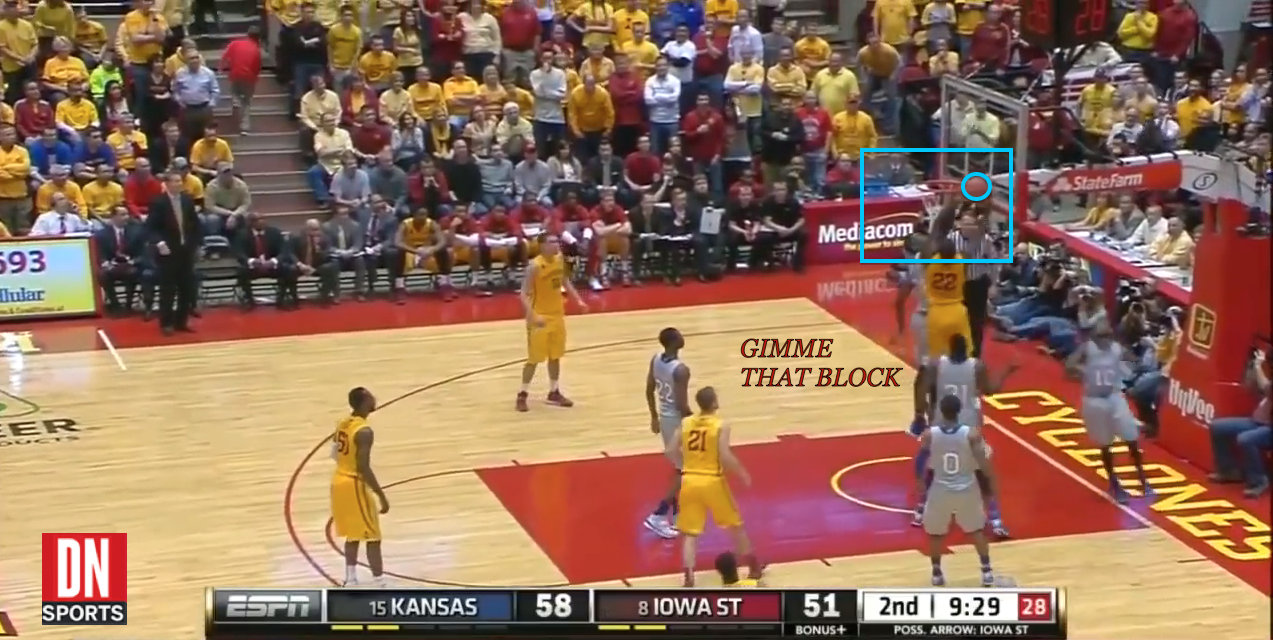 3) Kansas vs. TCU, Embiid's ability to pass from the post
Embiid has greatly improved as a center that can pass from the interior once he establishes post-position. His vision is steadily improving. But in this first shot, Embiid gets the pass and immediately sees Traylor on the baseline: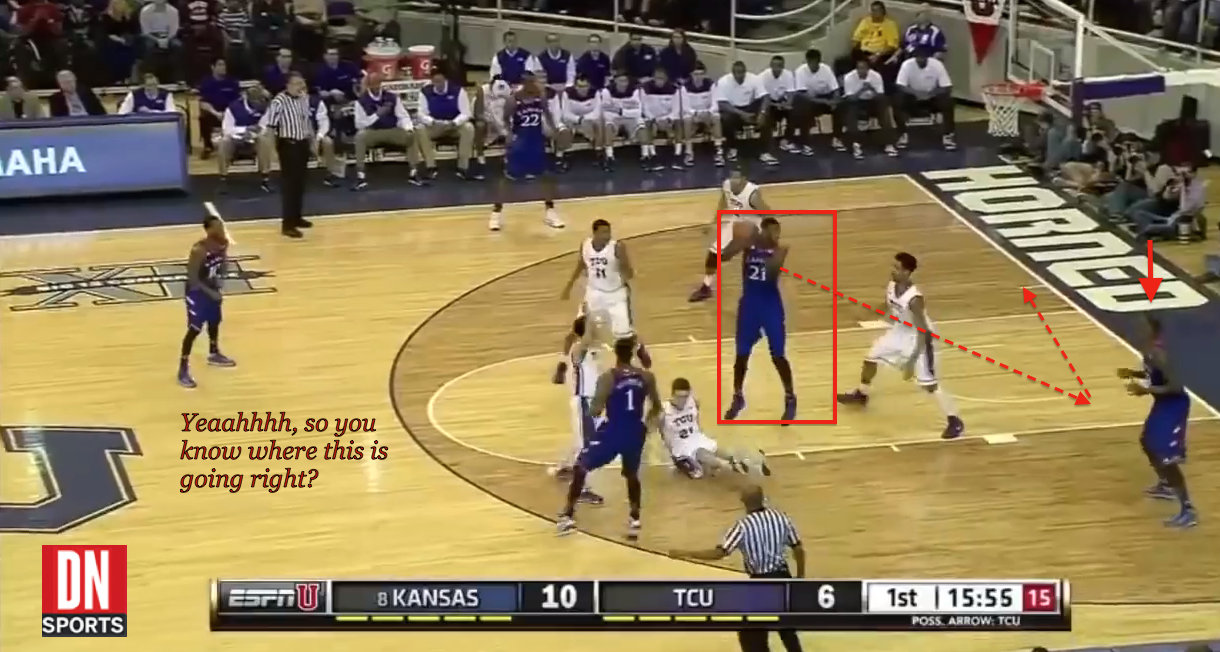 Immediately Traylor is on the baseline by himself and, well, I think you know what happens next.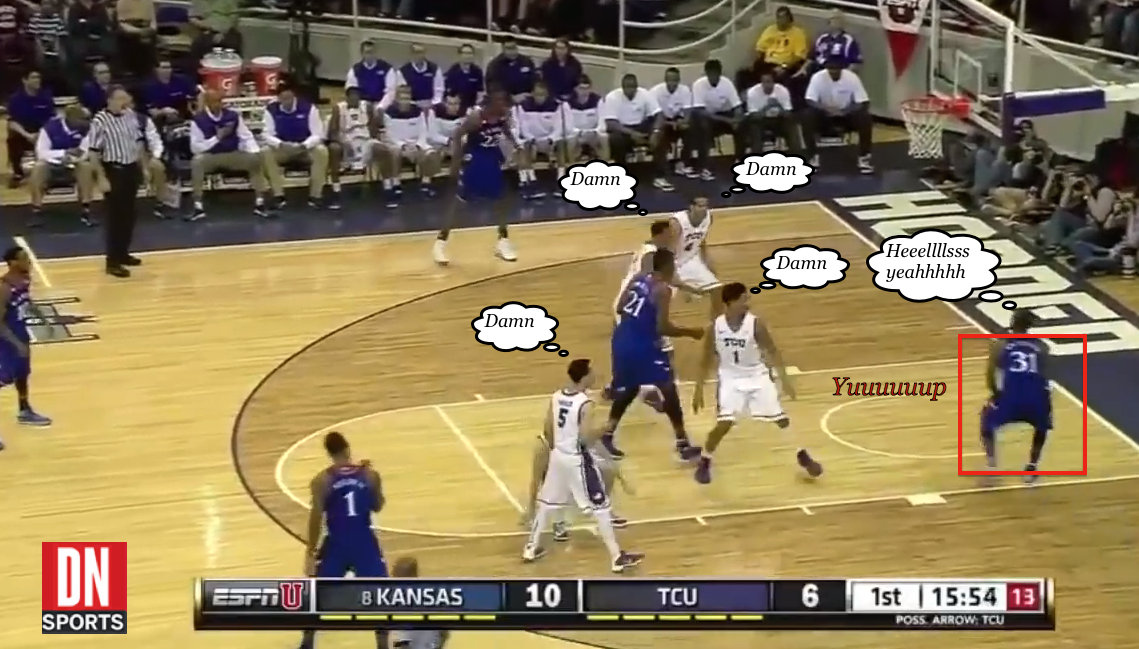 Later in the half
About 10-12 possessions later, Embiid gets post-position again, this time in the high post. There were several options on this play, Tharpe was wide open on the perimeter, there was a weak-side post up for Perry Ellis and a third option, Wayne Selden Jr. all alone on the weak-side perimeter.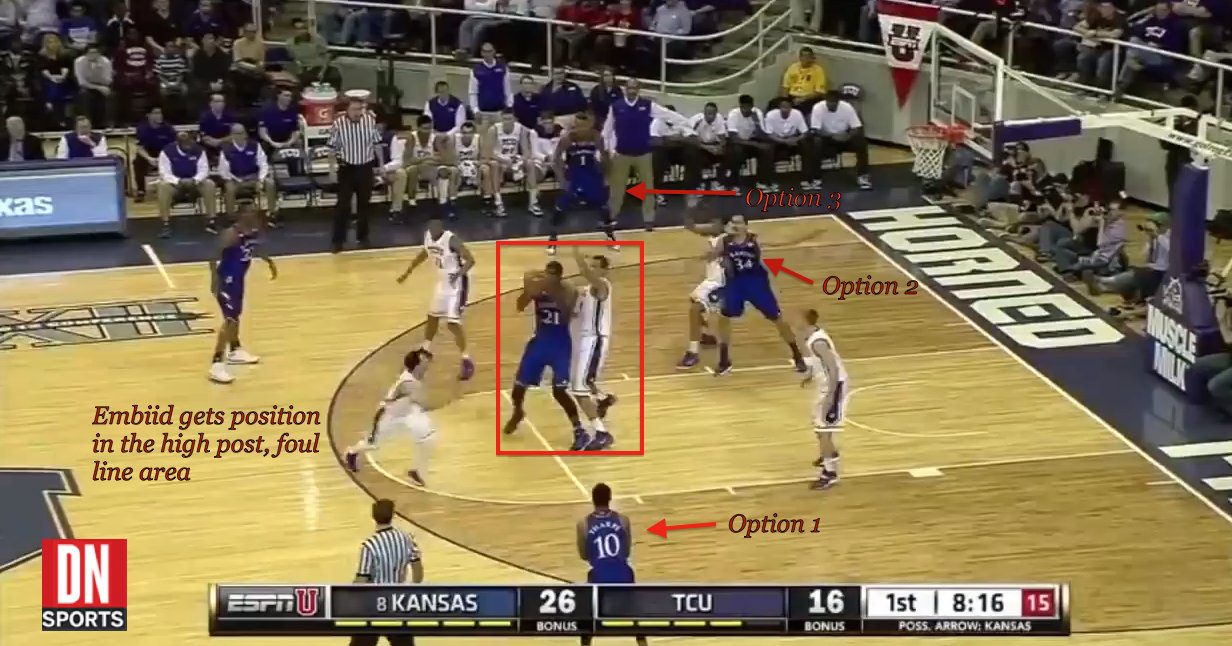 He patiently fakes some post-spins and waits for Selden Jr. to be open after the defense starts to rotate towards the open men along the perimeter. He swings it to Selden Jr. who then has a clear lane to the hoop.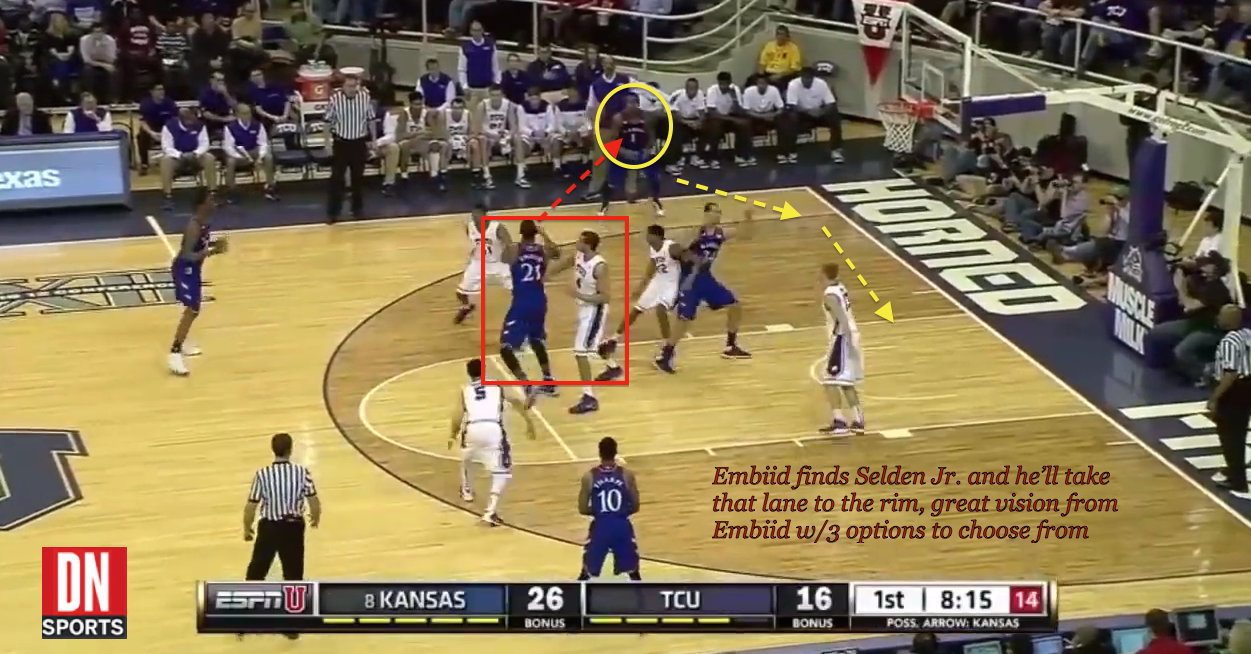 Then the rest is just some poor kid getting destroyed at the rim. Poor kid, but it started with the patience of Embiid in the high post to find the proper and high percentage feed for the nearly uncontested basket.
Final analysis: With Embiid, you get a raw player that has all the instincts and ability to be the next great NBA center. He has solid post moves that need to be developed, a mid-range game and nice vision out of the post to combine with a great wingspan and athleticism.
If developed correctly, he'll become an above average rim protector with great post moves and a player that becomes versatile on both ends of the floor. If he goes to the wrong team or isn't coached or developed well, he'll end up as a starting big man that's just average and ends up as a role player near the end of his career.
How he fits the Sixers: Honestly, it doesn't seem like he does, unless there's a plan to package him in a deal for another team. After spending a year rehabbing and developing Nerlens Noel to come in and be an elite rim protector and defender, why couple him with another center and force one to move to the four?
The worst-case scenario for the Sixers is that the Cavaliers pass on Embiid with the first pick leaving Milwaukee and Philly (really just Philly) in a jam on draft night. The Sixers don't need another raw talent, they need something, at least, a little proven.
Follow Tyler R. Tynes on Twitter at @TylerRickyTynes.
Get the full Sixerville experience at PhillyDailyNews.com.