After examining the top three draft picks of the 2014 NBA Draft, we haven't examined many players that could end up with the Sixers for their second pick in the first round.
So let's look at one of college basketball's greatest scorers and one of the best perimeter players in the current draft class: Doug McDermott aka "Douggy McBuckets."
Doug McDermott, SF, Creighton, senior, 6-foot-7, 220 lbs
McDermott's resume: 5th on All-Time NCAA Scoring List, 2014 NCAA Scoring Champion, 2014 Big East Player of the Year, Consensus National Player of the Year (2014), Three-Time All-American, participant in the 2013 Team USA minicamp
Best Case Scenario: Wally Szczerbiak
Worst-Case Scenario: Kyle Korver
Strengths:
· Incredible ability to score, which immediately translates as his most "NBA-ready" skill next to his high intelligence. Easily within the top three shooters in this draft class. Has the ability to come off screens, spot up, shoot off the dribble, from the post and midrange.
· High basketball IQ, possibly the smartest player in the draft with the way he uses the pick and roll, decides on his shot selection and takes advantage of mismatches in the post and when the opposition switches defensively
· Was very good in Creighton's offense as a trail man after grabbing a board, would trail behind the point guard and be left open for a three in transition
· Quick release on his jumper and shoots from NBA range, gets his feet set very well coming off screens or from a pass
· Does a nice job creating space with step-back jumpers and fadeaways, very Dirk Nowitzki-esque
· Does a great job with pump fakes to get his man into the air and get a better percentage midrange shot
· Posts up very well for a 6-foot-8 combo forward, uses his body control and strength to draw fouls on the interior, same with penetration from the perimeter, isn't very fast but can carve his way to the rim with a straight-line drive
· Quick release on the post, abuses mismatches and shows ambidexterity with his jump hooks, has good post-footwork and possesses an up-and under move, post fadeaways over either shoulder and has a solid face up game
· Without the ball he's very hard to defend, runs his defenders off screens and cuts to the basket quickly whether it's looking for a shot or finding offensive boards or tip-ins
· Very smart defender, rotates well to the ball, gives help defense when necessary, clogs passing lanes and helps to force turnovers
· Always makes the right play, simple plays, hard worker and hustles for the ball usually crashing out of bounds or fighting for a loose ball
Weaknesses
· McDermott lacks much athleticism and explosiveness, he moves well for his size but plays below the rim. Lacks NBA athleticism and misses a lot of rebounding opportunities because of it
· Often has hit shot blocked or altered when under the rim or on the post, NBA length seems to bother him for stretches of time
· Doesn't get off the ground very quickly
· Very limited physically, below average wingspan, lacks the strength to defend stronger bigs on the post, lacks the length to challenge shots
· Will struggle guarding the perimeter because of average lateral foot speed, doubtful that he'll be able to contain elite athletes or NBA forwards
· Lacks the ball skills and quickness to consistently be able to create at the NBA level, sort of a tweener when it comes to his role at the next level
· Average ball handler, gets plucked every now and again, struggles against length on the perimeter
· Has to improve as a defensive rebounder
Now let's look and breakdown a few plays where McBuckets looked his best:
1A) Creighton vs. San Diego State, McDermott's shooting/scoring ability
Douggy scored in so many ways over his four-year career with Creighton, we need to break down each facet of his scoring and shooting ability in four parts:
Using the Pick & Roll
In this play, Douggy faces San Diego State and uses his quick release and high IQ to change simple basketball into deadly basketball.
Douggy starts with a weakside screen and gets the switch for a slower player to guard him out in NBA range.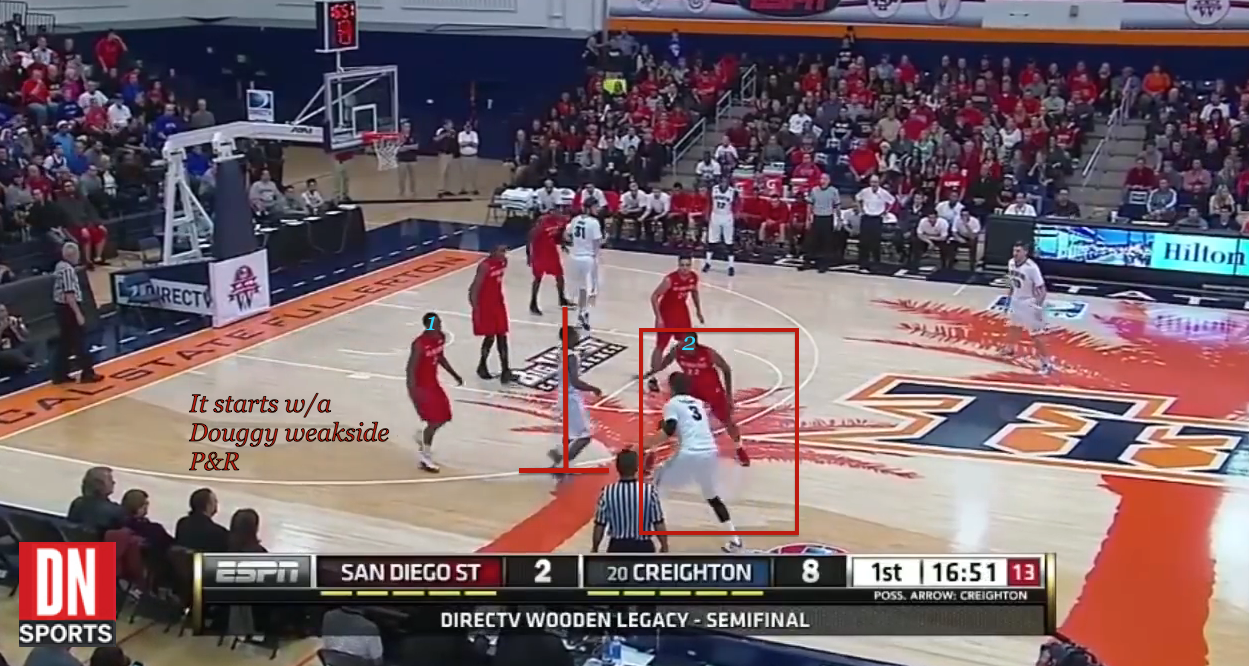 After the switch, the much smaller guard sags off Douggy (for whatever possibly insane reason) and Douggy launches from 23 feet or so as he has a shooting mismatch on a much smaller guard.
Too easy for him.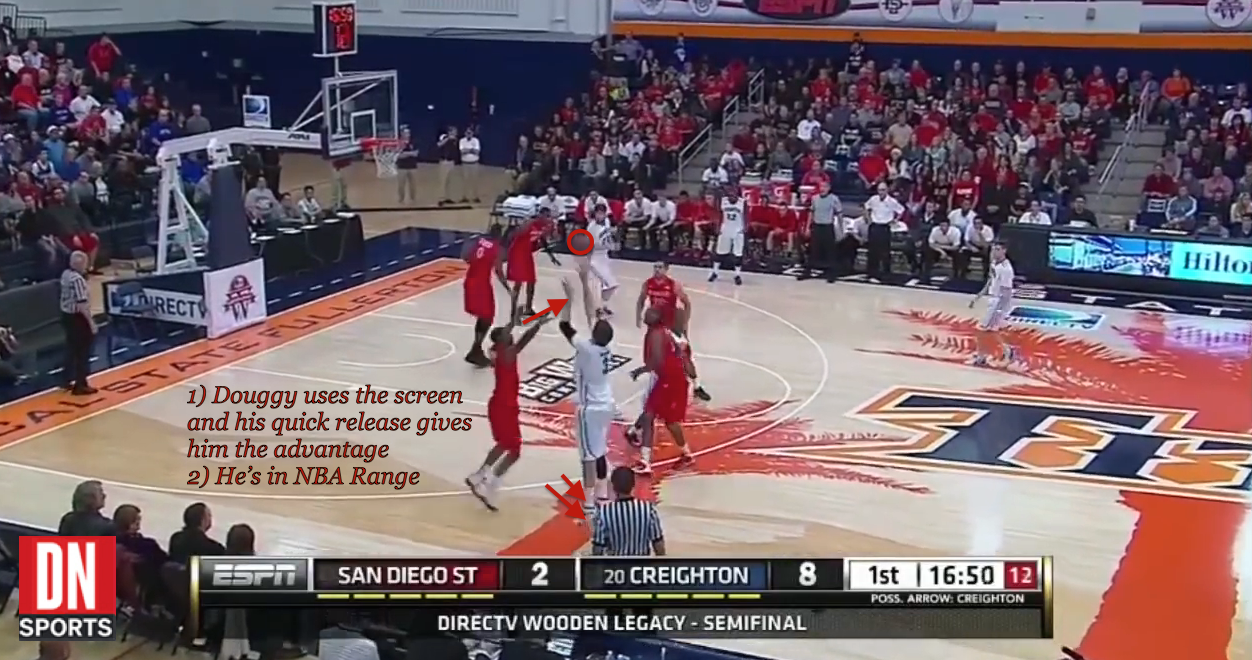 But Douggy is equally as effectively setting the screen and slipping to the top of the key or wherever there is open space if no one follows his pick-and-slip.
Here Douggy sets the screen and waits for two players to double-team the ball after the contact is made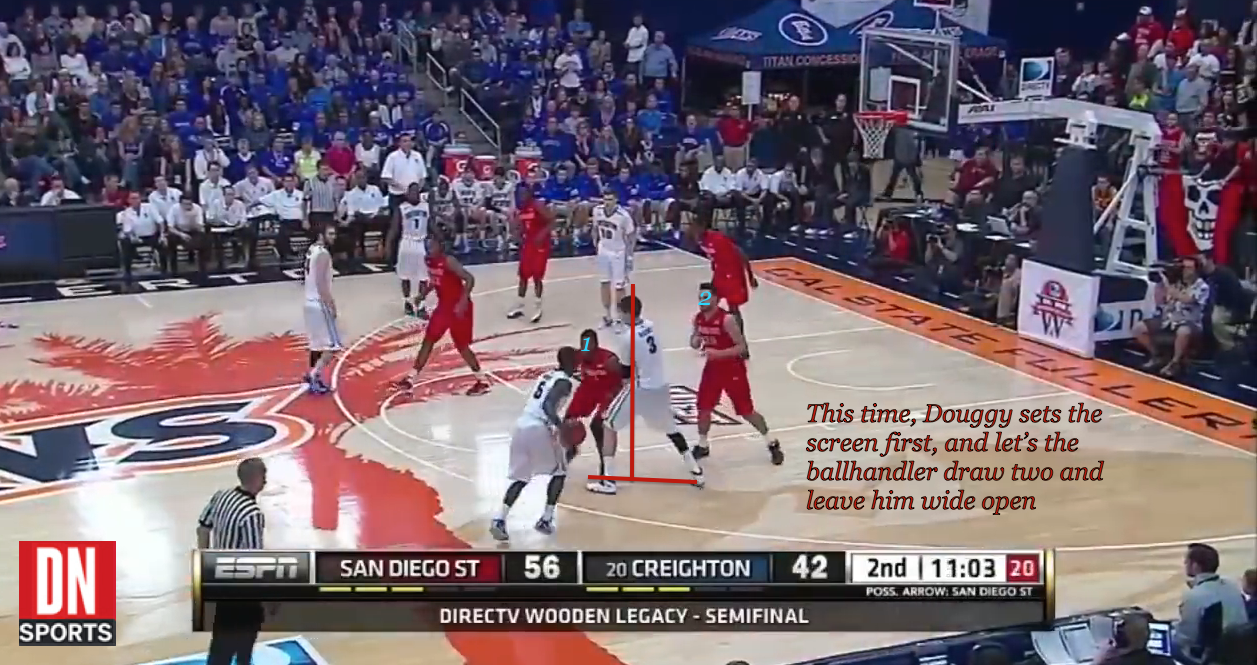 He then quickly slips from the point of contact to the strong side of the screen but the top of the key, the entire floor sees what's happening before the closest player realizes it.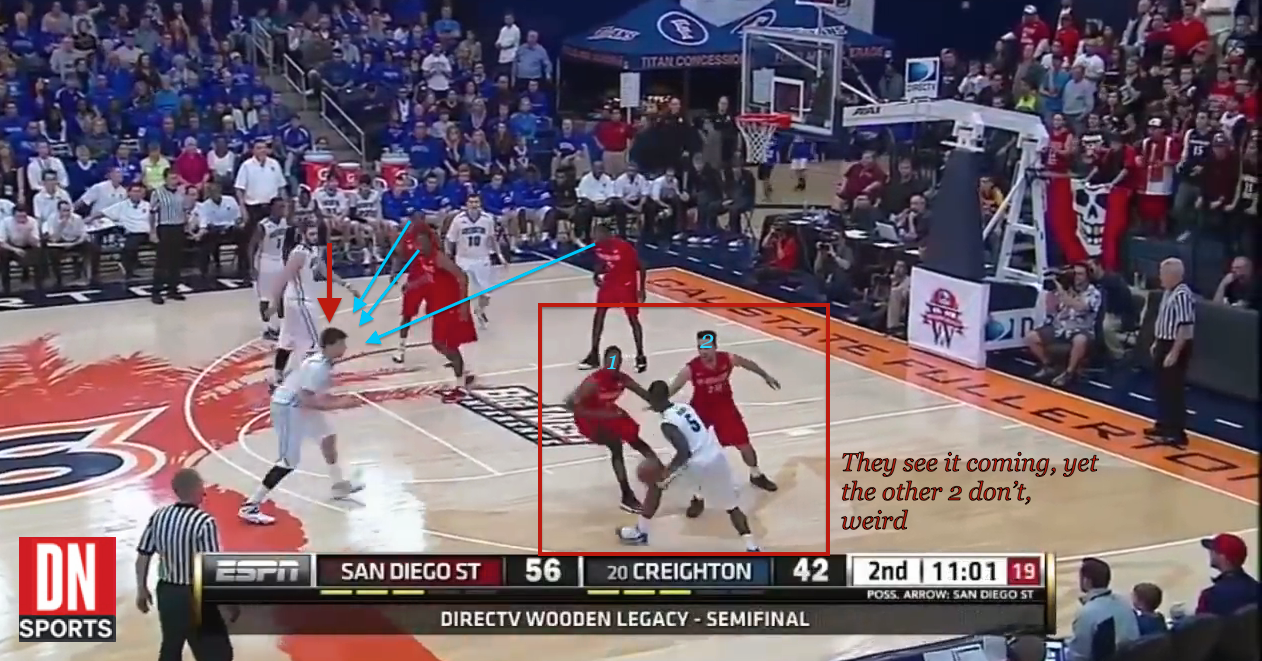 Then Douggy, again, get's a mismatch on a smaller guard and he launches from NBA range with barely a hand in his face because the defender is three feet away from him. Started and finished by McBuckets. He finished with 30 points early in the season.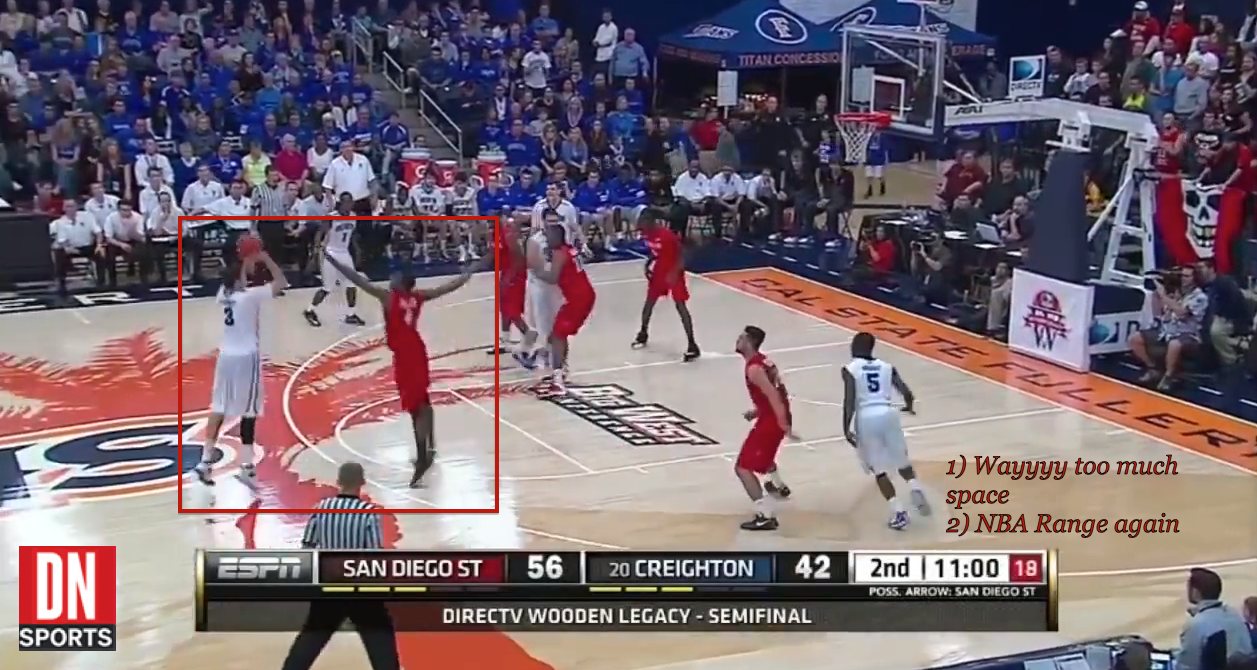 1B) Creighton vs. Xavier, McDermott's shooting/scoring ability
Moving without the ball
Douggy's shooting skills are also well documented without the ball as well as setting and using the screen while getting his feet set.
In this clip against Xavier, McDermott weaves his way from strong side to weak side of the court in about five seconds.
He starts being heavily guarded by a Xavier defender on the right wing. But notice where he's trying to get to on the floor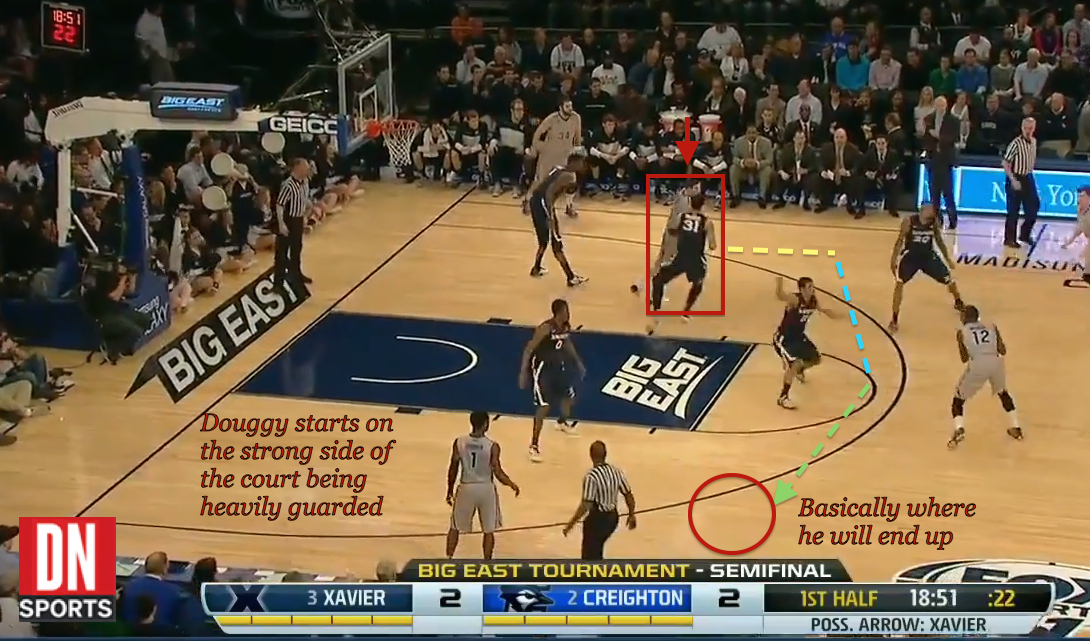 The defender runs into his own man and Douggy has perfect eye contact with Austin Chapman the entire way through, now he's at the top of the key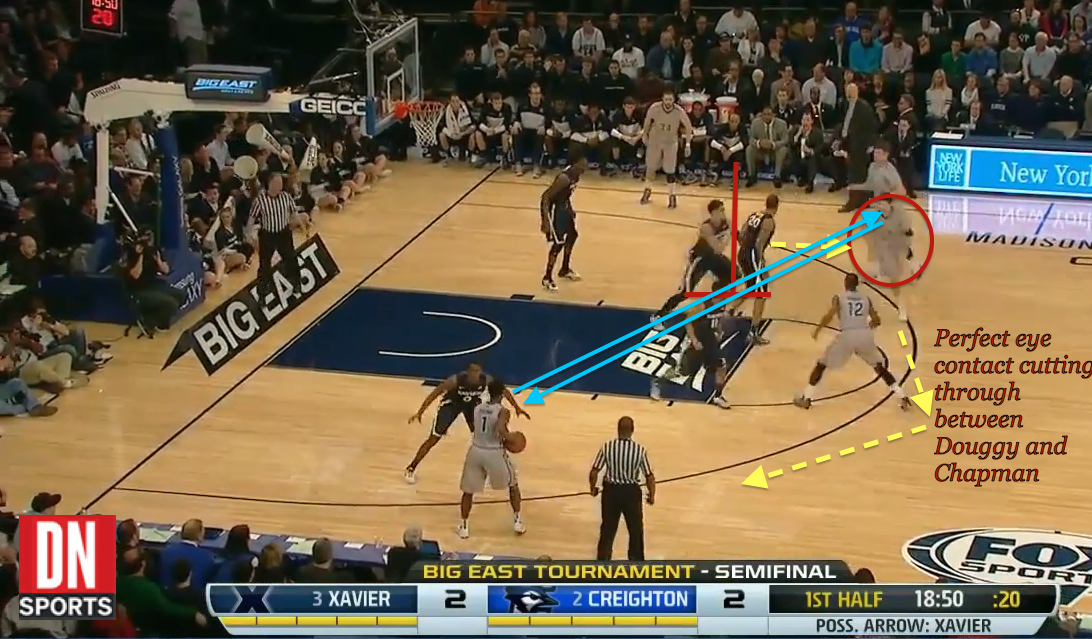 Now another Creighton player sets a screen for Douggy to cut through and he's almost at his spot on the floor. Chapman swings him a lead pass because they already assume he's going to get to his spot uninterrupted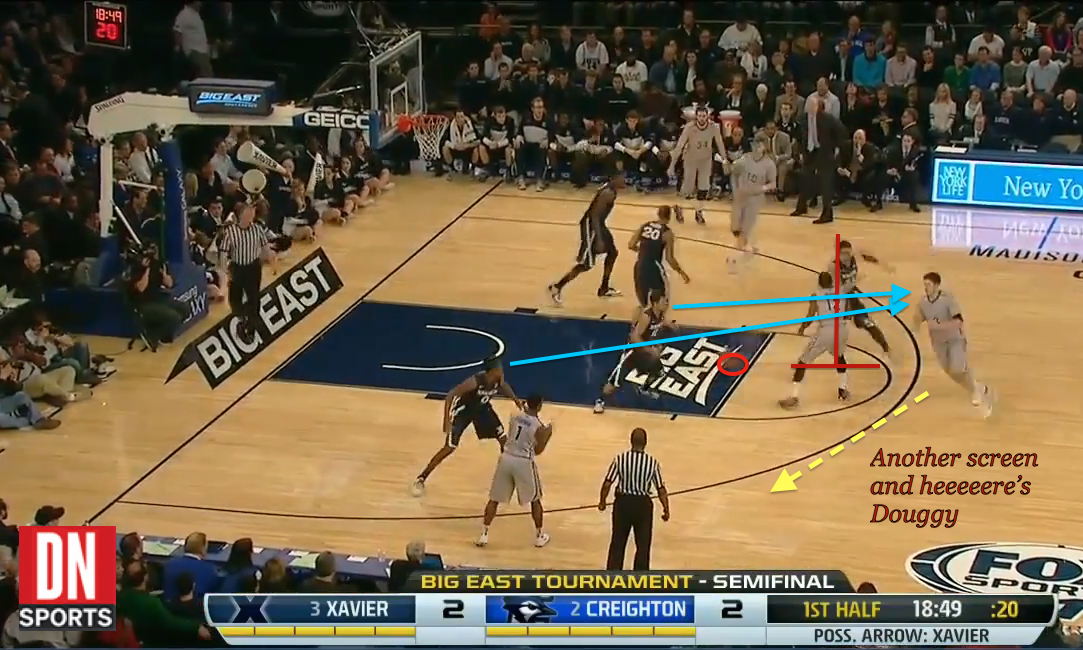 And finally, the help defense reacts poorly and the original defender gets to his spot late and McDermott is already in the air launching a three. He finished this game with 32 points in the Big East Tournament.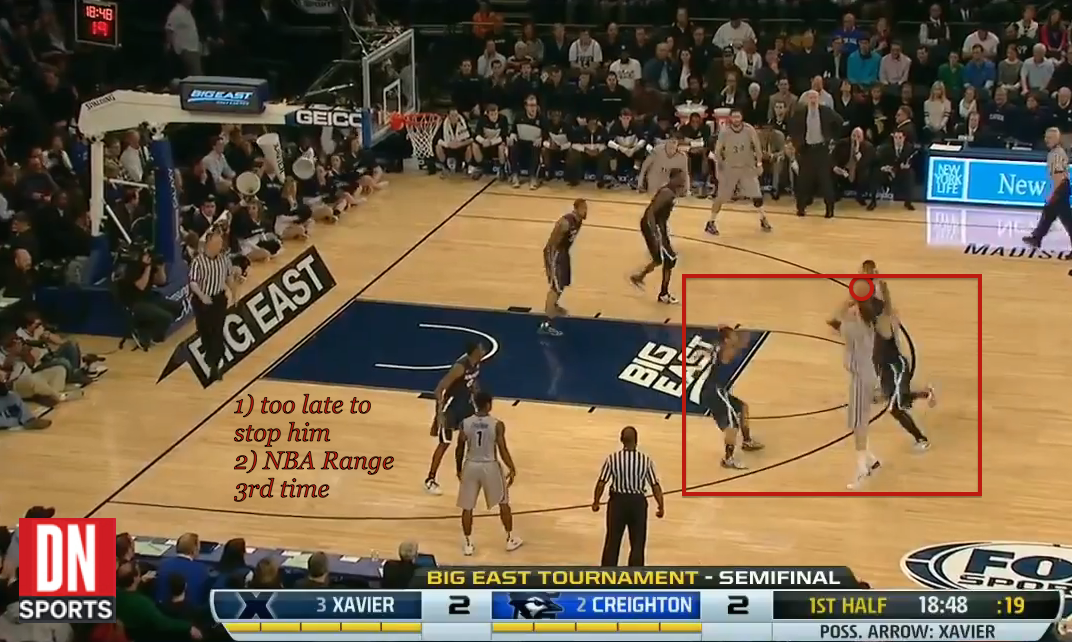 1C) Creighton vs. St. John's, McDermott's shooting/scoring ability
Straight-line drives/ball fakes
Douggy isn't the most athletic kid or the best ballhandler in this year's class, but he knows how to use his body to get to the rim. When on the perimeter, Douggy can get his opponents to bite on ball fakes and get straight-line drives to the hole.
In this shot, Douggy has Sanchez five feet away from him and is about to run him around the court.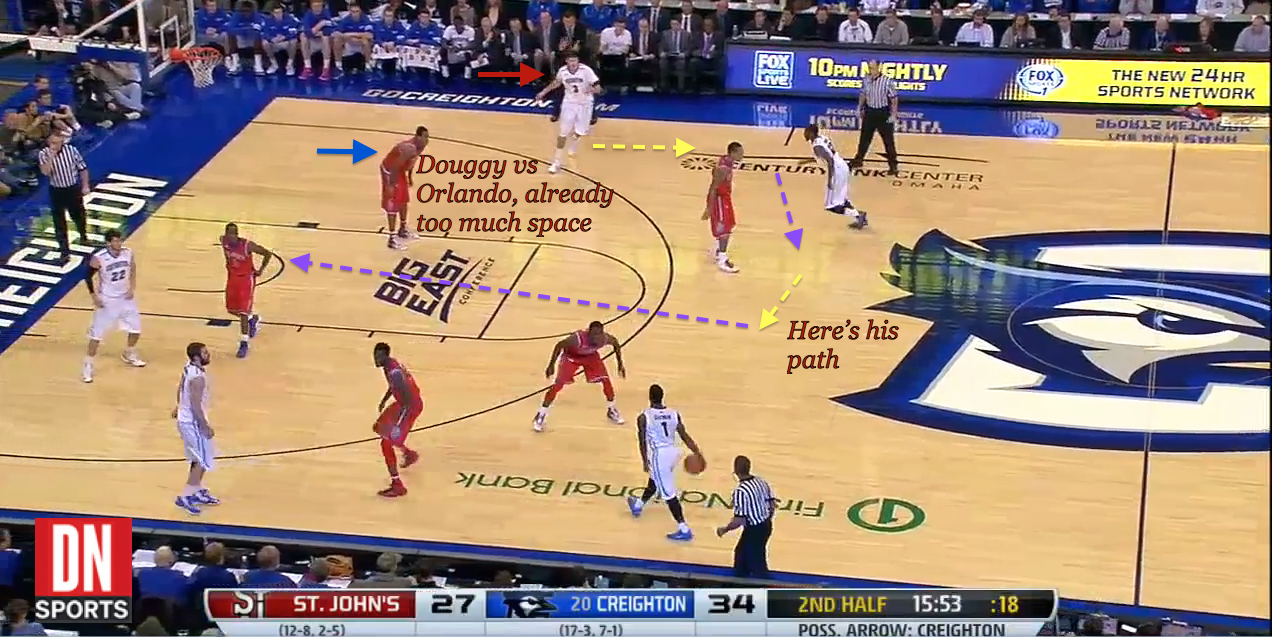 Creighton's offense, which was one of the best in the NCAA last year, moves so much along the perimeter that even when screens aren't being purposely set, players run into each other or others they're not defending while chasing Douggy.
Douggy gets Sanchez and other players to get caught behind another Creighton player and he gets into space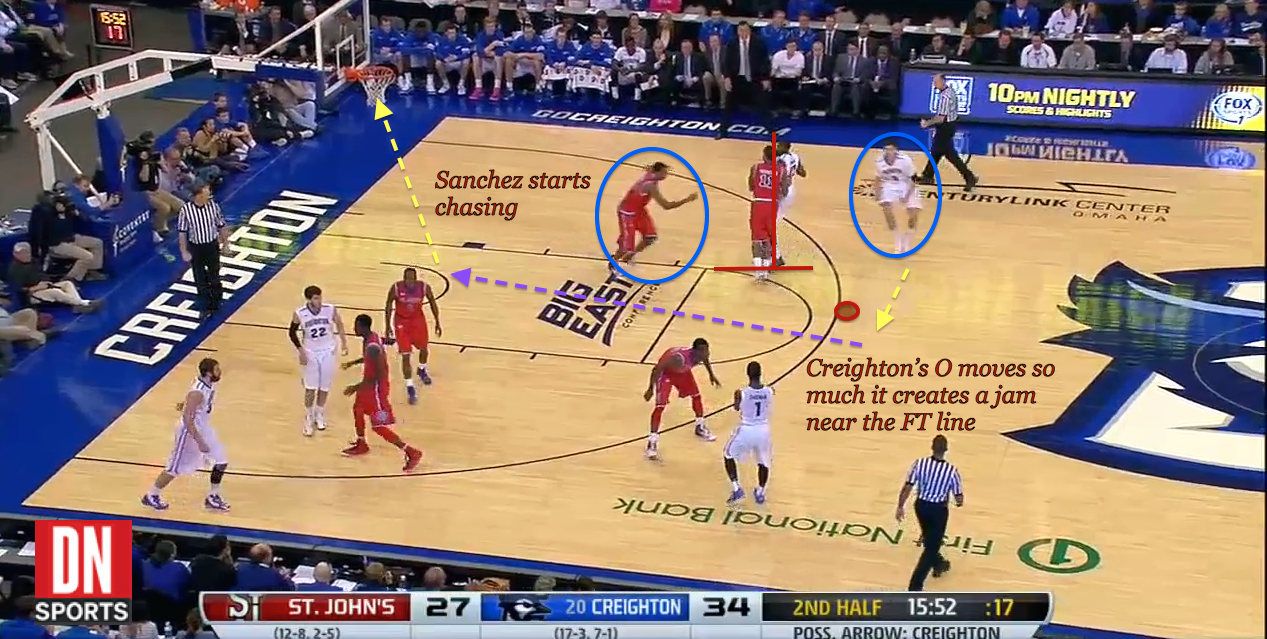 Douggy then uses a ball fake and gets Sanchez slipping. As a result, he decides to make a straight line drive to the basket because there's no one protecting the paint. That's because every player is along the perimeter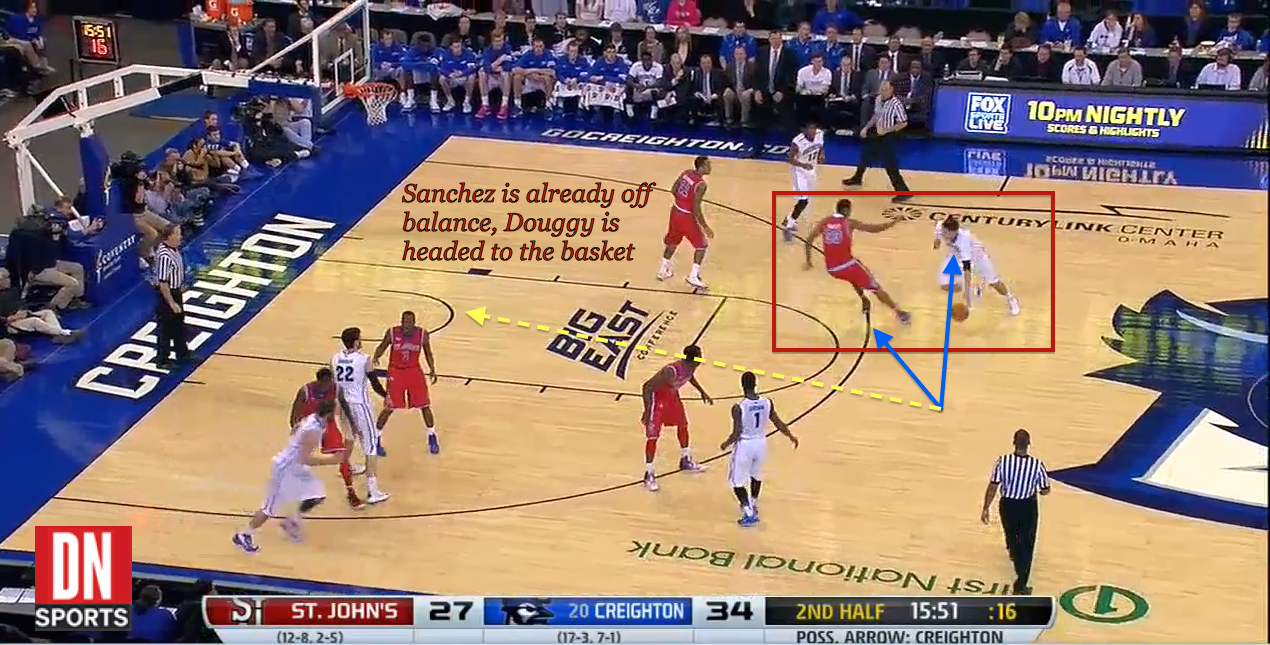 Douggy then finishes over the taller defender with the bucket and a foul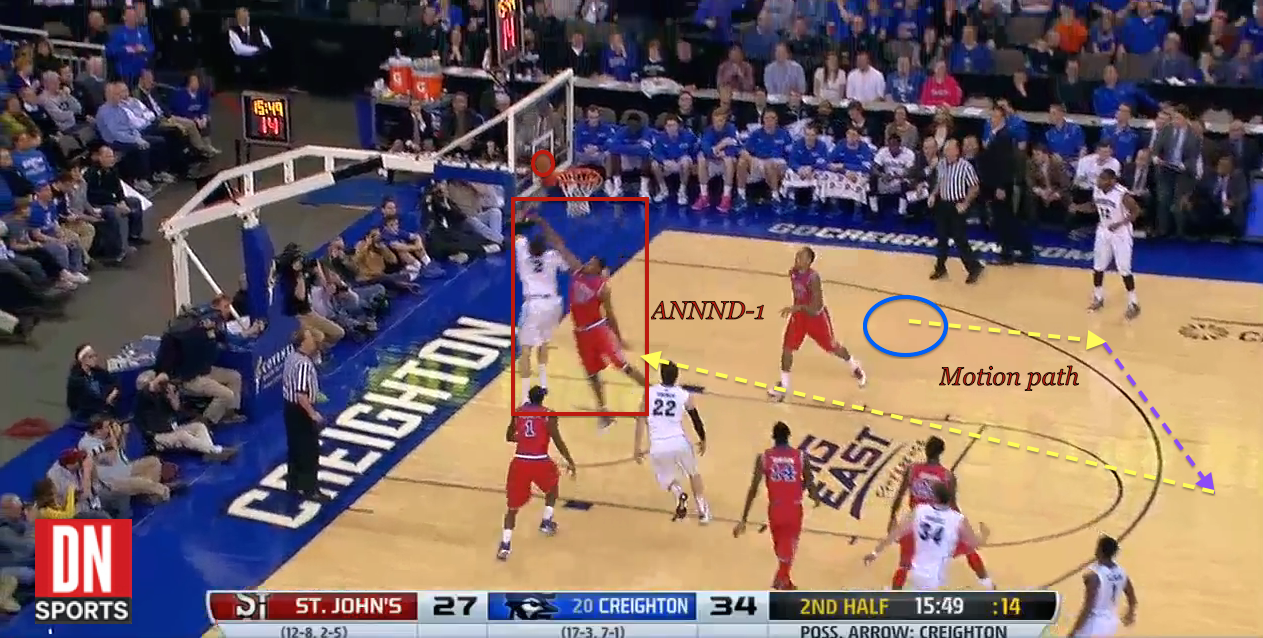 1D) Creighton vs. Providence, McDermott's shooting/scoring ability
With his feet set
Lastly, Douggy is one of the best perimeter players in this draft and the most efficient when it comes to getting his feet set coming off a pass.
This time against Providence in the Big East Championship, he's seated in the high post waiting for Chapman to attack
Look at his motion path again.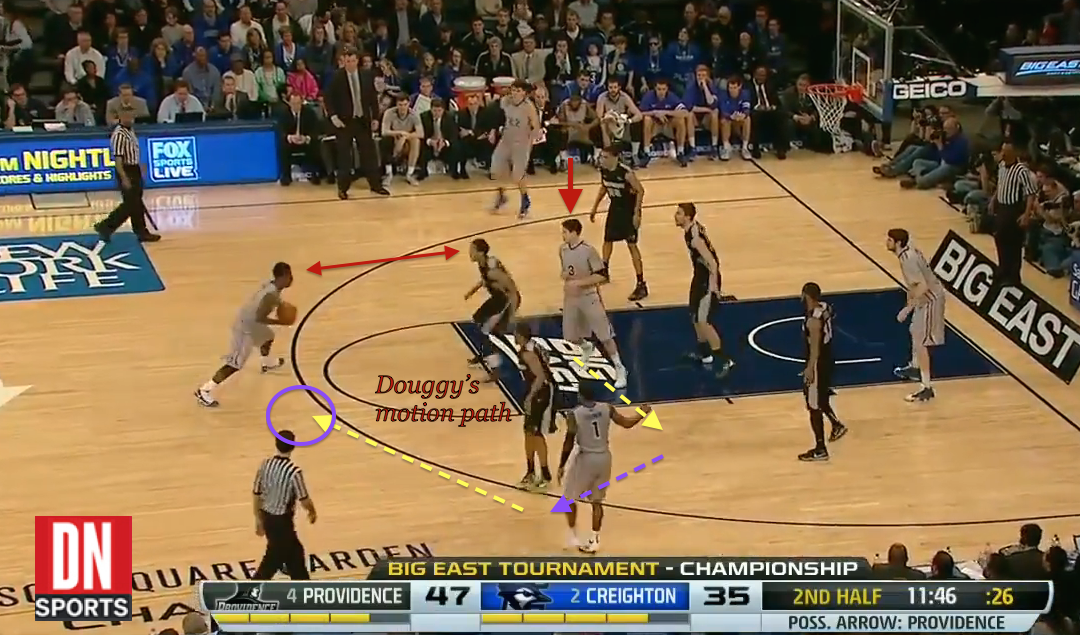 Douggy starts his run after Chapman attacks and the majority of the Providence defense just forgets that the country's best scorer is on the floor. McDermott basically walks to the top of the key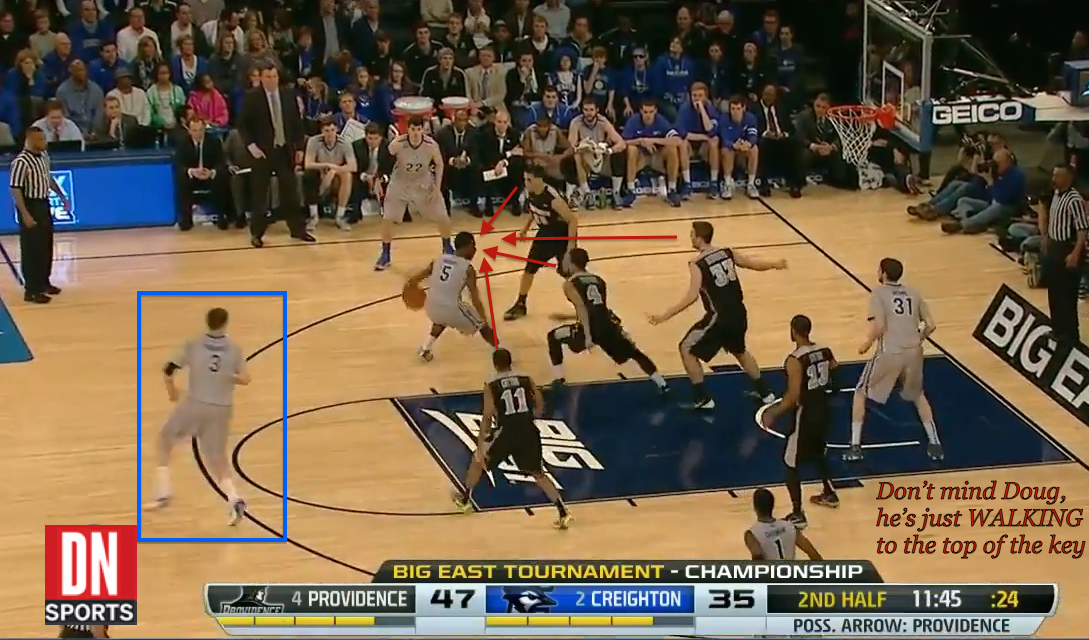 And to end it, he's three dribbles behind the arc and launches some "in the gym" range stuff at the basket. Ridiculous.
2) Creighton vs. DePaul, McDermott's High IQ
Douggy has a knack for always making the right play when it comes to offense, even if it's not his own offense that he wants to get going.
When he dropped 35 on the Blue Demons, he also had a few nice dimes from the post area. His vision is pretty solid for a 6-foot-8 scoring machine.
In this play, Douggy is deep in post position and scanning the floor: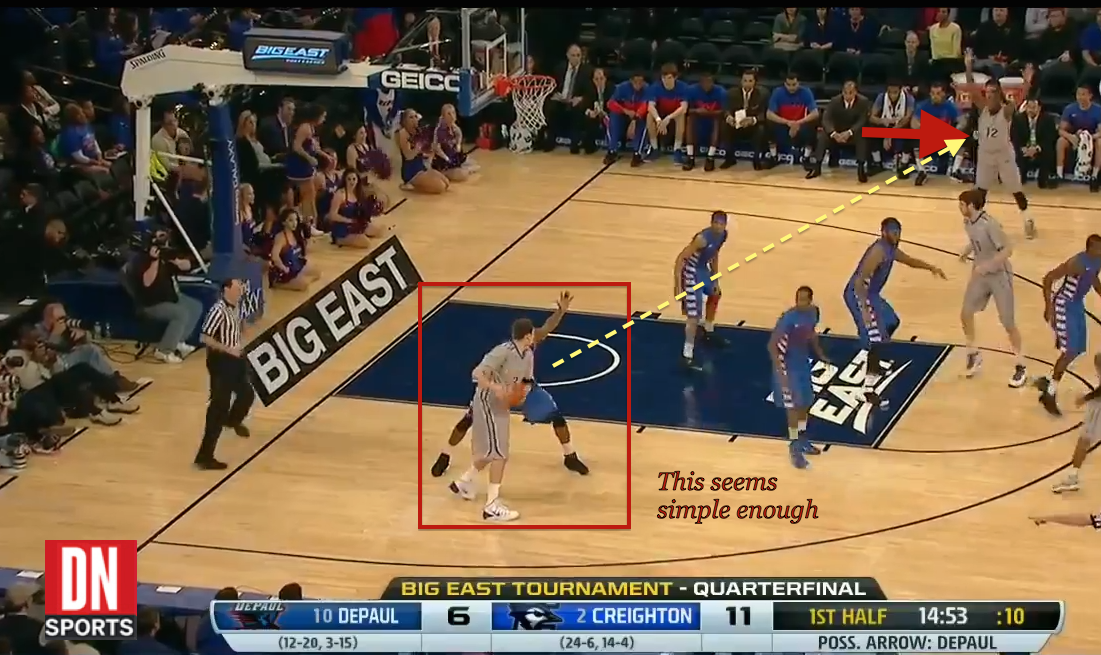 Manigat is on the corner just waiting for the baseball-pass that finally comes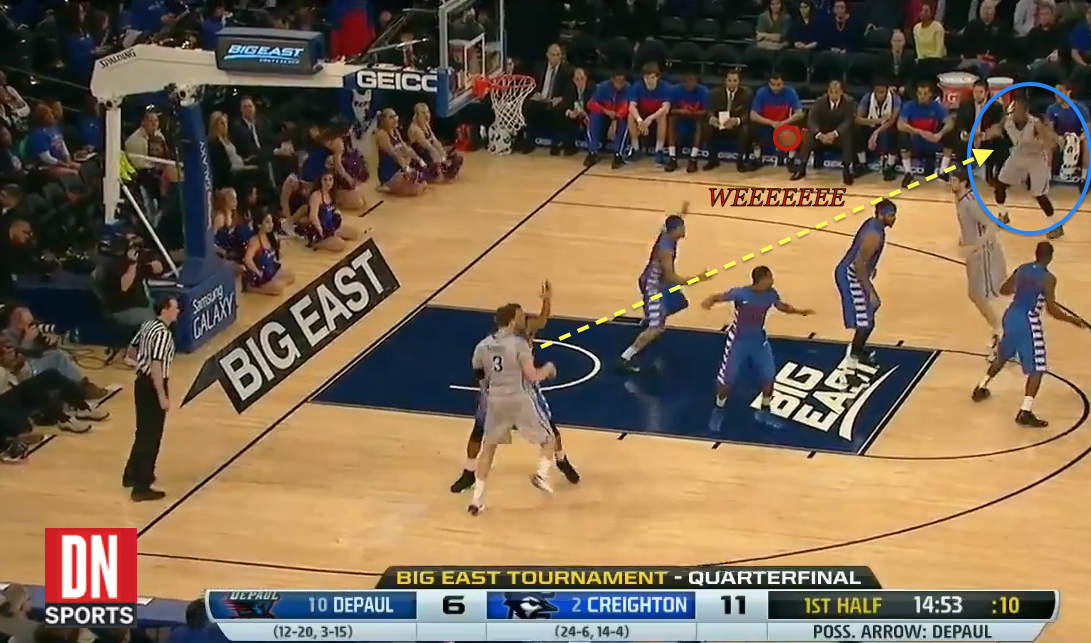 And of course (because it's Creighton) it's a wide open three. This started and was made by Douggy from the weak side post-up position, not an easy pass to make or to find the guy all the way in the corner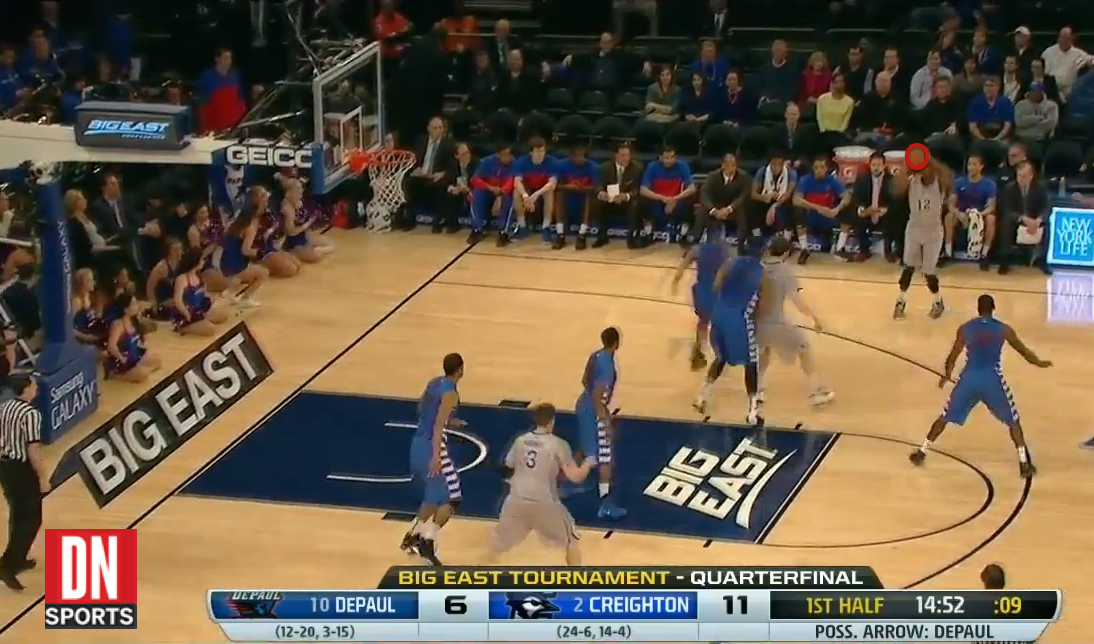 Later in the game, Douggy also found a guy cutting to the basket and made a nice over-the-shoulder pass to him wide open under the net, after his defender got screened to death on the strong side of the court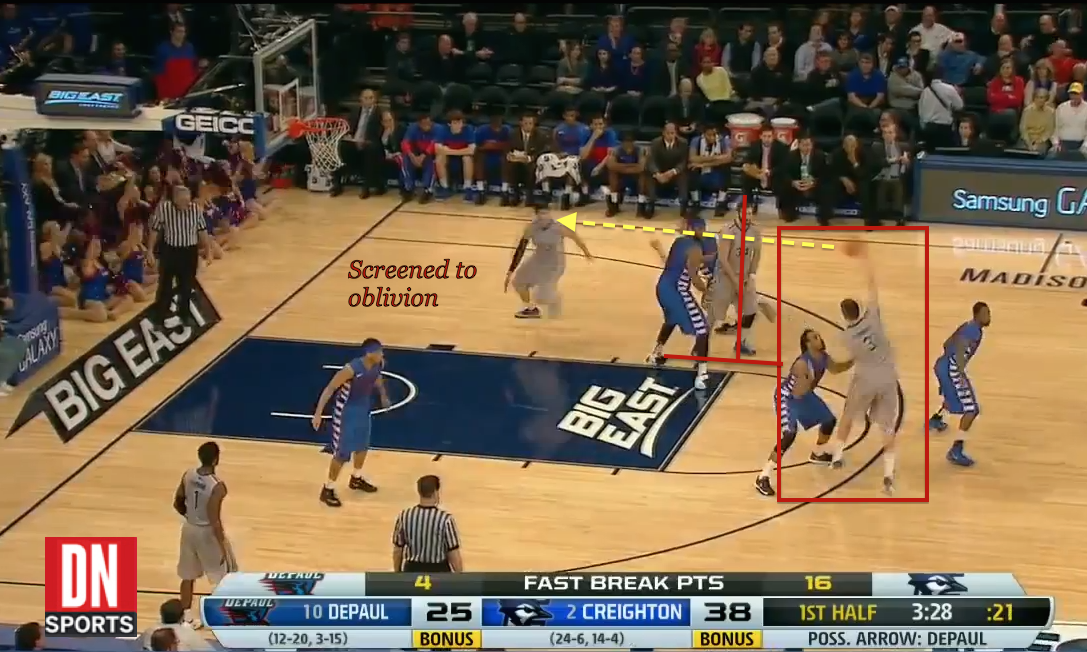 Douggy is a pretty smart player, these plays aren't as easy as they seem to make and to finish.
3) Creighton vs. DePaul, McDermott working in the post
Now from the post, McDermott was very good as well, his entire everything on offense was very good.
Again against DePaul, Douggy scans the floor before he does anything from the post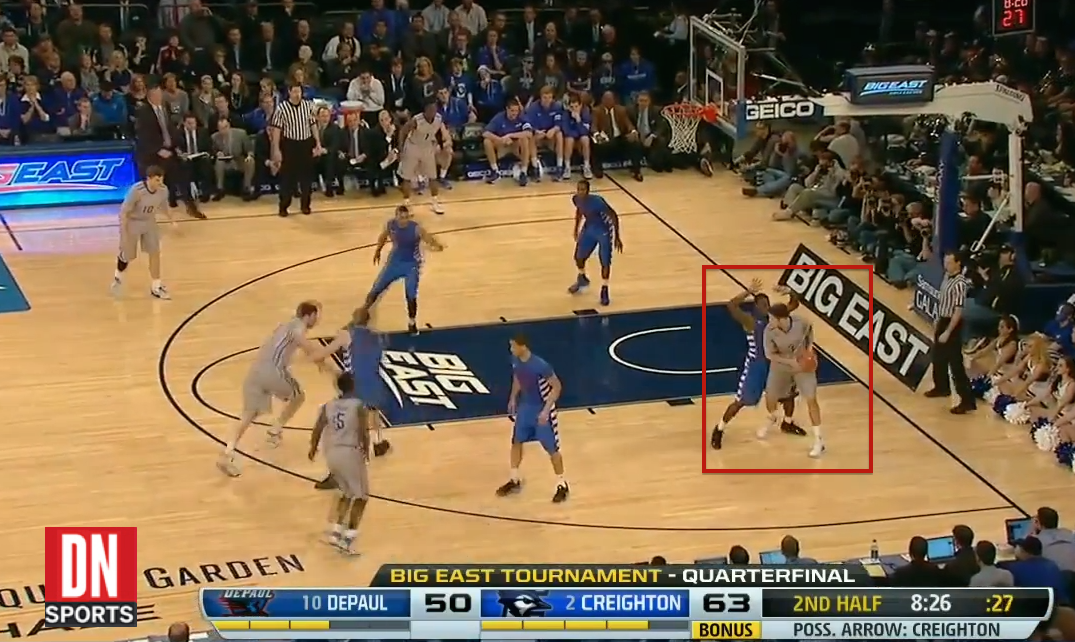 He immediately dribbles to his left after finding no options outside of his deep post-position and runs into a double-team, for once.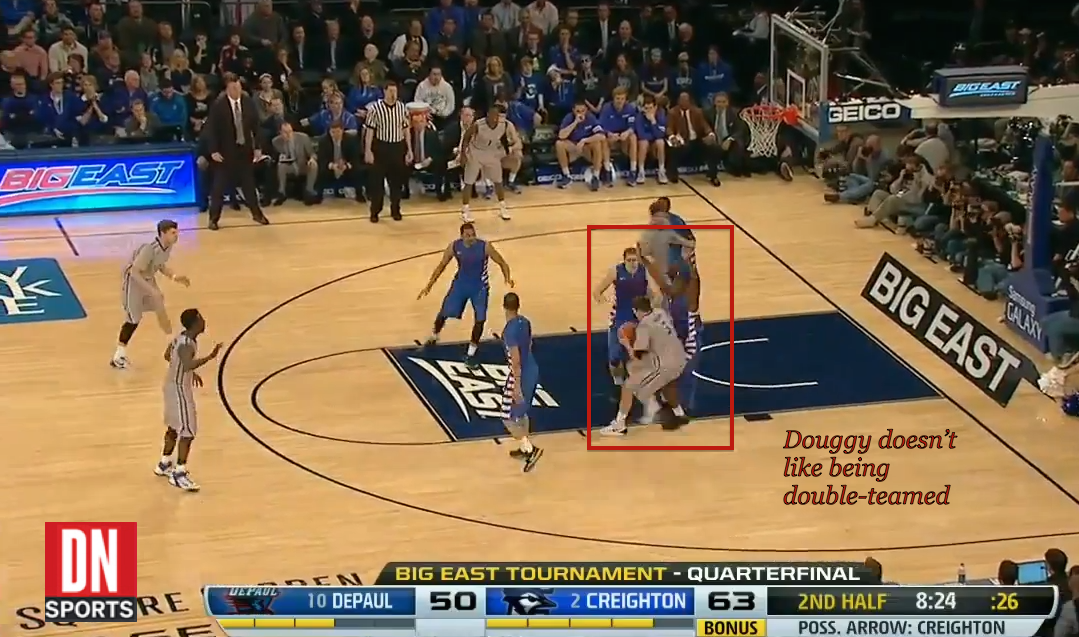 But instead of giving up the ball, he uses some nice footwork and spins back to his strong side and palms the ball for a righty off the glass bank shot from a few feet out. it takes a LOT of skill to hit that shot.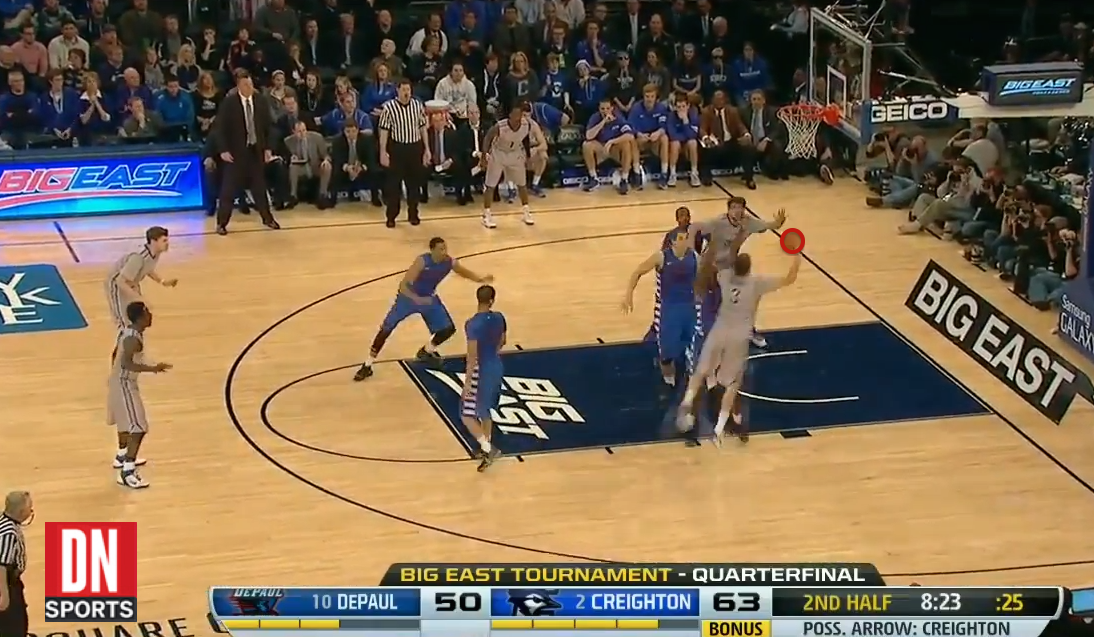 Later in the game
You may have been asking yourself, "Why haven't we seen any Douggy, Dirky, step-back jump shots?" Well, let me help you out.
Douggy gets another entry pass, this time in the high post from Chapman.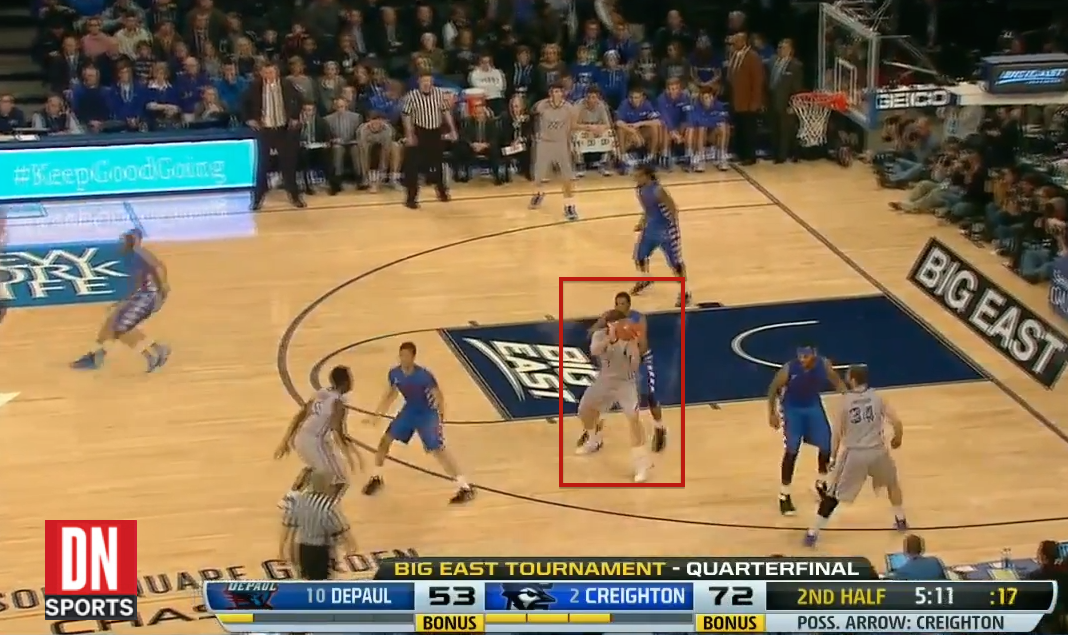 Douggy again drives with his left hand and finds his way to the middle of the floor where he's isolated against other defenders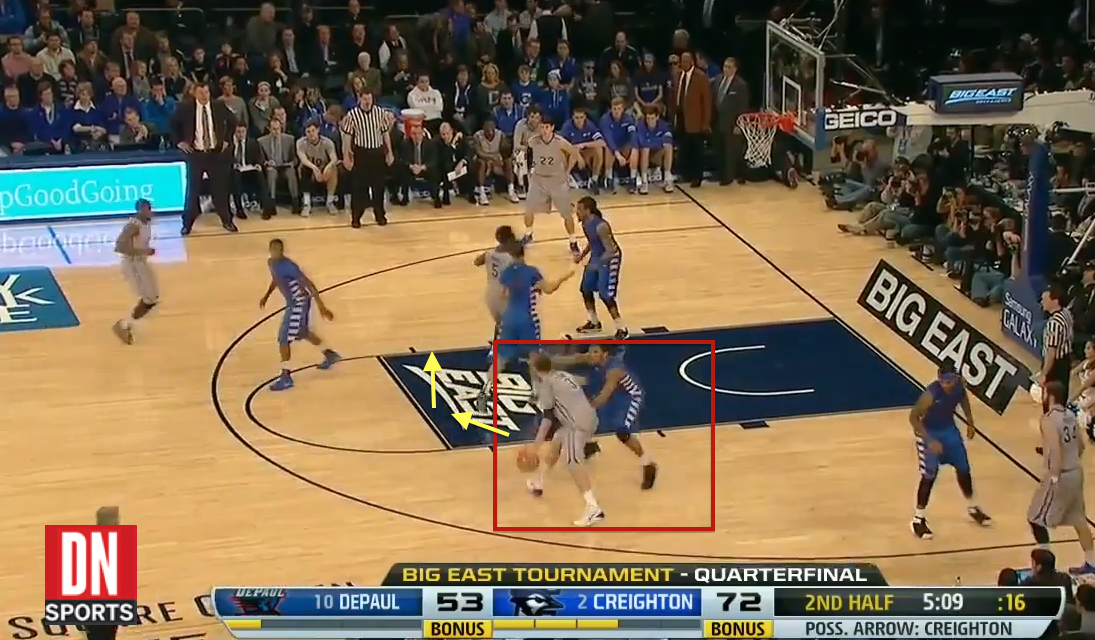 He finishes by using the step-back, Dirk Nowitzki-esque jumper that Creighton fans have fallen in love with this season and gets the bucket for two.
Dirk McDermott.
Final Analysis: With Douggy, a team is going to get an extremely experienced scorer that can put the ball on the floor and shoot it more efficiently than anyone in the current NBA Draft class. He's going to have his deficiencies of course. He's most likely a tweener, it's not certain if he will be playing at the three or the four and he's not very explosive or athletic and his one-on-one defense is certainly questionable.
But if a team is looking for a developed offensive threat off the bench (which most teams are looking for) on a rookie contract, then Douggy might be the right guy for the job. Also, if a team needs perimeter shooting, then he's also probably the guy to call.
How does he fit with the Sixers: One way that Douggy would help and fit with the Sixers is how he was used in Greg McDermott's system, which was as a primary trail man next to Ethan Wragge following a rebound or loose ball.
McDermott and Wragge would both run the floor late, depending on which guy got the rebound, and look to score from the perimeter because the defense wouldn't account for them in the half-court set up.
Douggy's scoring ability and perimeter shooting is something that will greatly help the Sixers, a team that struggled to not only produce offense but also score from deep. His ability to rebound well for his position and run in transition can only help, but eventually someone is going to have to perfect his defensive abilities.
I'm sure Brett Brown will have no trouble with that at all.
Get the full Sixerville experience at PhillyDailyNews.com.