Archive: August, 2010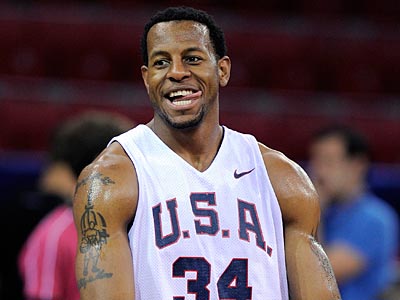 Sixers forward Andre Iguodala was in the starting lineup as Team USA opened play in the World Championships with a 106-78 win over Croatia in a Group B game in Istanbul.
Iguodala had five points, three rebounds, two assists and three steals and saw 14:24 of action.
Eric Gordon (Los Angeles Clippers) had 16 points on 4-of-6 shooting from 3-point. Kevin Durant (Oklahoma City Thunder) contributed 14 points and grabbed eight rebounds; Chauncey Billups (Denver Nuggets) finished with 12 points and four assists; while Rudy Gay (Memphis Grizzlies) and Russell Westbrook (Oklahoma City Thunder) scored 10 points each. Kevin Love (Minnesota Timberwolves) led the USA on the glass, recording a game best 10 rebounds while adding seven points.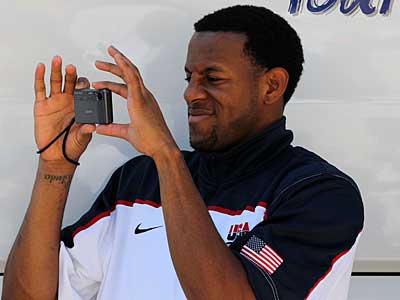 Team USA has finalized its roster for the World Championships with the withdrawal of Boston Celtics guard Rajon Rondo. Rondo did not play Sunday after Spain in an exhibition game.
"Rajon came to us and said he was going to withdraw from the team, that he had some family matters to attend to and some things to take care of before the NBA season. He did an outstanding job during our training, we appreciate the effort and commitment he made to our program and he completely has our support," said USA Basketball chairman Jerry Colangelo.
The 12-man roster for the Worlds: Kevin Durant, Derrick Rose, Rudy Gay, Lamar Odom, Chauncey Billups, Danny
Granger, Russell Westbrook, Eric Gordon, Stephen Curry, Kevin Love, Tyson Chandler and Andre Iguodala.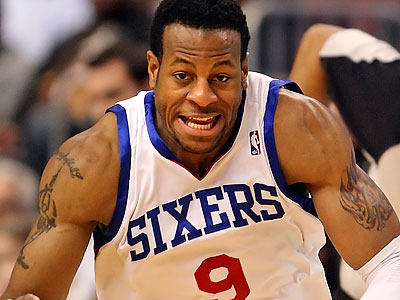 The Sixers' Andre Iguodala had five points, six rebounds, two assists and three steals in 29 minutes as Team USA beat Lithuania, 77-61, in a tuneup for the World Championships yesterday in Madrid, Spain.
Kevin Durant led all scorer with 15 points, while Rudy Gay had 14 and Russell Westbrook added 12.
The Americans struggled early, shooting 3-for-21 in the first quarter. Three minutes into the third quarter Durant hit a turnaround jumper to give the U.S. its first lead of the game, 36-34.
UPDATED:
Andre Iguodala was in the starting lineup today for Team USA in its 86-55 victory over France in an exhibition game at Madison Square Garden in preparation for the World Championships. Iguodala scored two points on 1-for-2 shooting, his quietest day offensively in the US's various warmup games.
Team USA leaves Monday for Madrid, where they will practice Aug. 17-20 and then play three games: against Lithuania on Aug. 21 and Spain on Aug. 22 in Madrid, and play Greece in Athens on Aug. 25.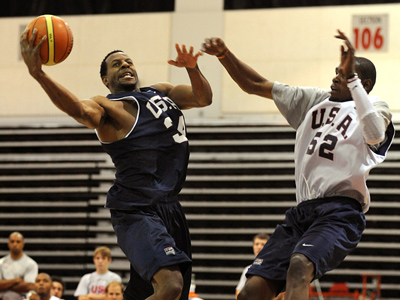 The stellar summer of Andre Iguodala continued Thursday night at Radio City Music Hall in New York.
Iguodala posted game highs of 15 points and six rebounds and was named the player of the game in USA Blue's 49-47 win over USA White.
The intrasquad game for the finalists for the U.S. roster for the World Championships was played on a stage at the famous venue as part of the World Basketball Festival.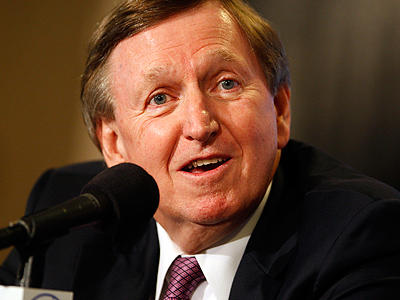 Rod Thorn was introduced this morning at a news conference as the new president of the 76ers.
Thorn said he resigned as the president of the New Jersey Nets and met with Ed Snider a week after that. He later met with Peter Luukko and the sides reached an agreement this week.
The Sixers have split the president and general manager jobs for the first time since Pat Croce left the organization. At that point, Billy King held both titles. Ed Stefanski then took both jobs, until today.
This came together quickly. Ed Snider, the 76ers' chairman, and Peter Luukko, the chief operating officer of Comcast-Spectacor, reached out to Rod Thorn about joining the organization.
When the smoke cleared, a source familiar with the situation said Thorn had agreed to a contract of ''more than three years'' as president of the team, and that he had also agreed to remain as a consultant at whatever point his term as president ended.
At the same time, Snider and Luukko agreed to keep Ed Stefanski, who had been president and general manager, in place as the GM. A press conference is scheduled for 11 a.m. at the Wells Fargo Center.