Archive: April, 2010
Larry Brown met with the Charlotte media today and repeated what he has been saying all along. He told reporters the same thing he told Bobcats owner Michael Jordan.
''I talked to Michael about it and told him now I'd go back and visit with my family,'' said Brown, who has coached the Bobcats for two seasons and has two seasons remaining on his contract. "I don't want this to be about me. My whole thought process now is how to make (the Bobcats) better. I don't want this to drag on. But I think the worst thing you could do is make a decision right after (being eliminated from) the playoffs. I still want to coach. I told that to Michael--I want to coach and I don't want to coach anywhere else.''
The Bobcats were swept out of the first round by the Orlando Magic, the defending Eastern Conference champions.
UPDATE: Eddie Jordan has apparently informed Rutgers that he is not interested in the job and withdrawn from consideration, two sources told the Newark Star-Ledger.
Jordan told Rutgers that he still wanted to pursue opportunities in the NBA, rather than going into college basketball.
*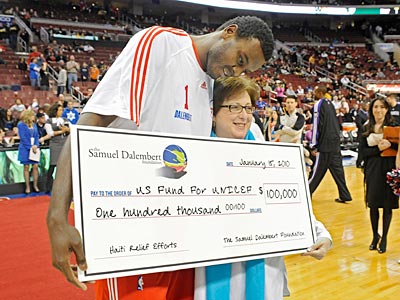 Sixers center Samuel Dalembert is the 2009-10 recipient of the J. Walter Kennedy Citizenship Award presented annually by the Professional Basketball Writers Association. The award is named for the second commissioner of the league and honors an NBA player or coach for outstanding service and dedication to the community.
Dalembert has worked tirelessly to provide relief to victims of a devastating earthquake in his native Haiti since Jan. 12. In addition to making a personal donation of $100,000 to UNICEF, he visited the stricken country twice and raised awareness of the need for relief.
His Samuel Dalembert Foundation, founded in 2007, teams with UNICEF, the Red Cross and Feed the Children to assist relief efforts in Haiti. Dalembert has also been active in helping to build a training facility and a school in Haiti called the Dalembert Academy.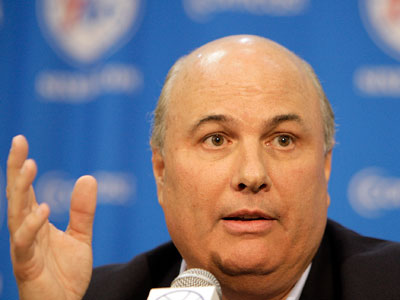 Hours after the Sixers' worst season since 1996-97 mercifully concluded, the end officially came for coach Eddie Jordan.
Jordan's dismissal was announced this morning after a disastrous 27-55 season, with two years remaining on his contract plus an option for a fourth year.
The announcement was made by president and general manager Ed Stefanski, whose job status also has been in question.
Poll: Who should the Sixers pursue?

(5741 votes)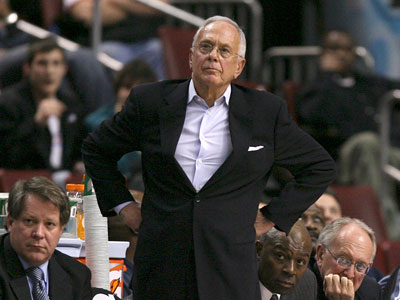 Larry Brown all but scoffed at a New York Post report saying he would be returning to the 76ers to take control "from top to bottom.''
Brown, the Charlotte Bobcats coach, told the Daily News the report was "old news." Speculation is rife that that the Sixers will fire coach Eddie Jordan, possibly as soon as Thursday, even though Jordan has two years remaining on his contract.
"I can't speculate on what the Sixers will do, but I'm not coaching anywhere else," Brown said. ''I love (new Bobcats owner) Michael Jordan. He gave me a chance even after the (bad) experience I had in New York. I've been happy. My goal is for us to do well in these playoffs. It's been great for us. We've never been to the playoffs.''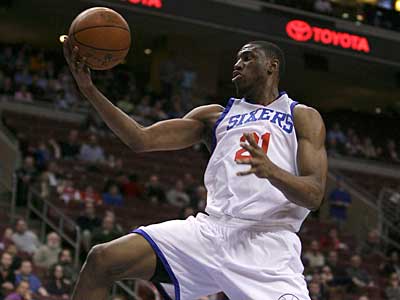 Sixers forward Thaddeus Young will miss the remainder of the season due to a right thumb fracture.
After X-rays last night, team physician Dr. Jack McPhilemy determined that the injury has not healed sufficiently enough to allow Young to return. The Sixers have five games remaining, beginning with tonight's game in Miami.
"While Thaddeus did everything asked of him in an attempt to return to action this season, we feel it necessary to take the appropriate precautions to allow this injury to heal properly," Sixers president and GM Ed Stefanski said in a statement.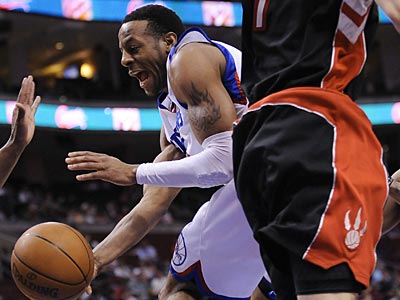 The 76ers lost to the Toronto Raptors, 128-123, in overtime on a day when they did not get a single individual rebound in the entire third quarter.
The Sixers lost on a day when Andre Iguodala and Jrue Holiday--their starting guards--combined to shoot 19-for-26 from the floor.
The Sixers lost on a day when neither starting forward--Elton Brand and Jason Kapono--had a rebound. For Brand, this was the first time in 713 career NBA games that he came up with a zero off the glass.
Dwayne Jones, a 6-11 rebounder and shot-blocker who played at Saint Joseph's University, has been hanging around the fringe of the NBA for several years. He has logged brief time with Minnesota, Boston, Cleveland and Charlotte, but hasn't been able to stick. He had tryouts earlier this season with the Portland Trail Blazers and the Dallas Mavericks.
Now, the Arizona Republic is reporting that he will sign a contract Monday with the Phoenix Suns and will be eligible to play two days later against the San Antonio Spurs.
Jones, from American Christian in Aston, played for Saint Joseph's from 2002-03 to 2004-05. Most recently, he had been playing for the Austin Toros in the NBA Development League.