Archive: March, 2013
76ers center Andrew Bynum underwent arthroscopic surgery on both knees Tuesday, the team announced.
Bynum is scheduled to begin physical therapy on March 22 and will remain on crutches for six weeks.
The Sixers announced Monday the surgery would occur and it would end any chance Bynum had to play this season.
Bob Cooney
The last time the 76ers won a road game it was January 1 against the Los Angeles Lakers in the Staples Center. Tonight, the team returns to the Staples Center, only the opponent this time will be the Clippers.
The Clippers they will be facing will be agitated, as they lost at the Sacramento Kings on Tuesday after getting outscored 38-18 in the final quarter. Los Angeles will also be hurting as starting shooting guard Chauncey Billups pulled a groin in the second quarter of that Sacramento game and didn't return. It is doubtful he will play tonight.
Bob Cooney
Like the teams in the upcoming NCAA Tournament, it could be one and done for Andrew Bynum as a 76er.
The Sixers announced at halftime of its game against the Portland Trail Blazers that the 7-foot, 300-pound Bynum will have surgery on Tuesday, thus ending one of the most frustrating situations in the team's history. Bynum will undergo arthroscopic surgery on both knees.
"After many months of rehabilitation and consulting with numerous doctors, Andrew and the doctors treating him determined that this is the best course of action at this point," said Sixers general manager Tony DiLeo. "We will continue to monitor and evaluate his status moving forward."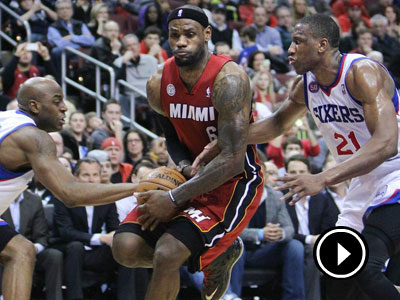 The Sixers put up a fight, but the Heat's LeBron James was too much as the Sixers fell, 98-94. The Daily News' Bob Cooney reports from the Wells Fargo Center.
Bob Cooney
It may not have been the best of times for new Eagles coach Chip Kelly to talk to Doug Collins about what it's like to coach in this city, being as Collins and his team was mired in a streak of 12-losses-in-13 games when the two met before the 76ers-Nets game Monday.
Perhaps with the free agency frenzy about to begin, Kelly was seeking some peace and quiet at a Sixers game. If he was looking for advice about the fans, Collins has only ever gone one way on that subject.
"Coach Kelly stopped in and it was nice to meet him," said Collins. "It will be exciting to see the team that he puts on the field. I know he's very excited so it was good just to be able to say hello and hopefully we will be able to get together once the season's over.
Bob Cooney
There was a point in the fourth quarter during the 76ers-Miami Heat game when LeBron James was asked (or asked) to cover Sixers point guard Jrue Holiday. To watch the best player in the game right now not only accept the challenge but embrace was fun to witness.
James met Holiday just as he crossed halfcourt, forcing an almost immediate pass. When Holiday got the ball back, James was on him quicker than a bladder-filled dog on a fire hydrant. Then when a short jumper was missed by Damien Wilkins, James went into the lane and snared a rebound in front of Dorell Wright, drove the floor and hit a driving layup to give the Heat a 9-point lead, then it's biggest of the night.
From there on out it was only a question of how much the Heat would win by, not if. The Sixers had valiantly battled, albeit against a Heat team that seemed to be going through the motions for much of the evening. When it was time to put the game to rest and extend the Miami winning streak to 17 games, James made sure of it.
Bob Cooney
It hasn't taken long for newly-acquired guard Charles Jenkins to impress 76ers coach Doug Collins. So much so, in fact, that Collins inserted him into the starting lineup for Friday's game against the Miami Heat. Hey, if you're going to prove yourself, might as well do it against the best of the best.
"My thought on that is with Ray Allen coming off the bench we have to have somebody that can chase him a little bit and I'm hoping Smoke (Royal Ivey) can chase him a little bit. He's one of our better guys chasing guys off screens. I was happy with the way Charles played the other night (in Atlanta). Let's get him out there and see what he can do with our group."
Jenkins, in his second season out of Hofstra, was picked up by the Sixers from the Golden State Warriors for a conditional pick a couple of weeks ago. He started 28 games last season for the Warriors, but saw limited playing time this season. He's a strong, 6-3, 215-pounder who can play both guard spots.
Bob Cooney
The Sixers lost for the ninth time in 10 games. They were beaten by a Boston Celtics team that has not faltered since they lost All-Star point guard Rajon Rondo to a knee injury for the rest of the season, but has prospered. Tuesday's 109-101 win over the Sixers was the 12th in 16 games for the Celtics without Rondo.
The Sixers got some decent performances, with 7 players hitting double figures, including Thaddeus Young (19 points, 10 rebounds) and Jrue Holiday (18 points, 10 assists) each collecting double-doubles.
But the talk of the team (if there really is much for a club pretty much out of the playoff picture and sitting at 23-36) is the play of rookie Arnett Moultrie, who hit all 5 of his shots against Boston and grabbed 4 rebounds in just under 20 minutes of play. In a season that has been at times dismal and derailed from Day One with the Andrew Bynum situation, looking for a bright spot for the future has become the primary focus. And Moultrie has provided a glimmer of light. In his past five games he has made 13 of 14 shots, been active around the basket and come up with those 50-50 balls that usually seem to end up in the opponents' hands.