Archive: March, 2012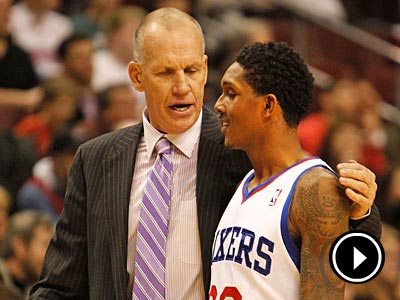 Video: How will Doug Collins handle the Sixers' upcoming 8 games? How tough will it be for Philly to clinch the Atlantic Division? CineSport's Noah Coslov & the Daily News' Bob Cooney chat.
Jodie Meeks' 31 points led the 76ers past the Cleveland Cavaliers, 103-85, restoring the Sixers' lead atop the Atlantic Division. Bob Cooney of the Daily News reports from the Wells Fargo Center.
Bob Cooney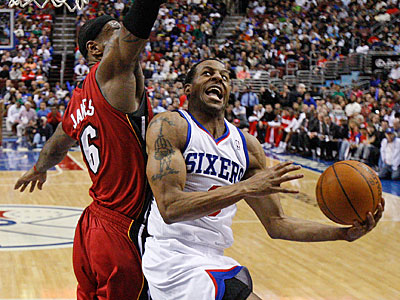 Update: Doug Collins said before the game that Andre Iguodala will not play tonight.
From earlier:
Sixers coach Doug Collins said that starting forward Andre Iguodala is doubtful for tonight's home game against the Cleveland Cavaliers. It would be the second straight missed game for Iguodala, who is suffering from tendinitis in his left knee. It was announced after Tuesday's shootaround that Iguodala rode a stationary bike, got treatment, then left the arena.
Andre Iguodala is listed as doubtful for tonight's Sixers game against Cleveland at the Wells Fargo Center, coach Doug Collins said at the shootaround.
Igoudala missed Sunday's loss in San Antonio with left knee patellar tendinitis, which he said has been bothering him off and on for the the last month. It was the first game he has missed this season.
Collins said if Iguodala does not play Jodie Meeks would start, with Sam Young seeing additional minutes off the bench.
Sixers forward Andre Iguodala says he is "hopeful" that he can return to the lineup for Tuesday night's home game against Cleveland.
Iguodala missed his first game of the season Sunday when he sat out with patellar tendinitis in his left knee. He told reporters that he has been playing with tendinitis for "about a month."
The decision for him to sit was made shortly before the game, although Iguodala said he was "prepared to play."
Bob Cooney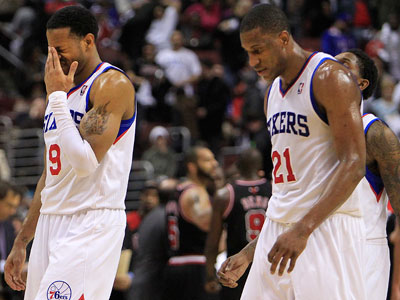 The Sixers strolled into San Antonio this weekend seemingly getting ready to play a team that was ripe for the taking. The Spurs were playing their third game in as many nights, were without future Hall of Famer Tim Duncan, as coach Greg Popovich decided to give him a rest and the Sixers were coming off a solid effort in a sound victory over Boston on Friday.
But Tony Parker and company had enough legs, and bountiful smarts, to easily do away with the Sixers by 93-76. Let's just run down, individually, what is going on with the Sixers right now.
Andre Iguodala: He had to sit out Sunday's game after the pain in his left knee was too great. The official term for the injury is patella tendonitis. Iguodala has looked much slower in the past few games, perhaps due to the knee. The scary thing is last year he missed 15 games, mostly due to tendonitis in his OTHER knee. Click here for an injury update after today's practice.
Bob Cooney
Andre Iguodala will not play for the Sixers tonight when they play the San Antonio Spurs, as he is out with left knee tendinitis.
Jodie Meeks will start in his place.
It is the first game Iguodala has missed this season.
Bob Cooney
The San Antonio Spurs will be playing their third game in three nights when they host the Sixers tonight, and because of the grind of that part of the schedule it appears coach Greg Popovich will rest starting center Tim Duncan.
The Spurs (32-14) are already shorthanded due to injuries to Gary Neal (foot) and Tiago Splitter (back). In the previous two games, Popovich has rested veterans Tony Parker (Friday) and Manu Ginobili (Saturday).
It will be interesting if Sixers coach Doug Collins gets back to using rookie Nikola Vucevic tonight. The backup center has been a DNP the last two games after struggling for the past few weeks.