Archive: February, 2012
Video: The 76ers were unable to withstand a late rally by Russell Westbrook, Kevin Durant and the Oklahoma City Thunder. The Daily News' Bob Cooney reports from the Wells Fargo Center.
Bob Cooney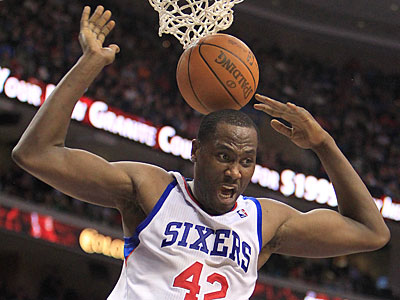 Elton Brand will be returning to the starting lineup tonight for the Sixers when they play the Detroit Pistons in their first game since the All-Star break, but will their inept offense return, also?
The Sixers have lost five-straight games and averaged just over 83 points during that stretch. Their shooting has been horrendous and their starts to games recently downright putrid.
Just the return of Brand won't cure those ailments, but a much-needed practice Monday night was a good step in the right direction, the power forward said.
Bob Cooney
First Sixers swingman Evan Turner set a World's record, then Andre Iguodala showed his fun side, and finally Turner had an impressive performance in the BBVA Rising Stars Challenge at the Amway Center Friday night. All in all, it was a very good day for the two Sixer players down here representing their team.
In the morning, after his Team Chuck practice (named for GM Charles Barkley) at the Orange County Convention Center, Turner made 14 shots from behind the basket in one minute and set a Guinness World's Record. It was official, as a Guinness rep was on hand to verify. It was also short lived as Minnesota rookie guard Ricky Rubio broke Turner's new record about an hour later.
"I've always wondered, how can I get in the Guinness Book of World Records," said Turner, who was sporting a very loud pair of sneakers for the event. "If that's one of the ways to get a shot up...You know, they're scarce around our parts.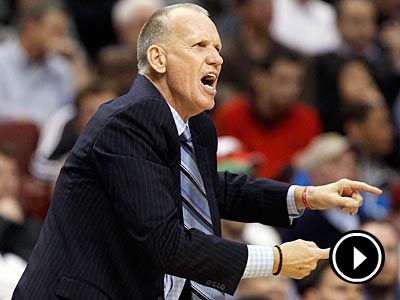 Video: When will center Spencer Hawes return from injury? Is the Sixers defense enough to overcome an inept offense? CineSport's Noah Coslov and Bob Cooney of the Daily News discuss.
Bob Cooney
If anyone would have been told prior to the season that the 76ers would split for the All-Star break with 20 or 21 wins, there would have been much satisfaction.
But perception is everything, and though the team enters tonight's game at the Houston Rockets with a 20-13 record they are also entering it having lost four games in a row and six of their last eight.
"I think the fact that we've had some injuries and with the schedule it's made it like a perfect storm kind of thing," said coach Doug Collins. "But I don't want to get lost the fact that our guys have worked their tails off and we're on top of the Atlantic Division. "I think if anybody would have said that going into the break we were going to be leading the Atlantic Division, and the answer is yes. But when you've lost some games it's the taste that you're feeling right now. I think our guys do need a chance to get away and refresh themselves."
Bob Cooney
As if losing five of the past seven games wasn't bad enough for the Sixers and coach Doug Collins, this morning at the team's shootaround at FedEx Forum in Memphis he announced that forward Elton Brand would miss the next two games (tonight against the Grizzlies and tomorrow in Houston) due to a sprained right thumb.
Brand hurt the thumb a couple of weeks ago and has been trying to play through the pain. But in Sunday's loss in Minnesota, Brand hurt it again trying to block a dunk attempt by 6-11, 290-pound Nikola Pekovic.
"He's probably going to be missing the next two games with that tumb," said Collins. "He reinjured it against Minnesota late in the game when he tried to block that play by Pekovic. We'll be without him the next two nights. Hopefully over the All-Star break that will give it a chance to calm that thing down."
Bob Cooney
When you've made just one of your 17 shots over the past two games, as Jrue Holiday has, your offense is going to come into question. Especially when your team has lost both of those games.
The Sixers point guard knows it, but he isn't letting it bother him. He knows how to correct things and he is confident in his ability to do so.
"I guess you kind of take what the defense gives you," said Holiday, who had scored below double-figures in five of the past 11 games entering Sunday's contest in Minnesota. "You don't always want to just force it. There are times when you can get in (to the lane) a little more. You don't have to get all the way into the paint to still draw attention or get contact. Like Lou (Williams) does, Lou's not always in the paint when he does that. But just being aggressive that way is what coach (Doug Collins) is talking about."
Bob Cooney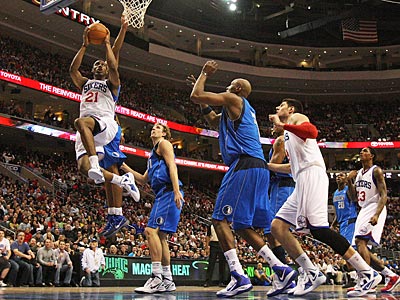 At halftime of Friday's Sixers-Mavericks game, Sixers CEO Adam Aron asked me if I could believe his team was winning by 14 points. I told him it was impressive. He then wearily asked me what I thought might happen in the second half. I say wearily because Aron knows me as a realist, not a cheerleader for his team.
I said one of two things could happen. Either the Mavericks come out in the second half and miss shots the way they did in the first and, without bench spark Jason Terry (our for personal reasons), the Mavericks could lose interest. Aron liked that answer.
Then I said that Dirk Nowitzki is going to hit shots (he was 2-for-11 at the half). How many he hit could be a big factor. That didn't please Aron. Nor did the final outcome of the game.