Archive: December, 2009
Bob Cooney
The media swarmed to Elton Brand's stall just as the doors to the Sixers' locker room opened. This is Brand's first time playing in the Staples Center against the Clippers since he left them in the summer of 2008 and signed a 5-year, $80 million deal with the Sixers.
"It was a great time," Brand said of his years with the Clips. "It was a great part of the Clilpper history, so I'm honored to be a part of that."
For the first time, Brand was dressing in the visitor's locker room.
I'm shocked.
Shocked, I tell you.
The 76ers need a point guard. Pete Carril, the Sacramento Kings assistant and former Princeton coach, says the 76ers could be a better team with a point guard. (And, no, it doesn't necessarily have to have been Andre Miller.)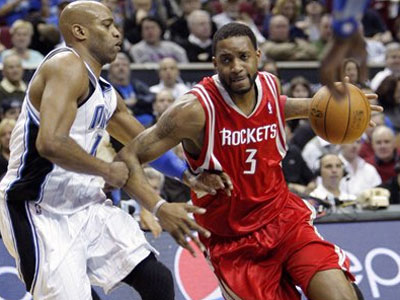 Let's get this out of the way before the 76ers face the Sacramento Kings tonight:
The Sixers have spoken with Houston Rockets' executives about Tracy McGrady, rehabbing from major knee surgery. More than once.
The Rockets didn't seem interested in a deal involving Samuel Dalembert, and they still aren't. They wanted no part of Dalembert's 15 percent trade kicker, and they still don't.
Bob Cooney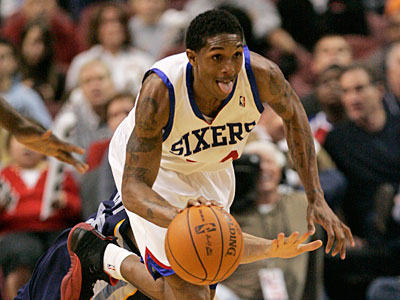 At the Sixers shoot around this morning at the Rose Garden in Portland, guard Willie Green watched from the sideline, resting his sprained right ankle that he suffered in Saturday night's loss in Utah.
Allen Iverson was on the floor with the team as they prepared for tonight's game against the 20-12 Trail Blazers. After the shoot around, coach Eddie Jordan called Iverson to the far end of the floor when the guard went through some step-slide drills, shot some jumpers coming off an imaginary screen set by assistant coach Mike O'Koren. All told, Iverson put in about 15 minutes extra work.
"Just trying to get my legs up under me and get my wind where I want it to be," said Iverson, who has missed the past four games with arthritis in his left knee. "It's going to take a while. I'm not going to be frustrated with myself. I'm just going to be patient and understand that I haven't had a lot of active work and it's going to take a little time."
Bob Cooney
Sixers coach Eddie Jordan decided against starting guard Lou Williams tonight in Washington. Williams was playing in his second game since returning from a broken jaw that kept him out 12 games. Willie Green kept his starting role, alongside rookie Jrue Holiday.
Holiday was on the bench to begin the second half, however, and Williams was out there with the starters. Holiday was one of the last players to come out of the locker room at the half, after posting four points, three assists and three rebounds in 15 minutes of play in the first half.
Bob Cooney
Sixers coach Eddie Jordan said after today's practice that he is looking to plug guard Lou Williams back in the starting lineup tomorrow night when the team travels to Washington to start a six-game road trip. Williams will join rookie Jrue Holiday in the backcourt and start along with forwards Andre Iguodala, Thaddeus Young and center Sam Dalembert.
Williams broke his jaw in Washington on November 24 and returned for his first game action on Saturday at home against the Los Angeles Clippers when he had six points in close to 24 minutes off the bench.
In other injury news, Allen Iverson and Jordan both said Iverson would return to the lineup next Monday in Portland. Iverson has missed the past two games due to an arthritic left knee. Iverson said today that he had the knee drained three times in a five-day span. He had it drained before the December 16th game against Cleveland, then went out and collected 16 points, six rebounds and five assists. Iverson said yesterday that the knee swelled up again after that game, and the decision was made to shut him down. He has been taking anti-inflammatory medicine and says the knee is feeling much better.
Bob Cooney
Sixers guard Allen Iverson, who is battling an arthritic left knee that had to be drained twice this week, could be out of the lineup until the Sixers start a West coast trip in Utah on Dec. 26.

Sixers coach Eddie Jordan said after the shootaround in Boston this morning that Iverson would be back for tomorrow's game at home against the Clippers. But in the pregame meeting with media, Jordan said Iverson would be out tonight and tomorrow, possibly out Tuesday at Washington and then return in Utah.

"We think for certain he'll be ready by the end of next weed, maybe by Washington, not tomorrow night. He's been battling some issues that we think he'll be really, really healthy by next week."

A Sixers official clarified that "there is certainly a possibility that he could be out by Utah, it depends on what Dr. Jack[McPhilemy] and how he [Iverson] feels tomorrow. Is there a possibility he could play tomorrow? Yes. Depending on how he feels. However, if he is not responding well, there is the thought process that maybe we hold him out tomorrow and Tuesday and then let him get an extra week of rest then bring him back for Utah."

In a nut shell, the rest would probably be better for Iverson, but we've seen him deal with and play through pain before.

Stay tuned.
Mike Dunleavy, the onetime 76ers' guard and current coach of the Los Angeles Clippers, probably wasn't expecting to see Elton Brand serving as a sixth man of sorts for the Sixers, but that's what he's likely to see Saturday. That's if Sixers' coach Eddie Jordan doesn't change the lineup again, which he says he hates to do.
''Honestly, I haven't studied the Sixers, haven't seen them play,'' Dunleavy said in the midst of the Clippers' Eastern swing that has them in New York Friday night. ''I watch our games, I watch my son's games (young Mike plays for the Indiana Pacers). I don't have a lot of time to watch much else.
''I saw in the papers that they broke their losing streak against Golden State, and that they've been using Thaddeus Young at the '4.,' and that it seems like they'll continue to go that way. I just know that Elton was great for me, becoming an All-Star in the Western Conference. He was terrific, a great fit in our system; we got him to use that one-dribble move and then go to a jumper or a jump-hook, and he worked hard at it. I look at his time here as nothing but the experience.