Archive: October, 2010
Bob Cooney
A few quick items on the Sixers:
* In their 0-3 start, the Sixers have shot 42.8 percent from the floor (107-for-250) while their opponents have made 46.5 percent (106-for-228).
* Backup center Tony Battie suffered a quad strain on Saturday in the loss to Indiana and is listed day-to-day.
Bob Cooney
The Sixers will somewhat of a less formidible opponent tonight when Joe Johnson and the Atlanta Hawks come to the Wells Fargo Center.
Andre Iguodala, who has been nursing a sore right wrist, went through shootaround this morning and said afterward that the wrist was still sore but something he just has to play through.
Also, coach Doug Collins said that he will stick with the same lineup that he went with in the opener - Jrue Holiday, Andre Iguodala, Jason Kapono, Elton Brand and Spencer Hawes.
Allen Iverson is officially bound for Turkey.
A media advisory Thursday night said the former 76ers star has agreed in principle to a two-year $4 million contract with Besiktas, a professional team in Turkey.
He is expected to sign his contract this weekend and begin his overseas career the week of Nov. 8.
Bob Cooney
It wasn't unexpected, that the Sixers lost tonight in their season-opener to the Miami Heat - 97-87. It also wasn't unexpected that Dwyane Wade (30 points), LeBron James (16) and Chris Bosh (15) combined to do most of the damage to the Sixers.
What was a bit of a befuddlement was that James Jones came off the bench to score 20 points and nail six three-pointers to basically put away a Sixers team who had battle admirably in the first half.
With the Big Three garnering most of the defensive attention, Jones was left to wander freely to his favorite spots beyond the arc and drain wide open three's as easily as he might in an empty gym.
Bob Cooney
Andre Iguodala took part in this morning's shootaround and will be in the starting lineup tonight against Miami.
Iguodala has been nursing a sore right wrist. He shot with the right hand this morning and said the wrist was still sore. He said he was not sure how much impact the injury will have on him during the game.
Iguodala did not practice yesterday. He was part of the walkthrough and took some ocassional shots with his left hand.
Bob Cooney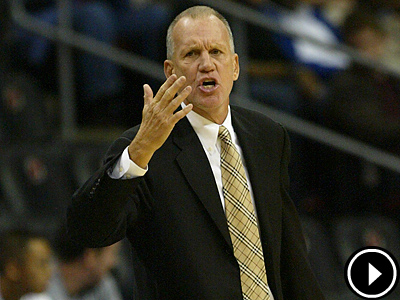 Video: At Tuesday's practice, Sixers coach Doug Collins finally set his starting lineup for tomorrow night's matchup against the Miami Heat. The Daily News' Bob Cooney reports.
Bob Cooney
The Big Three and the rest of the Miami Heat will visit the Wells Fargo Center tomorrow night after opening their season tonight at Boston.
Coach Doug Collins announced that his starting lineup will be Jrue Holiday, Andre Iguodala, Jason Kapono, Elton Brand and Spencer Hawes.
Iguodala again did not practice due to a sprained right wrist. He said he can't do anything with the wrist but hopes to be ready for tomorrow night. He also said he hasn't shot a ball in close to four days.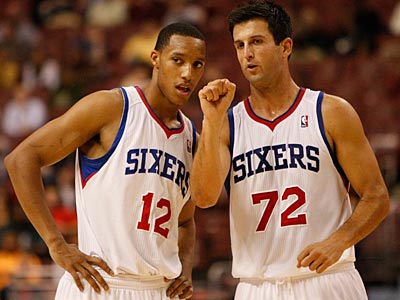 Barring anything unforeseen, the Sixers' starting lineup for Wednesday's season opener against the Miami Heat is expected to be guards Jrue Holiday and Andre Igoudala, forwards Jason Kapano and Elton Brand and center Spencer Hawes, coach Doug Collins said today after practice.
No matter who the Sixers put out there, matchups problems were likely with the trio of LeBron James, Chris Bosh and Dwyane Wade. The Heat opens its season tonight against Boston on TNT.
"LeBron, Wade and Bosh," Collins said, laughing, "that's going to be a formidable task, to say the least. The one thing about those guys is that they have great chemistry, because they played together in the \[2008 Beijing\] Olympics. So it's not like you've just thrown three super-duper players together for the first time. And they're all three very, very smart basketball players and they're winning players. The time that it would take for them to gel would be much less. I think when you see these guys join forces, they do so to have a chance to win championships. I think they know they've all gotten every individual award there is, they got the gold medal in the Olympics, and so I think their next prize now is having their eyes on being NBA champions."