Archive: January, 2012
Bob Cooney
When the most dominating center in the league visits, as Dwight Howard and his Orlando Magic will be doing tonight, the Sixers and coach Doug Collins would really like to have his full roster ready. But that won't be the case.
Collins announced this morning that starting center Spencer Hawes will miss his eighth-straight game due to a strained Achilles'. "There is no timetable," said Collins of Hawes. "When a player tells me he's ready to go, he'll go."
It appeared that Hawes might be ready for tonight's game, as there were hints late last week that tonight might be the target night. "No (setback)," said Collins, just a case that his big man still isn't 100 percent.
Orlando guard Jameer Nelson will not play Monday night against the 76ers.
Nelson, the Chester High and Saint Joseph's product, has concussion-like symptoms after being hit in the head twice during Friday night's loss to New Orleans, coach Stan Van Gundy told reporters before the Magic's game Sunday night against Indiana.
Nelson is suffering from nausea and is not at the arena in Orlando for Sunday's game and won't travel with the team to Philadelphia.
Bob Cooney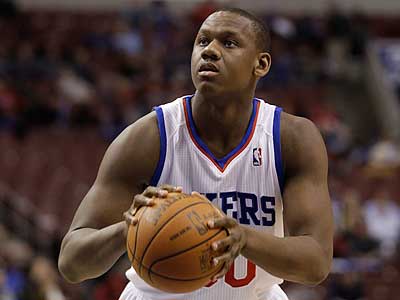 Sixers coach Doug Collins often says that a reserve is just one turned ankle away from becoming a big part of the team.
Lavoy Allen is his perfect case in point.
Taken with the 50th overall pick in last June's draft out of Temple, many wondered if the 6-9 forward was anything more than a courtesy pick. He played his high school ball at nearby Pennsbury and was coached at Temple by Fran Dunphy, a good friend of Collins.
Bob Cooney
The Sixers will be without Spencer Hawes for the sixth straight game tonight when they face the Charlotte Bobcats at the Wells Fargo Center. Hawes is improving but is still sidelined with a left Achilles' strain.
His backup, rookie Nikola Vucevic, will miss his third-straight game with a quad strain. Coach Doug Collins said after the team's shootaround this morning that Vucevic is "still a ways away."
The Sixers will be looking to bounce back after Wednesday's overtime loss to the New Jersey Nets. Minority owner Will Smith is expected to be in the house as the Sixers look to improve on their 8-2 record at home.
Bob Cooney
With Spencer Hawes and Nikola Vucevic still nursing injuries, the Sixers signed eight-year veteran and 7-foot center Francisco Elson .
Elson was with the Sixers two years ago when he came over from a trade with Milwaukee that also brought the team Jodie Meeks. Elson has appeared in 467 games with 149 starts. He averages 3.7 points and 3.5 reboounds in just over 15 minutes a game throughout his career. In 2006-07 he played 70 games, including 41 starts for the NBA champion San Antonio Spurs.
"We are happy to pick up Francisco Elson, a veteran big man who can help bolster our lineup," said Sixers president of basketball operations Rod Thorn.
Bob Cooney
The Sixers will again be short at the center position tonight as both starter Spencer Hawes (Achilles' strain) and Nikola Vucevic (quad) will be out. It is the fifth-straight missed game for Hawes and second straight for Vucevic.
"Neither one of them are ready to play yet," said coach Doug Collins at this morning's shootaround. "I don't know how much they've improved. Both are still a little ways away from playing."
With the shorthandedness, Collins again implored to his team this morning the importance of having a good attitude heading into the game. That and limiting Nets point guard Deron Williams.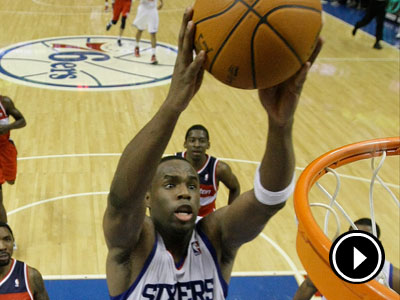 With a tough schedule looming, how can Doug Collins and the 76ers keep up their winning ways? Bob Cooney of the Daily News has more.
With both centers injured, rookie Lavoy Allen's 10 points and 6 rebounds were key in the Sixers' 103-83 win over the Wizards. Bob Cooney of the Daily News reports from the Wells Fargo Center.
(Video by Samantha Corrado/Philly.com)