Archive: February, 2012
Sixers great and SportsWeek columnist Charles Barkley will serve as one of the general managers in the revised All-Star Rising Stars Challenge announced today by the NBA.
The league's top rookies previously played against the top sophomores. Now the rookies and sophomores will be mixed with Barkley and Shaquille O'Neal serving as GMs and drafting the players. The draft is scheduled for Feb. 16 (NBATV, 7 p.m.).
Each team will have a nine-man roster with players selected from a pool that was previously selected by the NBA's assistant coaches. The names of the players will be released Wednesday.
Bob Cooney
Sixers second year forward Craig Brackins has been assigned to the NBA Development League where he'll play for the team's affiliate Maine Red Claws.
This will be the fourth time Brackins will head to the D-League. Last season he went three times to the Springfield Armor, the Sixers' old affiliate, where he averaged 20.1 points, 8.6 rebounds and 1.9 assists in close to 38 minutes a game.
It's a good move for Brackins, who has seen hardly any time this season for the 18-7Sixers. He has played in just eight games this season for the team for a total of 27 minutes.
Kobe Bryant needs 24 points to pass Shaquille O'Neal and move into fifth place on the NBA's all-time scoring list. And he might have the chance to do it in Philadelphia tonight against the Sixers.
"It has a great deal of significance," Bryant said of playing in Philly and potentially getting the milestone. "Now more so than when I used to come back here when I was 21 or 22 because I don't know how many more times I'll be playing in front of Philadelphia fans at this stage of my career."
**
Bob Cooney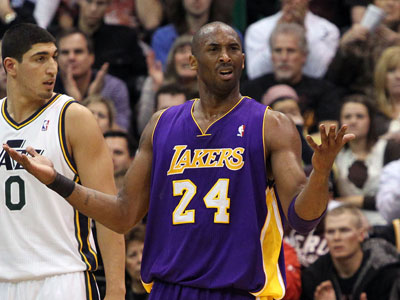 The Lakers have lost 8 of their 11 games on the road this season and have a somewhat mediocre record of 14-10. Still, whenever the Purple and Gold comes to town, there is a buzz among fans and players.
"It's always exciting to play the Lakers," said center Spencer Hawes, a thought echoed by teammate Elton Brand this morning after the team's shootaround.
Brand, who missed Saturday's win in Atlanta due to a sprained thumb, said that it was still hurting him this morning and that he hoped after he warmed up tonight and "the adrenaline starts pumping" that he would be able to play. Moments later, though, coach Doug Collins stated that Brand will be out tonight and that Lavoy Allen would once again be in the starting lineup.
Bob Cooney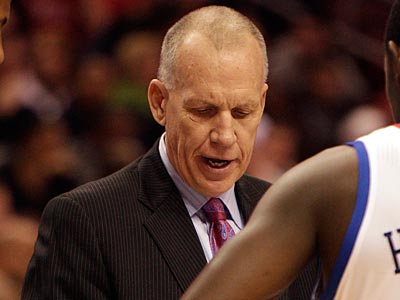 After the Sixers got done their shootaround this morning, coach Doug Collins was more than willing to share his ideas of how his team can compete with the Miami Heat, who will be visiting the Wells Fargo Center tonight in one of the most anticipated regular season games in a long time here.
Miami is coming off a 105-97 loss at Milwaukee on Wednesday night, while the Sixers will be seeking their fifth consecutive win. Both teams have 16-6 records and the Heat defeated the Sixers in Miami by 113-92 three weeks ago. The Sixers were missing Spencer Hawes in that game, while the Heat was missing Dwyane Wade.
"This team tries to impose their will on you right at the start of the game," said Collins. "First of all they are a terrific defensive team, one of the best in the league in steals. We played them in the playoffs last year and our key was live ball turnovers are two points (for them). (Dwyane) Wade and LeBron (James) thrive in the open court and that's where they get those threes. So you got to take care of the ball and you've got to rebound. They beat us on the boards by 21 the last game, before you start defending a play you have to take care of the ball and you have to rebound the ball. This is a team that thrives on easy scores – points in the paint, second chance points, free throw line. You have to try to limit those as much as possible. You have to execute. They have three very active big guys so they are tremendous at pick and roll defense so you have to be able to do different things. You have to be able to get the ball side to side, move the ball and get good shots against this team. We know what we have to do to compete against them. We're going to have to be ready. We're going to have to have that edge on our side, home court, we have to use the energy and we can't let them come out and run a clinic in the first quarter. Once they get started you can't get them stopped."
With Spencer Hawes and Nikola Vucevic still out of the lineup, the Sixers' bench dominated the court in a 98-82 win over the Eastern Conference-leading Chicago Bulls. Bob Cooney of the Daily News reports from the Wells Fargo Center.
(Video by Samantha Corrado/Philly.com)
Bob Cooney
Like just about every team the Sixers have faced this season, the Chicago Bulls will be without some key players tonight when they visit the Welss Fargo Center.
Chicago (18-5) will have to play without forward Luol Deng (15.9 points, 7.5 rebound), who is out with an injured left wrist and guard Rip Hamilton (14.2 points), who is nursing a sore right thigh.
The Sixers will be without starting center Spencer Hawes, who is missing his ninth-straight game with a strained left Achilles. Whe asked, again, when Hawes might be able to return, Collins sympathetically said the decision is up to Hawes.
Bob Cooney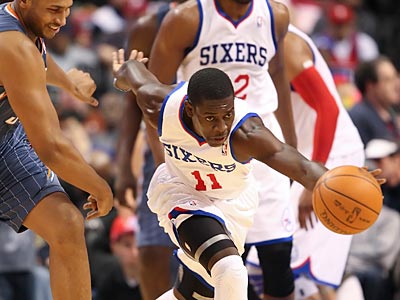 The Sixers have lost just two games out of 13 at home this season and both those contests had a common theme; a guard on the opposition destroyed the Sixers.
In an overtime loss to the New Jersey Nets, Deron Williams went off for 34 points and 11 assists. In the other loss, against the Denver Nuggets, former Sixers Andre Miller collected 28 points and 10 asists.
So you can sort of understand why Sixers coach Doug Collins is so worried about tonight's game with the Chicago Bulls (18-5) and reigning MVP Derrick Rose, who has averaged 34.3 points in his last three games.