Archive: November, 2010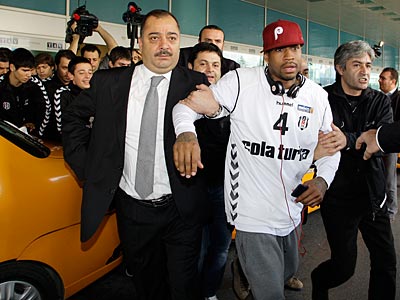 Allen Iverson arrived in Turkey today, greeted by a group of fans chanting fight songs and a throng of media.
Iverson, wearing a Phillies hat and the jersey of his new team, Besiktas, is scheduled to make his debut Saturday after agreeing to a 2-year, $4 million contract.
Iverson was scheduled to arrive Saturday and be honored before the team's game. That was postponed when Iverson missed his flight because the team said he had additional preparations to make before departing.
Bob Cooney
The strained right Achilles tendon that is bothering Sixers forward Andre Iguodala is still bad enough to keep him out of action. At practice today at PCOM, Iguodala did not participate in half court "live" practice. The first teamers were practicing against defending the pick and roll, something that has been a problem since last season.
Rookie Evan Tuner, who made his first start in the NBA in Iguodala's place in Sunday's win at the New York Knicks, was still in that role in practice.
More to come
Bob Cooney
Coach Doug Collins announced that rookie Evan Turner will get the starting nod today for injured Andre Iguodala as the Sixers face the Knicks in New York this afternoon.
Iguodala, who did not speak to reporters prior to the game, is missing his first start in 252 games with a strained right Achilles tendon. He walked without a limp through the Sixers locker room and into the training room before the game to get treatment.
Also, forward Andres Nocioni will start, though he sprained his left ankle in Friday night's loss to the Cleveland Cavaliers. Nocioni missed most of the preseason with a sprain of the same ankle, which he in the summer preparing for the World Championships with Team Argentina.
Bob Cooney
Sixers forward Andre Iguodala will misss tomorrow's game at the New York Knicks with a strained right Achilles tendon injury. It will be the first time Iguodala won't start for the Sixers in 252 games.
Also, forward Andres Nocioni, who sprained his left ankle in Friday's loss to Cleveland, is expected to play.
Iguodala is officially listed as day-to-day.
Bob Cooney
Sixers swingman Andre Iguodala is out for the rest of the game with a strained Achilles tendon in his right foot.
The Sixers were down to the Cavaliers by 18 at the half and started Andre Turner for Iguodala to start the second and Tony Battie at center for Spencer Hawes.
Bob Cooney
Sixers coach Doug Collins looked steady and refreshed after this morning's shootaround and will be back behind the bench when the Sixers host the Cavaliers tonight at the Wells Fargo Center.
Collins had to leave Wednesday's win against the Pacers at halftime due to dizziness. He has been suffering from vertigo since a fall on Memorial Day left him with three broken ribs and a concussion. Collins missed two preseason games due to dizziness and headaches, and felt dizzy as he got up off the bench at halftime of the Pacers game.
Collins said this morning that he spent yesterday getting a lot of sleep and rehab, which entails putting his head in different positions. He explained that vertigo is cause by a crystal in the inner ear coming loose and that ultimately disrupts a person's equilibrium.
Symptoms related to his vertigo kept Doug Collins from coming back out for the second half, but behind the strong play of Elton Brand, the Sixers won their first game of the season. The Daily News' Bob Cooney reports.
Bob Cooney
Sixers coach Doug Collins, who missed two preseason games due to vertigo, had to stay in the locker room at halftime of the Sixers-Pacers game dut to recurring symptoms.
Collins suffered broken ribs and a concussion in a fall on Memorial Day and has been suffering from dizzyness and headaches. He left the team in Cincinnati during the preseason and missed that game along with a game the next night in Philadelphia.
Collins appeared fine before the game and was up and down off the bench, as usual, during the first half in which the Sixers took a 57-31 lead looking for their first win.