Archive: May, 2012
Bob Cooney
The Sixers may have gotten a break even before Game 5's tipoff. Celtics coach Doc Rivers announced that starting guard Avery Bradley would miss the game due to recurring shoulder injury. Bradley, a defensive specialist, was inserted into the starting lineup mid-season when Ray Allen was down with a sprained ankle. Rivers liked Bradley's play so much, particularly his defense, that he kept him in the starting lineup.
Allen will start for Bradley tonight, with Keyon Dooling probably getting more minutes off the bench to spell Allen. Allen played 31 minutes in Friday's Sixers win and was an astounding minus-24.
More to come.
Bob Cooney
Lou Williams has rarely seen a shooting opportunity that he didn't like, so it was a little strange to read the boxscore after Friday's improbable 92-83 win by the Sixers over the Celtics and see that Williams had dealt eight assists. More in that game than almost any other this season, Williams was content in letting the game come to him and making the extra pass to a more open teammate. None of those passes were more crucial than the one he made to Andre Iguodala on the wing with 36.9 seconds left. Iguodala drained the shot, giving the Sixers an 88-83 lead and cementing a win that tied the series at 2-2. Game 5 is tonight at 7 p.m. in Boston.
"I was just playing, just feeling the game out and it was just one of those things where you start making play after play and you're standing in the corner and it just starts happening."
Bob Cooney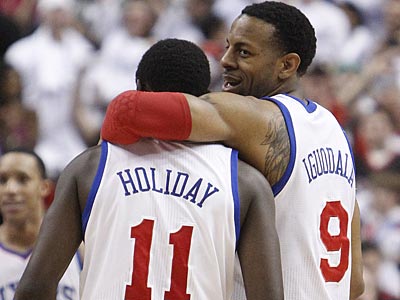 There was a common sight in both the Sixers and Celtics locker room, throughout the hallways of the Wells Fargo Center and in the media room. It was a look of "what the hell just happened?" as writers scrambled to meet deadline while coaches and players tried to decipher what took place over the 48 minutes on the court.
If this game was a boxing match, the Sixers were not only on the ropes after the first half, they had been knocked down almost to the point of stoppage. But the Sixers withstood the haymakers and returned to land even more of their own as they somehow took a 92-83 decision from Boston and evened the Eastern Conference semifinal series at 2-2. Game 5 will be Monday in Boston at 7 p.m.
The Celtics barrage started with a 14-0 run to begin the game. The Sixers didn't score their first basket until nearly four minutes had been played. They scored just 12 points after the first, missing all but three of their 16 shots. The only reason the second quarter was a little bit better for the home team was because it couldn't have gotten worse, really.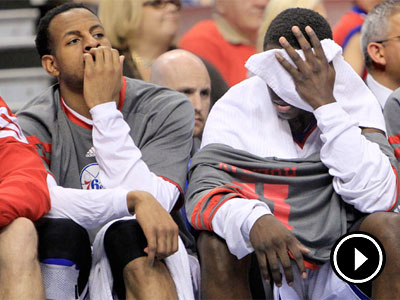 Video: If the Celtics play like they did in Game 3, do the Sixers have any shot of beating them? Bob Cooney of the Daily News discusses with Cinesport's Noah Coslov.
Bob Cooney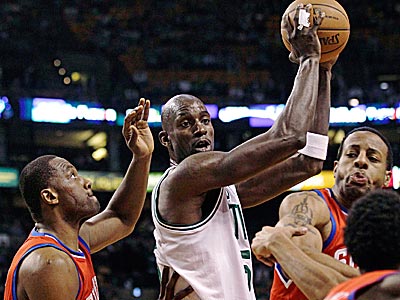 Before the Boston Celtics took to the court for shootaround this morning at the Wells Fargo Center, coach Doc Rivers talked to the media about what was most concerning after their Game 2 loss to the Sixers that evened the series at 1-1. Rivers will be looking for more from his star players tonight, particularly Kevin Garnett, who scored 29 in the first game but was limited to 15 on Monday.
"We have to be more aggressive offensively, we have to get to the basket more," said Rivers. "I thought Game 1 and Game 2 we were basically taking jump shots. We shot nine free throws at home (Game 2). That should never happen. We're trying to get Paul (Pierce) to his spots, but we're not sure where those spots are right now. Right now he can't get away from anybody with his leg. We'll look to get more pin downs for him. Usually he can shake the (defender) on his own. We're going to have to use him a lot like Ray (Allen), get him off screens then get him space.
"If (Garnett) gets double-teamed, then other players will get shots. If they don't double-team him, then he'll get shots. Kevin had 18 touches in Game 2, which is a lot, but 13 of them were in the third and fourth quarters. We need an in-out game starting the game, and we didn't do that. We fell in love with the jump shot and we fell in love with our random offense."
The Philadelphia 76ers evened their Eastern Conference semifinal series at 1-1 with a 82-81 victory over the Celtics in Boston. The Daily News' Bob Cooney breaks down the game with the Boston Globe's Gary Washburn.
BOSTON -- Sixers forwards Thaddeus Young and Elton Brand are both expected to play in tonight's Game 2 of the Eastern Conference semifinals against Boston.
The Sixers said Brand has a strained neck that is impacting the left side of his body. He saw a chiropractor Sunday and was still sore Monday during the team's light shootaround. Brand said the neck has been bothering him for about a week.
Brand played only a bit over 15 minutes on Saturday, partially due to the injury, partially due to the effectiveness of Lavoy Allen, who scored 12 points and grabbed six rebounds in just under 20 minutes.
Bob Cooney
BOSTON -- Thaddeus Young sat courtside after Sunday's film/shooting session at TD Garden with an ice pack wrapped around his right shin. While the team relayed to the media during the game that he had sprained his right ankle, Young cleared up the injury a bit Sunday.
"I actually got kneed in the shin which caused me to roll my ankle a little bit, but it was the shin that hurt," Young said. "I tried to run it out, but it kind of spasmed up a little bit. I'll be fine. I'll definitely play."
He missed a little time in the second quarter due to the injury and didn't play at all in the third quarter but was able to return to play throughout the fourth.