Archive: March, 2012
The 76ers lost to the scorching New York Knicks 82-79 in a possible future NBA playoff matchup. Bob Cooney of the Daily News recaps the game from the Wells Fargo Center.
Bob Cooney
After the Sixers beat the New York Knicks in New York a couple of Sunday's ago, fans in Madison Square Garden were chanting "Fire D'Antoni." They got their wish as the Knicks and coach Mike D'Antoni parted when he resigned and the organization hired assistant and longtime Atlanta Hawks coach Mike Woodson.
The Knicks have promptly won four straight games, by an average of 22.5 points, and clawed themselves back into the Atlantic Division. The Sixers (26-20) lead the Boston Celtics by 1.5 games and the Knicks (22-24) by four. A win tonight by the Sixers would give them a 2-1 head-to-head record against the Knicks this year with one more to play, which would be a good step should a tibreaker come into play.
"They've been playing really well under Mike Woodson," said Sixers coach Doug Collins at this morning's shootaround. "They are doing a lot of stuff after timeouts, so he is putting in a lot of his stuff then. They are also playing very good defense right now."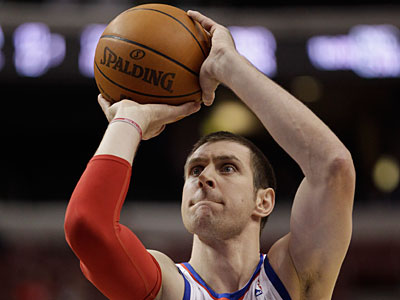 The Sixers announced that they have waived forward Andres Nocioni. He has not been with the team since the weekend and was working on finalizing a buyout.
Nocioni last played March 7 against Boston when he scored one point. He appeared in 11 games this season with one start.
The forward was due $6.615 million in the final year of his contract.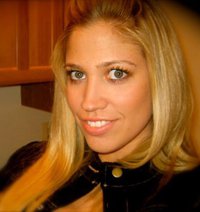 Comcast SportsNet Sixers sideline reporter Meredith Marakovits has been named the New York Yankees' clubhouse reporter for the YES Network.
She will be part of Yankees' telecasts, pregame and postgame shows, and the "Yankees Batting Practice Today" show. Marakovits will also appear on additional Yankees programming and will contribute to YESNetwork.com.
Her last day with CSN is April 4. The Yankees' season opener is April 6.
Bob Cooney
When Sixers head coach Doug Collins put Evan Turner into the starting lineup, the offense surged instantly, averaging over 101 points in the first four games, three of which were wins.
But in the last three games, the Sixers have seemed to be unsure of themselves at the offensive end. The team has produced an average of 84 points per game in those three games.
Ball movement, which was such a key when they were winning 20 of their first 29 games, has become spotty. More than at any time during the season there are a lot of individual attempts at breaking down defenses.
Bob Cooney
Keeping an eye on Spencer Hawes' minute limitations will not be something coach Doug Collins will have to worry about tonight against the Miami Heat. Colllins announced before the game that the Sixers starting center would be held out of tonight's game and play tomorrow when the team travels to Chicago to take on the Bulls.
Hawes right now is limited to playing no more than five minutes at a stretch and isn't going to play back-to-back games. Collins said in order to keep Hawes on some kind of consistent schedule he would hold him out tonight then let him play tomorrow.
In his return to the starting lineup Wednesday in Indianapolis after missing 27 of the previous 29 games, Hawes scored six points, grabbed two rebounds and committed five fouls in just under 20 minutes as the Sixers lost to the Pacers, 111-94.
Bob Cooney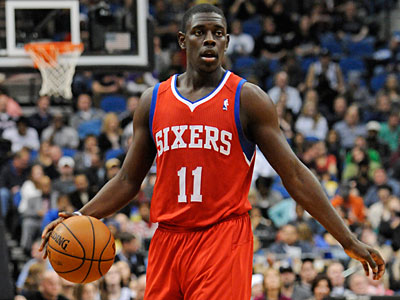 The Sixers haven't had a lot of success against the Miami Heat (31-11) this season, losing both meetings by a combined 41 points. They'll be facing a Heat team that won't be in a very good mood either as they've lost their last two games. Spencer Hawes will be available again for the Sixers for the second straight game as he's returned from his strained Achilles' injury.
"They've outrebounded us by 15 a game and that's been a real concern," said coach Doug Collins. "So hopefully Spencer will help us with that. One of the problems about rebounding with Miami is that (Dwyane) Wade and LeBron (James) demand so much attention that a lot of times they'll drag another guy with them and a lot of times it's a big guy. So when they're going to the basket or they're in an isolation you're trying to help or come over then it frees up a lot of offensive rebounding for that team. They've definitely hammered us on the board."
The funny thing about that is that in their last four road games the Heat has been outrebounded by better than 13 a game.
Bob Cooney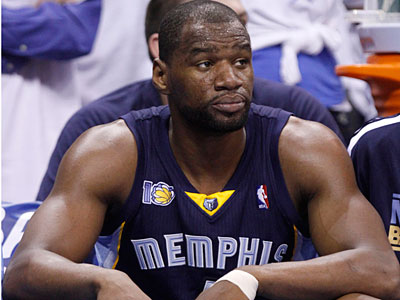 UPDATED: The Sixers have confirmed the trade. "We feel Sam's overall skill set can be a valuable asset to our team and he adds to our depth at two positions," Sixers president of basketball operations Rod Thorn said in a statement.
From EARLIER:
With Evan Turner now in the starting lineup the backcourt reserves for 76ers coach Doug Collins became painfully small, with Lou Williams and Jodie Meeks manning most of the minutes.