Archive: February, 2012
Bob Cooney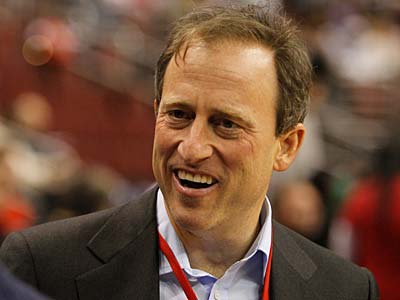 Sixers owner Josh Harris gave his state of the team address before Friday's Sixers-Dallas Mavericks game. As he should, Harris said everything a Sixers' fan would want to hear.
On what he thinks about what he's bought so far, from the team on the court to all the other things that owning a team involve:
"Adam Aron and everyone have done a great job of delivering a much better experience for the fans and the fans are starting to show up. We're 30 percent ahead of last year in terms of ticket sales and we're doing that with lower prices. It's accelerating, so that's great.
Bob Cooney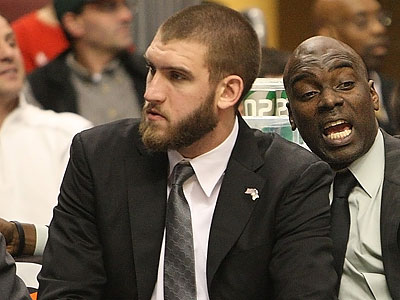 The news just keeps getting worse for the Sixers regarding starting center Spencer Hawes. At this morning's shootaround it was announced that Hawes is in a walking boot for his strained left Achilles' and that he would wear that for two more weeks. Hawes will also visit Dr. Richard Ferkel from the Southern California Orthopedic Institute during the All-Star break to get a second opinion.
"That's where it is," said coach Doug Collins. "It's been my experience that being around it as I have that when you put a boot on, for every day you have that boot on it's two more (to recover) once you get out. Because your leg will atrophy and you can't do the strength stuff. So they don't want him to do to much on it right now. When you immobilize something and you can't use it, especially as a professional athlete, the atrophy and how quickly things set in are really quick. If Spencer's in this boot for a week or ten days, I would expect him to be out a little while. In a year like this, especially with bigger guys, the healing time and the minute you go play again, I was worried that this was what was going to happen."
Tonight, when the Sixers host the defending champion Dallas Mavericks, it will be the 17th game Hawes has missed this season after missing just one last year. The Sixers (20-10) are 8-8 without Hawes this season.
Bob Cooney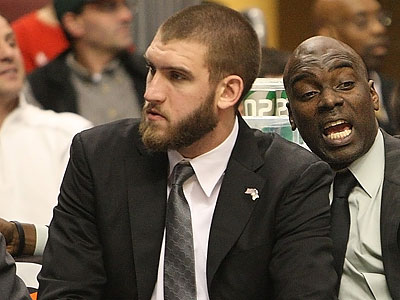 Sixers president Rod Thorn and coach Doug Collins said that starting center Spencer Hawes is seeking a second opinion on his strained left Achilles' and will probably remain out of the lineup until after the February 26th All-Star game. The Sixers first game after that will be on Tuesday, February 28th in Detroit.
Hawes will miss his 15th of 17 games tonight when the Sixers play at the Orlando Magic. Sitting courtside while the players warmed up, Thorn said: "We haven't made that determination for sure yet, but the odds are that he probably will (sit out until after All-Star break). He's not ready to play yet and we certainly don't want him to go back out there until he is ready to play. I think the chances are that he won't play until after All-Star.
"(A second opinion) is probably what we'll do. That's what you always do with a player. If he's not coming along as well as you'd like and he's interested in maybe looking at a second opinion then you always do that."
Bob Cooney
ORLANDO -- The field for the NBA's 3-point shooting contest has been set, and the Sixers' Jodie Meeks is not among the participants.
James Jones, of the Miami Heat, will defend his title against All-Stars Joe Johnson of the Atlanta Hawks and Kevin Love of the Minnesota Timberwolves, Ryan Anderson of the hometown Orlando Magic, Anthony Morrow of the New Jersey Nets, and Mario Chalmers of the Heat.
The players will compete in the two-round competition with the top three finishers from the first round advancing to the finals. Five shooting stations will be set up around the three-point line, with four Official Spalding NBA game balls worth one point each and one "money ball" worth two points at each location. Each player will have one minute to shoot as many balls as he can. In the final round, players will shoot in ascending order of first-round scores.
Bob Cooney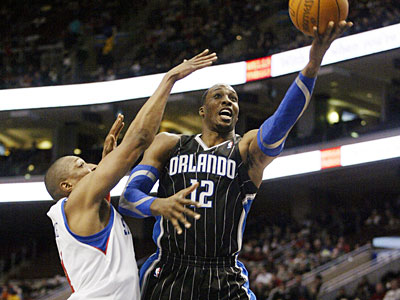 The last time the Sixers and Orlando faced each other on January 30 at the Wells Fargo Center, the Magic were without point guard Jameer Nelson and shooter Jason Rhichardson due to injury. The Sixers limited the Magic's offense that night 33.3 percent shooting in the 74-69 win, a game in which the Magic scored 18 points in the final 2 minutes and 40 seconds just to get to their 69.
The Sixers did a good job of bottling up superstar Dwight Howard that night, limiting him to just 17 points. The Sixers threw body after body on Howard, taking turns with Elton Brand, Tony Battie and Lavoy Allen.
Tonight they'll look to do much of the same, and they'll also have Nikola Vucevic available. Vucevic didn't see any time in the first contest. Battie rolled his ankle at yesterday's optional practice, so he might not be able to go tonight. That could hurt the team as he does a very good job of defending against Howard, a former teammate in Orlando.
Bob Cooney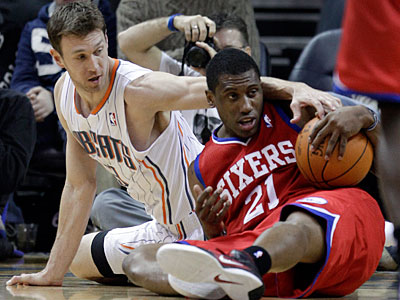 On Monday night in Charlotte, the 76ers had played a full half of basketball plus another two-plus minutes into the third quarter before it happened. While handling the ball along the right side of the offensive end of the court, point guard Jrue Holliday was stripped by Bobcat guard Reggie Williams. Charlotte then quickly raced down the court and forward Corey Maggette converted a reverse layup. It was the first time the Bobcats had converted a Sixers turnover into points. And it came on the Sixers' second turnover of the game.
When you really think about it, it is quite amazing. There were no forced passes, no dribbling off a foot, not a single offensive foul or any other type of giveaway that gave Charlotte instant points. If this was just one example, it certainly would be less impressive. But it has become commonplace for this team to treasure the basketball as if their very life depended on it.
The Sixers lead the league in fewest giveaways at 10.4 a game. They are almost three turnovers fewer han the next team and could become the lowest turnover team since the stat began being kept. The 2005-06 Detroit Pistons currently hold that distinction when they averaged 11.4 turnovers a game.
Bob Cooney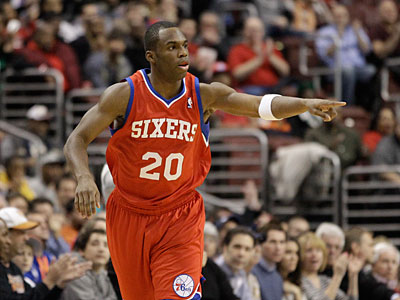 The NBA has not announced who the contestants will be in the three-point contest, but Sixers guard Jodie Meeks has his hand raised, if they're looking for people.
"I've never really practiced (shooting) off the rack, so I'd have to practice that," he said. "I'm used to watching them go in. It's a little different."
In the shooting contest the better shooters are picking up their next ball off the rack before the previous shot's result is determined. Meeks is sort of a set-shot type shooter, so he would seem to have the form to do well in the contest. This season Meeks has made 58-of-134 from beyond the arc for 43.3 percent.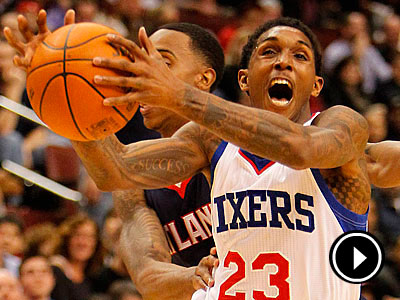 Video: Has Lou Williams been the most impressive sixth man in the NBA? Is something wrong with Evan Turner? Bob Cooney of the Daily News provides some insight.