Archive: November, 2012
Bob Cooney
I was at Sixers shootaround this morning when the release about Andrew Bynum was emailed to the media. I put the statement up on my blog but I was busy talking to players so I didn't have time to put my personal spin on this. So here it is.
I wrote for Saturday's Sportsweek that I thought it was crazy that we hadn't been able to get any updates on the health of Bynum. When it was asked twice last weekd if there was an update, we were told by the PR director (no doubt under someone's orders) that there was no update. I wrote on Saturday that ownership had dropped the ball in keeping fans in the dark concerning Bynum and the release today only cements that point more.
The third paragraph of the release reads: "Andrew received a fresh MRI and was seen again by Dr. (David W.) Altchek this past week on November 5."
Bob Cooney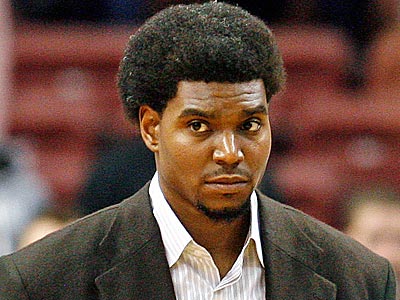 The 76ers announced that Andrew Bynum might not be able to play basketball until January because of his knee injury.
In a statement, the Sixers said that Bynum had an MRI exam on Nov. 5. The diagnosis from Dr. David W. Altchek of New York's Hospital for Special Surgery, who also is Bynum's longtime personal doctor, moved the time back three weeks when the center could resume basketball activity.
If all goes well, Bynum would be able to return to basketball activity on about Dec. 10. The team said he will need an additional 1 to 4 weeks for "conditining, training and practice before before being able to resume game play with significant minutes."
Bob Cooney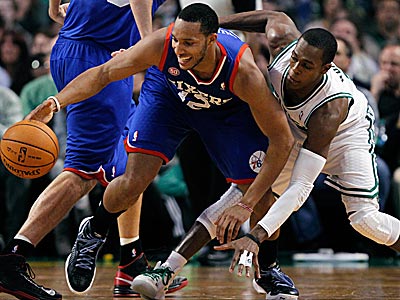 When the Sixers made Evan Turner the second overall pick in June of 2010, Friday night's performance by he and backcourt mate Jrue Holiday were what fans envisioned. Perhaps Turner's 25 points, 11 rebounds and stellar defense, along with Holiday's 21 points and 14 assists will somewhat become the norm for coach Doug Collins.
The two also accounted for 82 total minutes on the floor. And when a basket, or defensive stop was needed during the team's 106-100 victory at TD Garden, their names were called by Collins.
Consider these two sequences: Early in the fourth quarter, with Holiday on the bench, the Celtics cut a Sixers nine-point lead down to four at 83-79 with 10:41 remaining in the game. Holiday had already played 31 minutes and Collins, knowing another game awaited his team in Toronto in less than 24 hours, certainly wanted to give Holiday some rest. But there was a game to be won and looking ahead wasn't an option. So Collins grabbed Holiday and threw him back into the mix. Two minutes and 20 seconds later, the Sixers were back up by 14.
Bob Cooney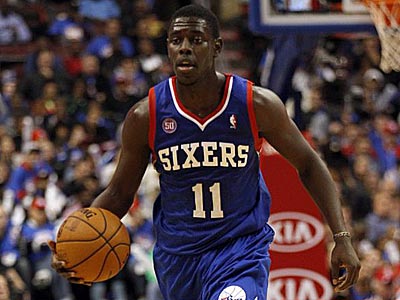 Just as the Eagles did earlier this week, the Sixers head to New Orleans in search of their offense. Unlike the Eagles, who faced a horrendous Saints defense, the Sixers will be facing one of the best defenses in the NBA.
The Sixers, who will be without Jason Richardson (ankle) and Kwame Brown (calf), have had a hard time finding the basket in their first three games, scoring an average of 85.3 points while shooting a horrendous 37.2 percent from the floor. Panic has not set in, nor has heightened concern. But you have to wonder what's going on.
"That's it (the ball just not dropping)," said Evan Turner. "That's all it is. It's not about what they do but what we do and how we do it, how we execute. We just have to worry abour ourselves right now and executing and it will make things easier on us."
Bob Cooney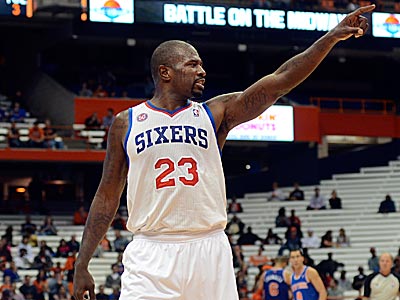 Sixers coach Doug Collins likes to talk about hockey assists when describing a good perimeter game that leads to open looks. He witnessed plenty of them on Sunday at Madison Square Garden, only it wasn't his team that was moving the ball so well, it was the Knicks.
New York nailed 11 of their 27 three pointers, most of them wide open looks due to making the extra pass. Many times, when the ball went down low to Carmelo Anthony, the Sixers had to double-team to help Thaddeus Young. When that happened the ball was kicked out and swung quickly until an open jumper became a wide-open jumper.
The Sixers will also be shorthanded tonight as starting shooting guard Jason Richardson will be sidelined after tripping over a camera man Sunday and sprained his left ankle. There was no shootaround this morning so I didn't get word from Collins who would start for Richardson. Sunday Nick Young replaced Richardson, but tonight Collins could move Evan Turner to the two spot and insert Dorell Wright into the starting lineup.
Bob Cooney
Like many teams in the NBA the 76ers are entering into the age of analytics. Friday the team announced it named Aaron Barzilai to the newly created position of director of basketball analytics. Barzilai, a graduate of the Massachusetts Institute of Technology who also owns a Ph.D. and Master's degree in Mechanical Engineering from Stanford, is the founder of BasketballValue.com, a website which presents adjusted and unadjusted plus/minus for players and units to illustrate the impact a player has on the court as well as on a team's offensive and defensive efficiency.
He was most recently was the sole advanced analytics consultant for the team and reported directly to general manager Chris Wallace where he assessed potential transactions, including trades, free agent signings and draft picks.