Archive: January, 2012
Bob Cooney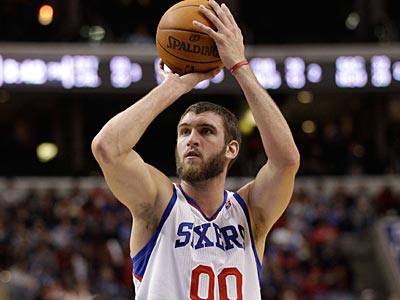 Sixers coach Doug Collins knew when he went to the Wells Fargo Center this morning that he could be met with some pretty bad news. He was. And then it got even worse.
As expected, Collins was told that starting center Spencer Hawes would be out for his fourth straight game with an Achilles' strain. Nikola Vucevic, who suffered a strained quad against the Miami Heat on Saturday night, will also be out tonight when the Sixers host the Washington Wizards.
Then after arriving at the arena this morning, forward Elton Brand was sent home by the medical/coaching staff with a stomach virus. His status for tonight's game is uncertain.
Bob Cooney
The Sixers will be short on big men tonight when they host the Washington Wizards.
Spencer Hawes and Nik Vucevic are out of the lineup with injuries.
Elton Brand was sent home from the shootaround this morning with gastroenteritis. He is listed as questionable at will be a game-time decision.
Bob Cooney
The 76ers entered the season already a little thin at the center position, and things have gotten even skinnier.
After a very encouraging start to the season, starting center Spencer Hawes has been hindered by back and Achilles' problems. He missed his third straight game on Saturday in Miami, where the Sixers lost, 113-92, to the Heat. In that game, his replacement, rookie Nikola Vucevic, suffered a left knee quad strain. Sunday the team reported that he is doubtful for Monday's home game against the Washington Wizards. Hawes was reported to be a game time decision.
When Vucevic went out in the third quarter, the game was still very much in doubt, with Miami holding just a six-point lead. Shortly after, the Heat blew out to a big lead and the Sixers' ultimately fell to 11-5.
Bob Cooney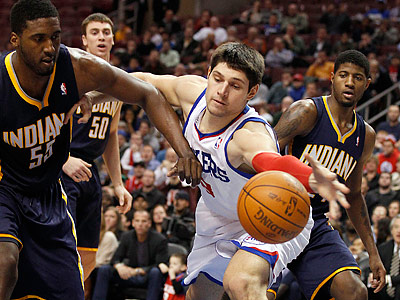 The Sixers lost their first home game on Wednesday night against the Denver Nuggets and tonight they'll look to rebound against the Atlanta Hawks, winners of four-straight.
Starting center Spencer Hawes will miss his second straight game due to a strained Achilles'. His spot in the lineup will be taken by rookie Nikola Vucevic.
"Atlanta's pretty good," said coach Doug Collins at this morning's shootaround. "They pose a lot of problems, they're a good defensive team, they have size. They've got a star in Joe Johnson who can throw up big numbers. Josh Smith is playing very well for them. Jeff Teague is doing a very good job at the point guard position. They've done a nice job of picking up some veteran guys - Tracy McGrady, Willie Green."
Bob Cooney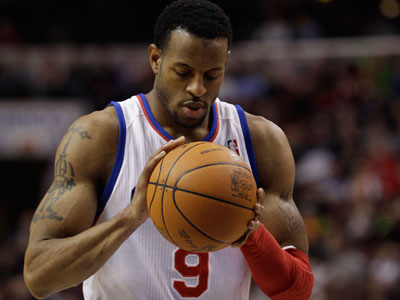 The Sixers were scheduled to practice at 11 a.m. this morning at Philadelphia College of Osteopathic Medicine, but the gym was quiet until about noon.
That's because they team met for that amount of time to talk about the problems that happened during Wednesday's 108-104 overtime loss to the Denver Nuggets. It was the first home loss of the season for the Sixers and dropped them to 10-4 overall.
"We had a meeting of the minds, a little pow-wow just to make sure everybody's on the same page and to avoid slippage," said guard Lou Williams. "Just to make sure everybody is on the same page. When you lose a game I think it's important for everybody to sit down and say "OK, are we all right?" just make sure everybody's on the same page. That was basically it. We had a players' only meeting just to make sure everybody was happy. Make sure we continue to push forward."
How impressive has the Sixers' bench been during their 10-4 start?
A few facts, courtesy of the league's media newsletter that came out today:
* The Sixers are the only team in the league to have their leading scorer come off the bench -- Lou Williams at 15.7 points per game.
Bob Cooney
In his pre game meeting with the media, Sixers coach Doug Collins said that starting center Spencer Hawes would "probably not" play tonight when the team hosts the Denver Nuggets.
Hawes had been battling a back problem, but that seemed to get much better earlier in the week. Then on Tuesday he showed up at practice with a strained Achilles'. Collins hinted at the time that the new injury could be due to Hawes overcompensating for his back.
In his place tonight, Collins said that rookie Nikola Vucevic would get his first start. Collins called the game an "up-and-down" contest and that having the younger Vucevic start over veteran Tony Battie seemed to be the better idea.
Bob Cooney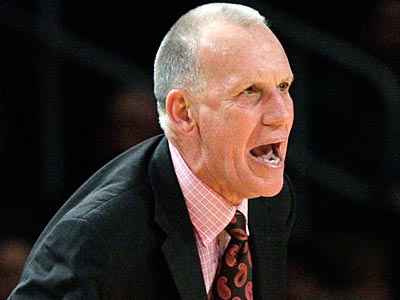 As the Sixers finished their shootaround this morning at the Wells Fargo Center, most players made their way to the locker room, got dressed and headed home to prepare for tonight's game against the Denver Nuggets.
Evan Turner was not one of them, however. Turner, who missed Monday's win due to a bruised thigh, stayed on the court to get some extra work in, playing in a competitive two-on-two game with teammates Craig Brackins, Lavoy Allen and assistant coach Aaron McKie.
Afterwards, Turner said he is ready to roll.