Archive: January, 2010
Sixers center Samuel Dalembert continues his amazing work to raise awareness and money to help his native Haiti in the aftermath of the earthquake.
Dalembert appeared on "Geraldo At Large" on the Fox News Channel on Saturday night.
"My message to everyone is continue to open your heart and give to any foundation you feel at ease," he said. "Any charitable donation is not too small, so please, open your heart and help out….keep everyone in your prayers."
As it turned out, New York wasn't all that interested in signing Allen Iverson as a free agent. And Iverson, who had just left Memphis, was simply looking for a team ''that really wanted me.''
''I was serious about any team that really wanted me, that wanted me to come in and contribute,'' Iverson said after tonight's 93-92 loss to the Knicks. ''Obviously, this situation (with the Sixers) was a lot more serious.
''I would have been happy being with somebody that wanted me there for reasons to help the team. I didn't want anybody to want me to sell tickets or anything like that, to be any type of sideshow. I wanted to help a team win games. This was the best situation for me.''
Bob Cooney
While Allen Iverson remains officially listed as a game-time decision, coach Eddie Jordan said this morning that Iverson is available to play in tonight's home game against New Orleans.
Iverson suffered a knee-to-knee collision on his arthritic left knee against Toronto on Friday that caused him more pain than usual. He did not make the trip to Detroit for Saturday's game, and was listed as day-to-day.
As Allen Iverson limped to his locker after the loss to the Raptors, he joked, "I'm getting old," as he gingerly lowered himself onto his seat.
When the 76ers' Allen Iverson walked into the Pepsi Center in Denver last Monday, he was wearing a Dallas Cowboys cap.
Took some flak for it, too.
"I've been a Cowboys fan since I was 5,'' Iverson said after the Sixers' blew a 13-point lead and lost 108-106 to the Toronto Raptors. ''I became an Eagles fan once I came to Philadelphia.''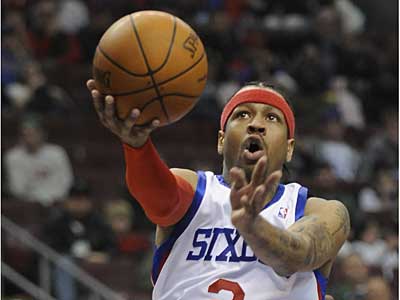 Sixers guard Allen Iverson remains in position to start for the Eastern Conference in the All-Star Game, according to the latest voting announced today.
Iverson is second behind Miami's Dwyane Wade among East guards. Iverson has 930,713 votes. Wade has 1,719,359 votes. Orlando's Vince Carter is third with 745,581.
Iverson appears among Western Conference guards on the paper ballot because he began the season with Memphis, but his votes count toward the Eastern Conference guards due to his signing with the Sixers.
This is Gilbert Arenas' 28th birthday, the day after he rang up 19 points and 14 assists for the Washington Wizards in a ridiculous 14-97 come-from-way-behind victory over the 76ers.
Asked by the Washington Post what he would get as a birthday present for his teammate, forward Antawn Jamison said ''A muzzle.''
That is effectively what the NBA has given him.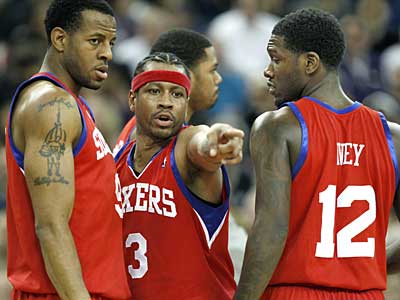 Allen Iverson's contract with the 76ers will be guaranteed for the rest of the season, team president and general manager Ed Stefanski said today.
Iverson signed a pro-rated non-guaranteed contract worth $1.3 million.
All NBA contracts become fully guaranteed if the player is on the team roster on Jan. 10. Iverson originally signed as a free agent with the Sixers on Dec. 3.

"Since his arrival, Allen has done everything asked of him and has been an excellent teammate," Stefanski said.
Bob Cooney
With their 108-105 win over the Nuggets on Sunday, the Sixers finished the West Coast part of their six-game road trip with a 3-2 record. It was kind of ironic that the final win was due to the great play of the bench, because it seemed if coach Eddie Jordan had used his bench, and his starters for that matter, better in the Clippers game in Los Angeles, it might have been a 4-1 trip to the other side of the country.
Jordan's rotations have been puzzling all year, to say the least. He'll get key contributions from subs one night, then be reluctant to use them the next. He often talks about matchups being his reasoning, but why not look to make matchup problems for the other team?
Rodney Carney is the perfect example. He is one of the best athletes on the team, with very good defensive skills. He can take the ball to the basket and has shown an ability to shoot from the outside. Rarely has he given bad minutes. And he always seems to make something happen. For a team that hasn't had a lot of excitement this year, Carney would seem to be a good remedy, to start.