Bob Cooney
While the separation seemed amicable when it happened, it sure has turned a little bit to the ugly side now.
Former 76er Andre Iguodala, traded this offseason to the Denver Nuggets as part of the deal that brought center Andrew Bynum to Philadelphia from Los Angeles, said in an interview with Matt Moore, a blogger with CBSSports.com that, among other things, his time here in Philadelphia was draining, particularly under the tutelage of Doug Collins, his coach for three seasons.
Iguodala said in the interview: "I haven't really enjoyed basketball a whole lot the last couple of years. Last year was a big year for us, but it was just draining for the criticism to be there every single day."
Bob Cooney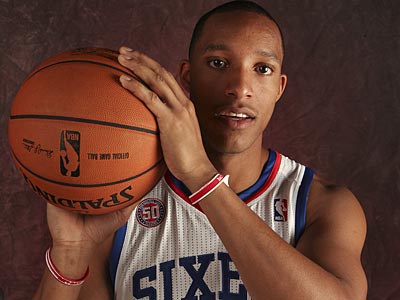 Evan Turner has a chip on his shoulder. He feels the fans anxiety about his play - so far not living up to that of a No. 2 overall choice. His frustration level over his first two seasons has reached a boiling point several times.
But now Turner, entrenched as the team's starting small forward and expected to play bountiful minutes, is ready to put all of that behind him and just concentrate on what drives him - playing ball.
Monday at the team's practice facility at Philadelphia College of Osteopathic Medicine, Turner fidgeted when asked if this was a "make or break" season. He didn't care for the question as he, quite frankly, didn't think he was given the proper chance to prove his worth. He was stymied in a reserve role in most of his first two seasons as coach Doug Collins went with shooter Jodie Meeks over Turner. It wasn't until last year's playoff run that Turner started getting the minutes he expected from the day he was drafted out of Ohio State.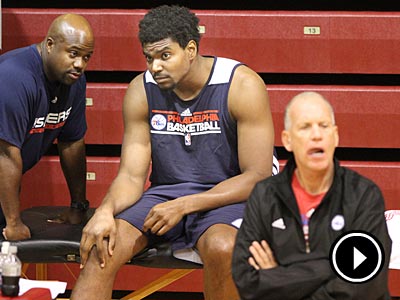 Video: The Sixers began their training camp without new center Andrew Bynum on the court. The Daily News' Bob Cooney breaks down the first day of practice from Hagan Arena.
Bob Cooney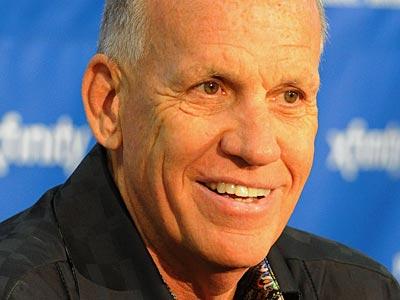 There has never been much doubt about how much the new ownership of the 76ers is enamored with head coach Doug Collins. Monday at the team's practice facility at Philadelphia College of Osteopathic Medicine, managing owner Josh Harris announced that coach Doug Collins had agreed to a one-year extension on his contract, which was to expire after this season.
"We have Doug for at least two years contractually but hopefully a lot longer than that," said Harris. "Obviously from my point of view and the team's point of view we feel very lucky to have a world class coach like Doug running our team. When you look at the improvement of the Sixers from where he started we've had a lot of success. Like I've said in the past we want to have a world-class organization up and down and it starts with coach Collins. He really delivered for the team, puts his all into the team. I couldn't think of a better leader for our team on and off the court."
In his two seasons at the helm Collins has compiled a 76-72 record, making it to the first round of the playoffs in his first season and taking the team to Game 7 in the conference semifinals last year before falling to the Boston Celtics.
Bob Cooney
Sixers center Andrew Bynum will be held out of basketball activity for three weeks because of his offseason knee procedure, the team announced on Monday.
The Sixers said Bynum was being held out as a precaution. The Sixers said Bynum had been diagnosed with a bone bruise of the medial femoral chondyle of his right knee.
The Sixers also announed that they have acquired 7-foot veteran center Mikki Moore.
Bob Cooney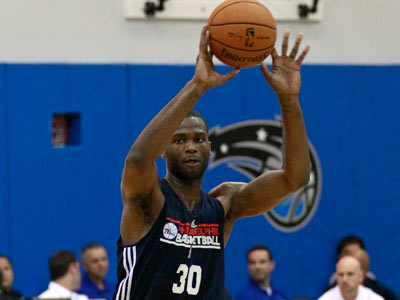 The Sixers will begin training camp with high hopes and four new players. The team announced today that it had signed the four free agents to bring to training camp. Signed were Dan Gadzuric, Devin Searcy, Xavier Silas and Damien Wilkins.
The 6-11, 240-pound Gadzuric has been in 527 NBA games, averaging 4.7 points and 4.4 rebounds during his 10 seasons. Las season he played in China and for the NBADL before signing with the Knicks in late April.
Searcy (6-10, 226) went undrafted out of Dayton in 2011 and played in the Japan league last year. He was a participant for the Sixers in the Orlando Summer League this past July, averaging 7.4 points and 7.6 rebounds.
Bob Cooney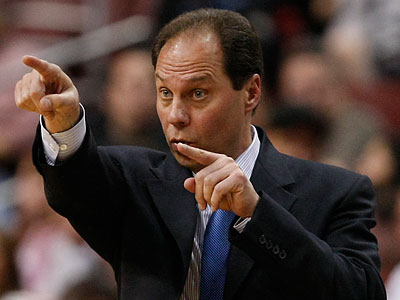 According to a league source, assistant general manager Tony DiLeo will be promoted to take over the day-to-day operations from president Rod Thorn, whose contract is to expire after this coming season. As agreed upon a few years ago, Thorn will stay on in an advisory position for the team. A release of the announcement could be sent out by the team as early as today and a press conference could take place early next week.
While the Sixers interviewed others to replace Thorn, including Jeff Bower and Tom Penn, the league source said that they kept coming back to DiLeo, who has been with the team since the 1990-91 season. He was the interim head coach in 2008, taking over for fired Maurice Cheeks early in the season. The next season DiLeo returned to the front office as senior vice president and assistant general manager.
The source also said that majority owner Josh Harris and DiLeo are looking to add to the front office, most probably in an analytics role.
Video: Fans gathered at the Constitution Center on Wednesday as the Sixers' newly acquired center Andrew Bynum and guard Jason Richardson were introduced to Philadelphia in a very non-traditional way. Marcus Hayes of the Daily News reports.