Archive: September, 2010
Bob Cooney
After just three days and five practices of training camp at Saint Joseph's, there can be no difinitive conclusions as to who will do what for new 76ers coach Doug Collins.
One thing is pretty certain - the Sixers aren't going to scare many teams with their interior offense. Collins even stated that if there were a game of H-O-R-S-E between his big men and small men, the bigs would win.
Ideally, Collins wants Andre Iguodala to bury his outside shot, particularly from three-point range. I don't mean bury as in make, I mean bury as in don't use it. It is blatently obvious, and Collins has said so, that Iguodala's best offensive game is when he's on the wing on a fastbreak and flyting to the basket or cutting there off screens in the halfcourt. Same goes for Thad Young. So in order for lanes to open up and defenses to be spread, the Sixers will have to consistently drain shots from the outside. So far, so good.
Bob Cooney
Jrue Holiday drove the lane, found an open Jason Kapono standing alone behind the three-point line on the right wing and hit him with a perfect pass. Kapono, one of the surest three-point shooters in the league, hit nothing but net.
Those two were the two best players on the court last night in a spirited scrimmage at Saint Joseph's last night during the 76ers second day of training camp under new coach Doug Collins.
Kapono drained three long jumpers last night, and looked good finding his open spots on the floor. That could help this team big time if Kapono can consistently hit his outside shot. It will be interesting to see how many minutes Collins will find for him.
Bob Cooney
Today's morning practice was cut well short of it's three-hour slotted time.
"I thought we got a lot of work done," Doug Collins said. "Our guys cooled off (listening to visitor Reggie Miller) and once they cool off, that's it. We had a really good morning.
"I didn't sleep real well last night. I was just trying to figure it all out. I always say anywhere I go, the first week I'm there I have such angst because you look at the board as you're drawing things up to have a plan about how you want to do things and then you do them and you like certain things, then you don't because of how players are on the floor and where they are and maybe what you thought they were.
Eddie Jordan, the deposed coach of the 76ers, surfaced today at the Charlotte Bobcats' training camp practice.
This would appear to be Jordan's first public appearance since being fired by the Sixers at the end of last season, although he was interviewed for the then-open coaching job at Rutgers.
The Sixers were 27-55 in Jordan's only season. He left with two remaining guaranteed seasons on his contract, believed to be worth a total of $6 million.
Bob Cooney
Darius Songaila and Craig Brackins did not practice with the Sixers this morning in the first session of training camp because their trade from the New Orleans Hornets had not been officially completed.
The two big men were acquired for Willie Green and Jason Smith. The holdup was Green's physical with the Hornets, which raised red flags about a knee injury.
A source told the Daily News that the teams have since agreed to the option to exchange second-round picks in 2011, which cemented the trade.
Bob Cooney
Five things to look for as Sixers training camp opens Tuesday:
1. The backcourt: Much praise is being laid on second-year point guard Jrue Holiday, who has a new backcourt running mate in second overall pick Evan Turner. Holiday will be a staple at the point. When he is not in the game, Turner could spell him for a time there, as coach Doug Collins has talked about how well Turner has looked in preseason workouts at the point. If Turner is a little slow in adapting to the NBA game, Lou Williams could start at the two, at least for the beginning of the season. Jodi Meeks will provide scoring punch off the bench.
2. Interior defense: The split with center Sam Dalembert was one that had to be done, for both parties, but it left a gaping hole as far as a last line of defense. Spencer Hawes, Marreese Speights and Elton Brand won't strike fear into many who drive to the basket, though they should benefit from Collins' defensive schemes. They'll also get help from a solid group of perimeter defenders headed by Holiday, Andre Iguodala and Turner.
Bob Cooney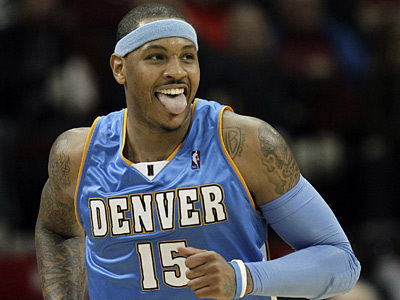 The Sixers and Denver are talking about a potential trade that would bring Carmelo Anthony to Philadelphia and send Andre Iguodala to Denver, a Western Conference executive has confirmed to the Daily News.
The executive said Nuggets GM Masai Ujiri has spoken with Ed Stefanski.
Other players would need to be involved in the trade to match salaries.
Poll: Should the 76ers trade for Carmelo?

(3951 votes)
This had been planned for quite a while. Willie Green was taking his family on a mini-vacation during the last weekend before training camp. He was ready to be virtually ''counted out'' again as he prepared for his eighth season with the 76ers. He never seemed to be pencilled in for the same role.
Whatever his role this season turns out to be, it won't be with the Sixers. Green and big man Jason Smith were traded to New Orleans for veteran forward Darius Songaila and rookie big man Craig Brackins.
''It was a little bit of a shocker to find out the weekend before training camp,'' Green told the Daily News in a telephone interview. ''But I understand the nature of the business. It's never personal. I have nothing but good things to say about the organization in Philadelphia. ''They gave me a great opportunity to fulfill my dreams of playing in the NBA.