Archive: June, 2010
Bob Cooney
Former La Salle star Vernon Goodridge has been added to the Sixers' roster for the Orlando Summer League, according to his agent.
Goodridge initially was going to play for the New Jersey Nets, but the arrangement fell through.
To make room on the roster, the Sixers released DeVon Hardin.
The most anticipated free agency period in NBA history begins tonight when the clock strikes midnight.
You know the names: LeBron, Bosh, Wade, Stoudemire, Nowitski.
But what about your Philadelphia 76ers?
The 76ers, filling out their Orlando summer league roster, have added Ndudi (Indy) Ebi, a former first-round draft choice of the Minnesota Timberwolves; Trent Plaisted, a 6-11 second-round pick of the then-Seattle SuperSonics in 2008; Xavier's Jason Love, a 6-9 forward from Xavier via Abington Friends, and Temple's Ryan Brooks, among others.
The Sixers confirmed those additions to a group that will be led by first-round draft choice Evan Turner, second-year guards Jrue Holiday and Jodie Meeks, and third-year big man Marreese Speights.
The 6-9 Ebi was the No. 26 selection in 2003, directly out of a Texas high school. He logged time in the NBA Development League, but appeared in just 19 NBA games over two seasons before being released. Most recently, he has played in Israel and Italy.
The Sixers have hired Joseph Ondrejko as vice president of ticket sales, the team announced.
That job, however, has gotten a little bit easier than it was just a month ago, with the hiring of coach Doug Collins and the drafting of Evan Turner with the second overall pick.
The Sixers finished 26th in the league with an average of 14,224 and played to 70 percent capacity, among the lowest figures in the league.
There was a brief, inexplicable moment about a week ago, when something called a "splash page" appeared on the 76ers' website. It wasn't supposed to be there. But there it was. The page, which appeared for just a few seconds, identified Evan Turner as the Sixers' choice with the No. 2 pick in tonight's draft.
Never mind that similar pages had been prepared for several prospective candidates, and that the correct one, whoever it was, wasn't supposed to see the light of day until the Sixers actually made their pick.
Turner's, though, was the one that blinked at the public.
Well, it's for real now. The Sixers have officially made Turner, the Ohio State guard, their choice. This was the only team for which Turner worked out, passing up an opportunity to work out for the Washington Wizards, who used the No. 1 overall pick to take Kentucky guard John Wall.
Poll: Was Turner the right pick?

(2258 votes)
John Smallwood's first-round mock draft. Tonight's draft begins at 7:30
1. Washington, John Wall, G, Kentucky
2. Sixers, Evan Turner, G, Ohio State
3. New Jersey, Derrick Favors, F, Georgia Tech
4. Minnesota, Wesley Johnson, F, Syracuse
5. Sacramento, DeMarcus Cousins, C, Kentucky
6. Golden State, Ed Davis, F, North Carolina
7. Detroit, Greg Monroe, C, Georgetown
8. L.A. Clippers, Ekpe Udoh, F, Baylor
9. Utah, Al-Farouq Aminu, F. Wake Forest
10. Indiana, Cole Aldrich, C, Kansas
11. New Orleans, Luke Babbit, F, Nevada
12. Memphis, Patrick Patterson, F, Kentucky
13. Toronto, Paul George, F, Fresno State
14. Houston, Xavier Henry, G, Kansas
15. Milwaukee, Gordon Hayward, F, Butler
16. Minnesota, Avery Bradley, G, Texas
17. Chicago, Kevin Seraphin, C, France
18. Oklahoma City, Daniel Orton, C, Kentucky
19. Boston, James Anderson, G, Oklahoma State
20. San Antonio, Elliot Williams, G, Memphis
21. Oklahoma City, Larry Sanders, F, VCU
22. Portland, Eric Bledsoe, G, Kentucky
23. Minnesota, Damion James, F, Texas
24. Atlanta, Hassan Whiteside, C, Marshall
25. Memphis, Craig Brackins, F, Iowa State
26. Oklahoma City, Tibor Pleiss, C, Germany
27. New Jersey, Jordan Crawford, G, Xavier
28. Memphis, Trevor Booker, F, Clemson
29. Orlando, Terrico White, G, Mississippi
30. Washington, Gani Lawai, F, Georgia Tech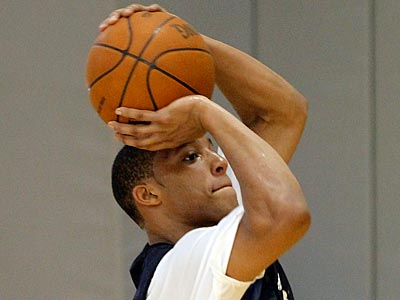 Join Daily News sports writer Tyler Dunne for a live chat during the NBA draft, starting at 7 p.m.