Archive: April, 2011
Bob Cooney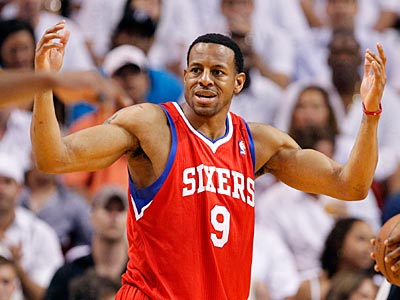 Andre Iguodala did not show up for his exit meeting with Sixers officials today, multiple sources have told the Daily News.
Iguodala was the only player who did not have an individual meeting with coach Doug Collins, team president Rod Thorn and general manager Ed Stefanski a day after the Sixers were eliminated from the playoffs in five games by the Miami Heat.
Iguodala was at the team's practice site at Philadelphia College of Osteopathic Medicine for a team meeting and also to talk to reporters.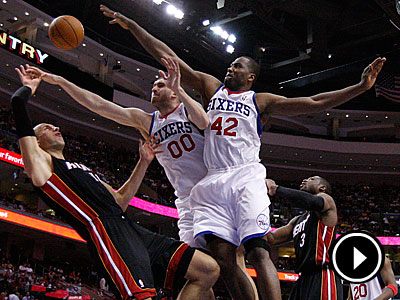 Video: CineSport's Noah Coslov asks the Daily News' Bob Cooney what the Sixers need to do in Game 5 of their series with the Heat to send the series back to Philly.
---
Download our new iPhone/Android app for all of our Sixers coverage, plus app-exclusive analysis and videos.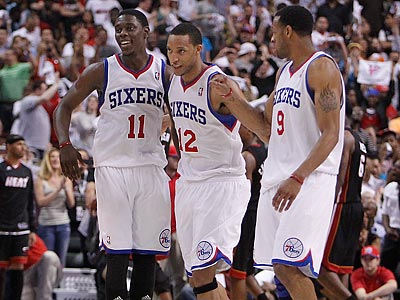 In his fourth standout game of the presumed Heat sweep, LeBron James dropped a series-high 31 on the Sixers, but he and his Heatle teammate, Dwayne Wade, both missed late shots and could not match the inspired Sixers effort in an 86-82 Game 4 win, the Sixers' first over Miami in 11 tries.
A last-minute charge set up a Game 5 in the Eastern Conference quarterfinal on Wednesday in Miami.
Down by six with less than 2 minutes to play, Jrue Holiday found Evan Turner for a layup then hit a three-pointer in the face of Wade.
Hey, nothing like a little extra juice to bring added excitement to the playoffs.
The Sixers, trailing 2-0, host the Miami Heat on Thursday night at the Wells Fargo Center.
And when you put Philly and fans together to an opposing player, this is what you get:
Charles Barkley has given voice to what has been a popular view entering the first-round series between the Sixers and Miami, and probably became more popular after Monday night's blowout:
"[The 76ers have] got no chance of beating Miami, they are going to get swept," Barkley said on TNT. "They don't have an advantage at any position. They can't run with Miami, they can't pound them inside, so they are 0-2."
Asked about the chance of his being wrong, Barkley replied: "I might be mistaken, but I'm never gonna be wrong."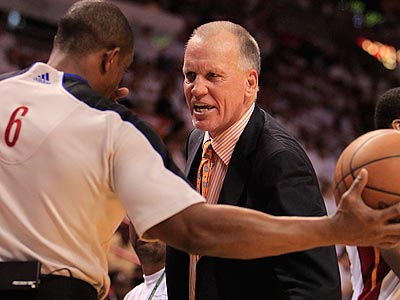 With the Sixers now facing an 0-2 deficit in their playoff series against the Miami Heat, Marcus Hayes of the Daily News stops by at noon Tuesday to answer all your questions about the team's playoff chances.
On a mobile phone? CLICK HERE to join the chat.
---
Download our new iPhone/Android app for all of our Sixers coverage, plus app-exclusive analysis and videos.
Bob Cooney
Bob Cooney of the Daily News breaks down the 76ers' 94-73 loss to the Miami Heat in Game 2 of their Eastern Conference playoff series with Ira Winderman of the South Florida Sun-Sentinel.
---
Download our new iPhone/Android app for all of our Sixers coverage, plus app-exclusive analysis and videos.
Bob Cooney
Miami Heat guard Dwyane Wade will probably play tonight after participating in this morning's shootaround. Heat coach Erik Spoelstra just said that Wade is feeling better and is looking to work up a sweat this morning in order to get ready for tonight.
Coach Doug Collins said after Sunday's practice that playing Thaddeus Young, the team's best player in Game One with 20 points, too many minutes is a concern. Young was on the floor for 28 minutes on Saturday and appeared utterly exhausted afterwards. He missed two big foul shots down the stretch when the Sixers had trimmed the Heat lead to just one with a little over two minutes remaining.
If Collins is reluctant to play Young more minutes, then he needs to get some kind of contribution from other bench players. Collins and Lou Williams are confident that the reserve guard will be more explosive tonight after returning on Saturday from his strained hamstring that forced him to miss the team's final five regular season games.