Archive: February, 2011
Bob Cooney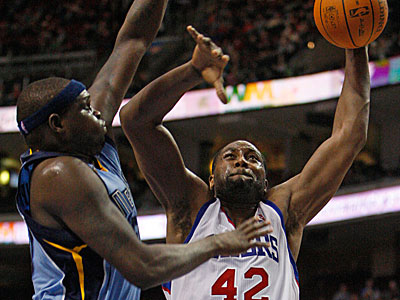 A day after dislocating his right (shooting) pinkie, forward Elton Brand was back on the practice floor today at Philadelphia College of Osteopathic Medicine sporting a splint and a pad on the finger.
"There's a little pain, but it feels pretty good," said Brand, who was hurt diving for a loose ball in the third quarter Sunday. He begged to stay in the game, but the trainers took him to the locker room and popped the digit back into place. Brand returned to the game and hit a key jumper late. Yesterday. he was practicing his patented midrange jumper. "It wasn't my usual 10-for-10, it was more like 8-for-10," he said. "It's all right. and I'll definitely be able to play tomorrow."
Speaking of tomorrow, the Sixers, who have won a season-high four straight and 13 of 17, will face the hottest team in the NBA when the Dallas Mavericks, winners of 16 of 17, visit the Wells Fargo Center.
Bob Cooney
It hasn't been very often over the past two season that the Sixers were involved in "just show up" games.
What that means is if the Sixers just showed up, just played their normal game, a win seemed almost certain.
Friday night they faced a Detroit Pistons team that was in the midst of staging a protest against coach John Kuester, thus limiting them to just six players as five who missed the morning's shootaround weren't going to be counted on for any minutes.
Bob Cooney
Video: The Daily News' Bob Cooney praises the Sixers ball distribution against the depleted Detroit Pistons on Friday night at the Wells Fargo Center.
---
Download our new iPhone/Android app for all of our Sixers coverage, plus app-exclusive analysis and videos.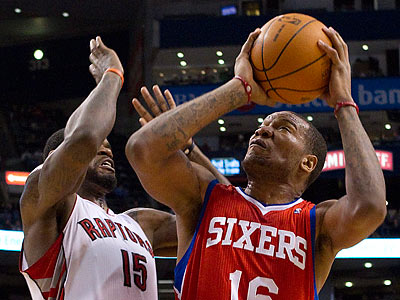 Sixers beat writer Bob Cooney will chat live for the Hot Button on Friday beginning at 1 p.m.
On a mobile phone? Click HERE to join the chat.
Bob Cooney
The Sixers listened to offers, and even might have made a few, but in the end there were no nibbles, let alone a bite.
A source said the Houston Rockets were looking to deal Shane Battier to the Sixers, but the Sixers don't need another perimeter player. Reports had the deal including Marreese Speights and Jason Kapono, but a source said it never really got that far.
Last week, the Portland Trail Blazers offered former Villanova forward Dante Cunningham and a second round pick for Speights, a source said. A source said today that the offer had been upgraded to Cunningham and a first round pick for Speights, but the Sixers again weren't interested in acquiring another perimeter player.
Bob Cooney

For those of you waiting for the Sixers to make a blockbuster trade, it doesn't appear as if it's going to happen, at least not before today's 3 p.m. trading deadline.
Phone calls have been made and recieved, but nothing at all appears imminent. If anything is going to happen it will be on the minor end, like dealing or buying out swingman Jason Kapono, perhaps. Other than that, all appears quiet.
The team practices at 11 this morning at Philadelphia College of Osteopathic Medicine.
---
Bob Cooney
Video: After a dismal first quarter, the Sixers not only overcame a seven-point deficit, but beat the Washington Wizards 117-94. The Daily News' Bob Cooney has more on the Sixers offensive explosion.
---
Download our new iPhone/Android app for all of our Sixers coverage, plus app-exclusive analysis and videos.
Bob Cooney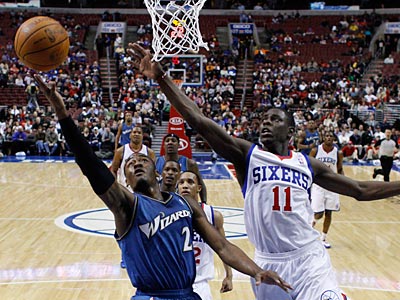 Who would have thought this is where the Sixers would be as the trading deadline is just hours away? Andre Iguodala is most likely staying, there appears to be no significant moves on the horizon as the deadline inches closer to it' 3 p.m. Thursday deadline.
And guess what? Sixers fans are probably OK with the team standing pat. Again, who would have thought it.
In Wednesday's 117-94 win over the Washington Wizards, the Sixers improved to 25-16 over their last 41 games. You know what 41 games is? It's half of the 82 a team plays in a season. So since the 3-13 start, 25-16 is what you've got. Play that out over a full season. Go ahead, do the math. That's 50 wins.