We've already examined Andrew Wiggins, so in the second part of the "Film Breakdown" related series, the Daily News will break down and examine Jabari Parker, his strengths and weaknesses and how these skills fit with Brett Brown's speedy offense.
Jabari Parker, SF, Duke, freshman, 6-foot-8, 235 lbs
NBA Comparison: Carmelo Anthony/Rudy Gay
Strengths:
· Complete offensive package when it comes to shooting and the natural ability to play basketball
· Has offensive versatility and can play inside and out, off the catch and the bounce and finishes well at the rim. Can play the face up game like a power forward from 15-and-in or score with his back to the basket, scores 70.8% of the time on the block. He has multiple post moves, a quick spin and a fadeaway as well.
· Great basketball IQ for an 18-19 year old player, can see the play before it develops and reads opposing defenses excellently
· Strong competitor, has more of a killer instinct and ability to carry a team if necessary
· Prototypical NBA body type (6-foot-8, 235-240 lbs, 7-foot wingspan) and his length could potentially be a problem when guarding his position
· Works well in transition because of his great rebounding instincts. Has the ability to grab a rebound and go coast-to-coast and make a play at the rim
· Better dribble and handle than most give him credit for, skilled ball-handling ability for a wing of his size
· Plays well in defensive rotation to get the opportunity to block shots due to his wingspan and when he's at the 3 or 4 position, plays very well in the passing lanes and turns defensive into instant offense. Might be the best two-way player in this class
· Very tough to block his shot due to his high release, great touch on his shot that's natural for a perimeter marksman. Made 58% of catch and shoot jumpers.
· Can come off the dribble right or left after one or two dribbles and makes around 50% of these shots
· Also has the ability to create for others. Passes well for his size and position, especially outlet passes following a rebound or passes in transition as he's pushing the tempo. Can also utilize the dribble-drive and kick, will draw defenders and find the open man.
· Very good rebounder offensively and defensively (2.7 off rebounds per 40, 7.7 def per 40), boxes out well and has great instincts on the glass.
· A huge load of upside, potential to be an All-Star in the NBA
Weaknesses:
· His defense will be problem, has a very poor defensive stance and is slow laterally, which will be a problem when guarding elite forwards nightly (LeBron James, Carmelo Anthony, Paul George, etc.)
· Struggles defending the perimeter and the interior and sometimes get pushed off the lower block when defending the post. Gets bumped out of position
· Poor, hunched over defensive stance
· Doesn't defend the pick and roll very well, very inconsistent defensive effort, allows for deep possessions and catches in the post
· Doesn't have first step explosion like Wiggins on the wing or other elite prospects with the ability to get to the basket
· Has the ability to maximize his conditioning which would improve his potential as an athlete, won't be considered one of the best athletes in the class
· Outside shot has been inconsistent due to poor shot selection, 54% of his shots are jumpers, he needs to attack the basket more
· Takes many contested shots all around the court, settles for too many shots early in the shot clock
· He needs to take advantage of his mismatches on the post more and attack from there instead of taking low IQ stepbacks and fadeaways from 10-feet in
· Needs to cut weight and add muscle
Now let's look at 5 plays that shows where Parker excelled:
1) Duke vs. NC State, Parker's Inside Game
One of the many places that Parker can hurt you offensively is in the post. Here he got deep post position and used a very strong move on 6-foot-9, 325 pound Beejay Anya (#21) and gets his shoulder into his body and actually moves him.
Look at where Parker gets his post possession.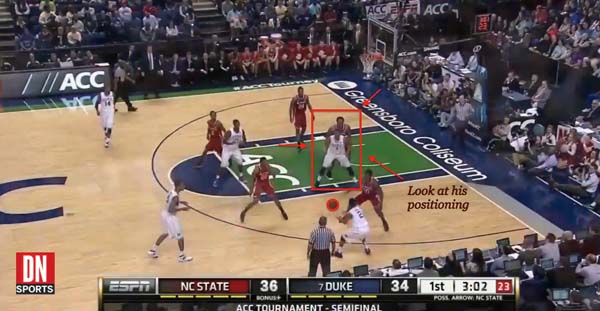 Following the possession he uses a quick and strong spin move to move Anya off the block and collects his pivot to get up under the rim to make a difficult shot against a tougher opponent even more difficult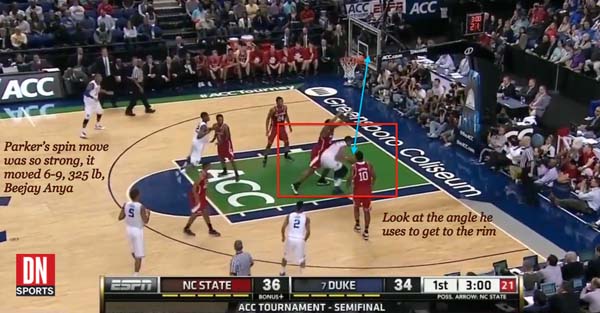 He finishes with a soft touch at the top of the box on the glass and ties the game at 36 a piece. It all started with his ability to finish and work on the inside, collect his gather and finish at the rim where he makes 50% of his attempts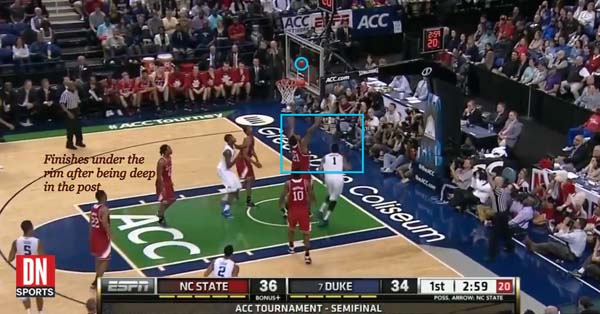 2) Duke vs. Pittsburgh, Parker's Perimeter Game
As mentioned earlier, Parker has as advanced a perimeter game as anyone in this class including guys like Nik Stauskaus and Doug McDermott. But where he really excelled was in catch and shoot opportunities where he hit 58% of his shots.
Let's look at two different occasions where he beat Pitt. First in the corner, where Pitt did a horrible job of letting him just run backdoor to the corner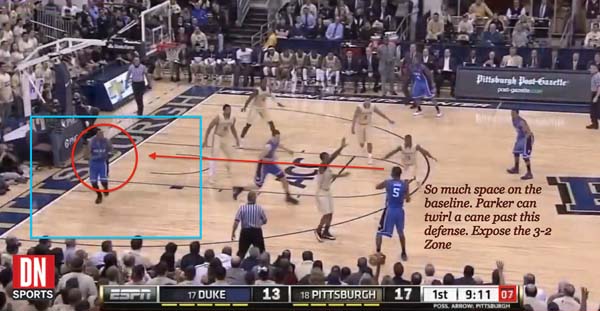 Why was he just allowed to trek the baseline that easily? Rodney Hood finds him and Parker just gets his feet set and is ready to launch. Parker slides and gets his feet set and ready while the entire defense shifts to it's attention to him and the remaining guard tries to close-out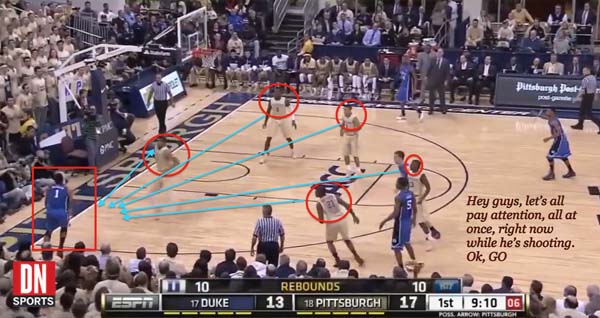 Parker get's so much elevation on his shot and with a 7-foot wingspan, it's almost impossible to get to a block, let alone an effective closeout. By time the guard gets to Parker the shot was already about to be in the net.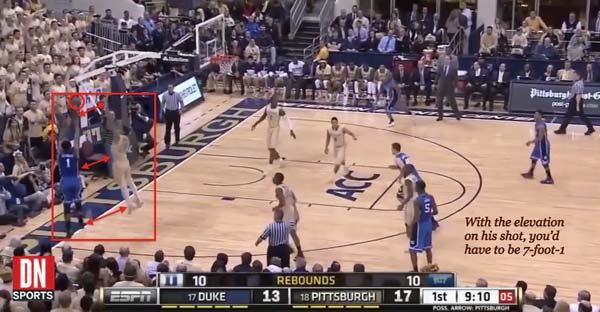 ------
2nd Half vs. Pitt
In this play, Parker sets up his man easily for an incoming down screen from Andrew Dawkins and some 1-on-1 play with Quinn Cook.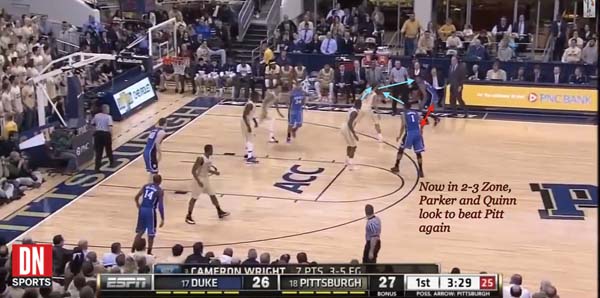 Dawkins issues the down screen, which brings two players towards the screen, and there's another man already by Cook, no one slides to protect the biggest problem on the court: Parker. So he starts calling for the ball.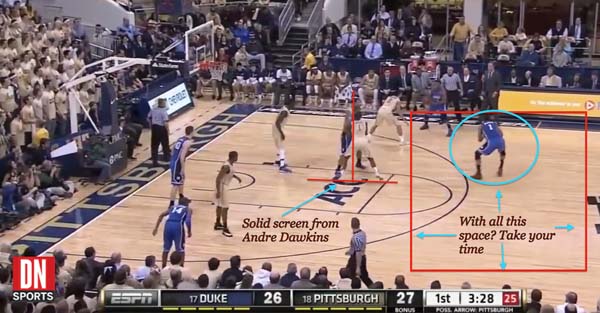 Due to the confusion, Parker now has two guys closing out on him, but still enough space to start his shooting motion. By time one player reacts, he already has the ball in his high release motion.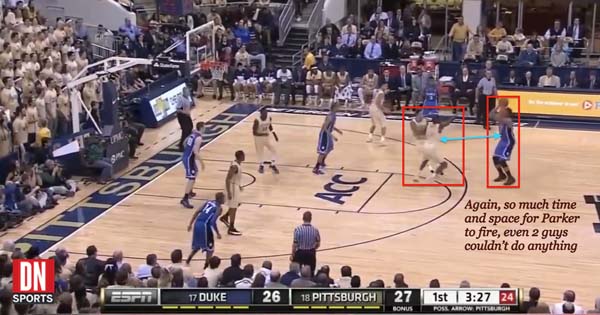 And just like that, Parker scores again from the perimeter with a fade and a down screen helping him in the process. This wasn't even a drawn up play, this was just recognizing what the defense gave him, also a credit to Parker's high IQ on the offensive side of the ball. Look at where his elevation is compared to his defenders.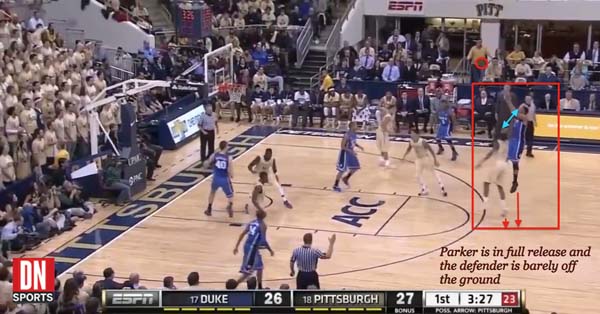 3) Duke vs. Virginia, Parker's Transitional Game
This is a play that should make the Sixers staff salivate. Parker isn't as gifted running in transition as guys like Andrew Wiggins and Noah Vonleh, but he can still run the floor with the best of them.
Parker grabs the rebound and proceeds to run the floor for what was one of his most talked about plays of his college career.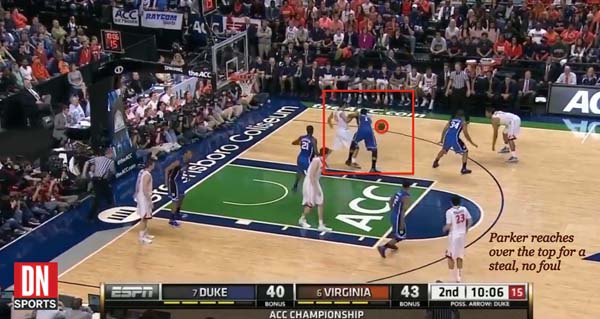 Parker uses a single crossover move and gets up court in two dribbles and gets one Virginia guard backpedaling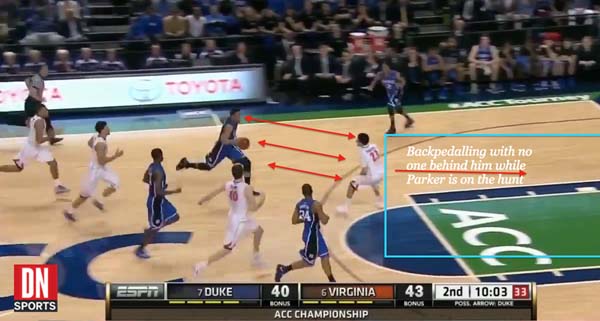 He then passes up on swinging the ball to the weakside of the court to a wide open Quinn Cook and begins his most athletic move of his Duke career. He completely palms the ball and takes two huge steps while having the ball above his head and fully extended.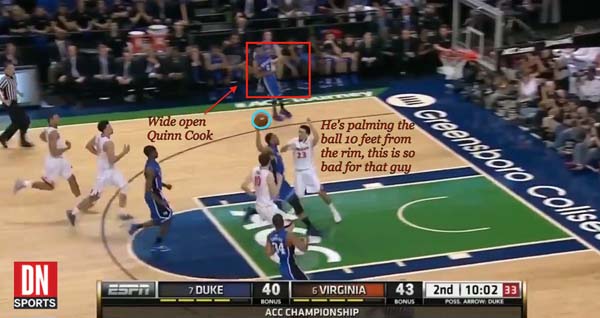 The end is pretty self-explanatory…and gruesome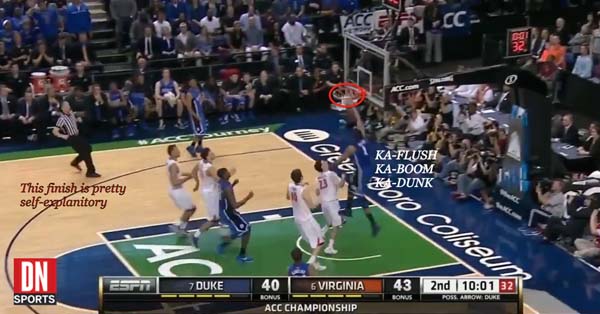 Here's a better look at the carnage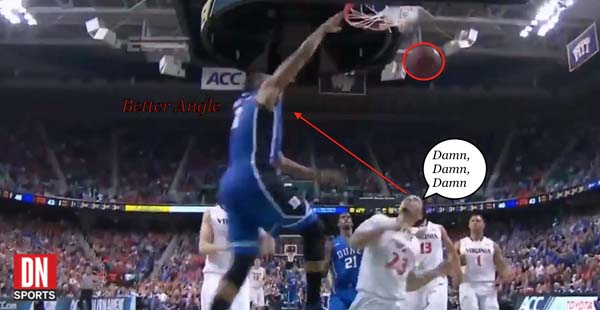 2nd clip in transition
Now this is another instance where Parker not only runs the floor well, but also creates for his teammates, he dished 2.6 assists per 40 minutes, so his court vision shouldn't be underrated.
Parker grabs the rebound off a missed Virginia layup and starts to go on the break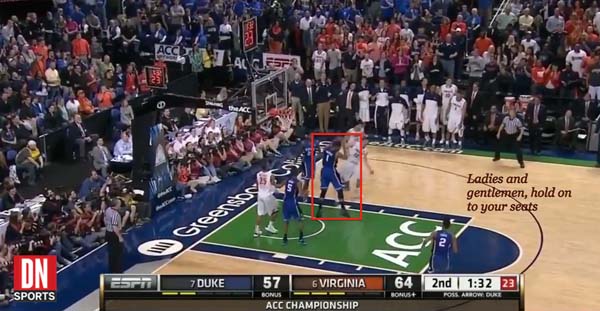 Again, two dribbles and Parker is at half-court, but this time the fast break lanes are reversed and Quinn Cook is on the strong side of the court. Parker gives Quinn a no-look pass into the corner and London Perrantes (#23) is already out of position to stop anything that's going to happen.
This will be the second time his defense meant nothing to Duke in transition.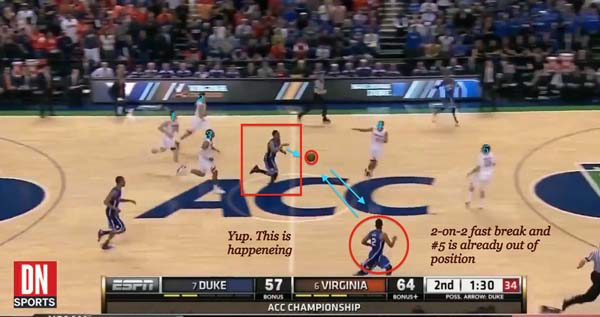 By time Cook gets his feet set, Perrantes is trying to run him off the perimeter. Too late for that, he knocks it down and Parker gets the assist.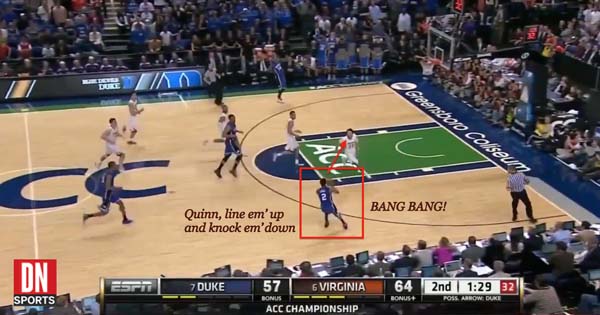 Parker won't always run in transition and slam a huge dunk on a 6-foot-2 guard, but this play where he makes the smart decision and finds the open man in transition after grabbing the rebound, that'll happen a bunch in his NBA career and it would fit great with the Sixers' scheme.
4) Duke vs. Eastern Michigan, Parker's Rebounding Ability
Because of Parker's high IQ on the court, it's no surprise that he puts himself in the right position frequently to be a high volume rebounder. He nabbed 11.4 rebounds per 40 minutes at Duke and it's in part because his positioning and ability to box out effectively puts him in the right spot for rebounds.
He grabbed 11.4% of available offensive boards, 23.2% of available defensive boards and had a 17.1 total rebound percentage overall, meaning he rebounded 17.1% of available rebounds. Remember, this was with a seven-footer on his team at the center position.
Look at his positioning against EMU and two players surrounding him on the rebound
And not only does he focus on his box out which gives him a ton of space, he controls the position and has enough strength on the block to just focus on the ball and let his body control the players behind him.
Here's a better look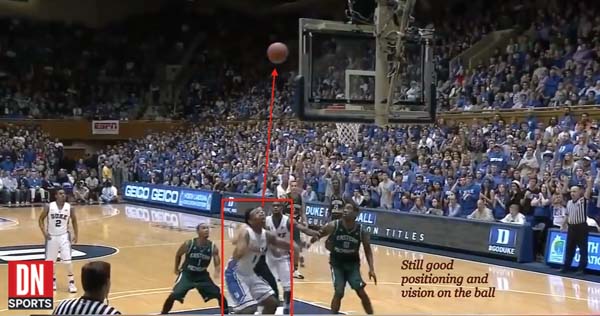 On a similar box out on the weak side of the floor, Parker grabs another offensive rebound with two EMU players surrounding him.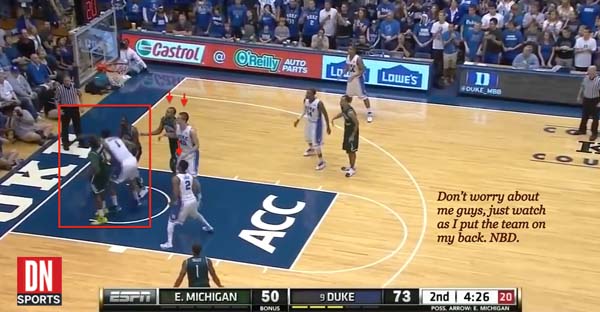 And then after grabbing the rebound, Parker's strength in the trenches showed as he muscles his way to a shooting foul while the two players swarm him on the block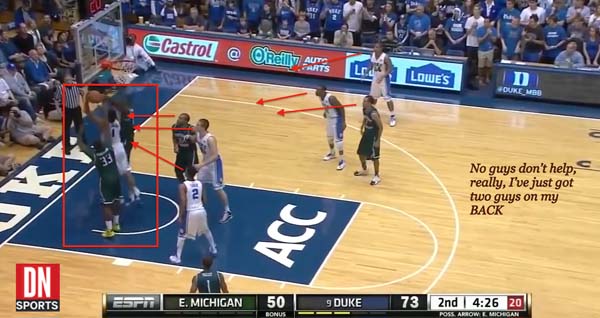 5) Duke vs Kansas, Parker's Dribble Moves and Versatility
Another quality that makes Parker deadly is how advanced his dribble is for his size (6-foot-8, 240 lbs) and how versatile his skillset is and the command he has over the defense.
Early in the college basketball season, Parker put on a show against Kansas and his main defenders were Perry Ellis and Joel Embiid.
In the first play he receives a pass form Quinn Cook and is about to go on the dribble. Even before he receives the pass the defense adjusts to his presence.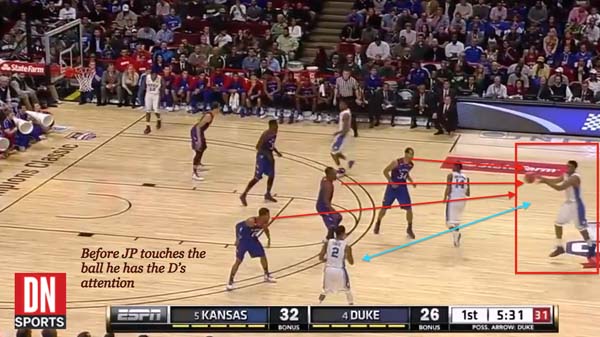 After one dribble, Parker has the attention of three Jayhawks and makes his move on Ellis before working between two defenders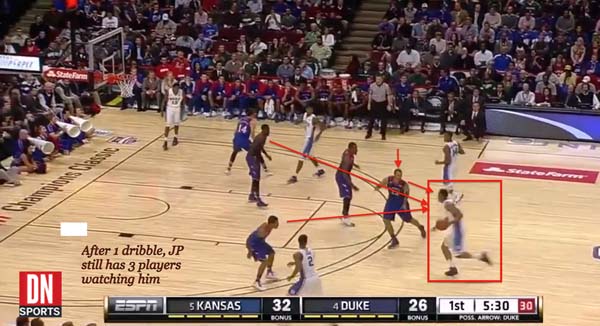 Parker gets past the opposition and then is faced with finishing over 6-foot-10 Tarik Black, a player with NBA size and wingspan.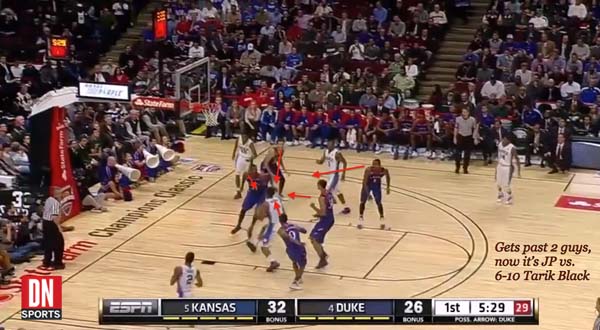 He curves his layup and gets past his opposition after strong dribble moves with his off-hand.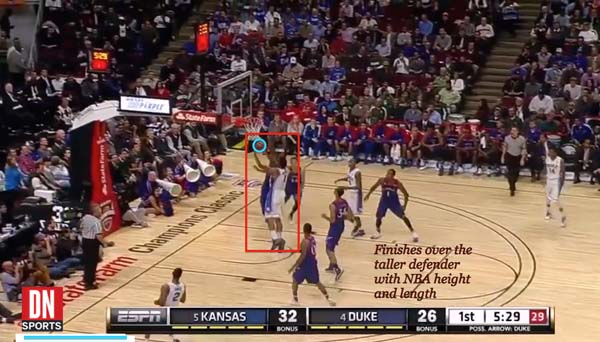 Final Analysis: With Parker, teams will get a high IQ combo forward that can shoot from anywhere on the floor and run the break as well as rebound as effectively as anyone in the draft. His athleticism is average and his defense is below-average and the peak of his game won't be in his first year. But with some growth and maturity, Parker can be an All-Star for many years.
How he fits with the Sixers: The Sixers lack a shooter on the wing and someone who can play in transition at that position. Combine Parker with Michael Carter-Williams and Nerlens Noel and there's some instant offense coming from the wing that could propel Philly forward for a few years.
Adding some strong perimeter shooting will also help the league's worst three point shooting squad. Philly needs some offense and Parker could be the one to give it to them.
Get the full Sixerville experience at PhillyDailyNews.com.
Follow Tynes on Twitter @TylerRickyTynes