Archive: May, 2012
Tirdad Derakhshani

, Inquirer Sideshow Columnist
Novelist and The Sandman creator Neil Gaiman, whose commencement speech last week at the University of the Arts went viral over the weekend, has made headlines again for composing a poem especially for a fan who had it tattooed on his back.
The fan, Los Angeles' Burton Olivier, asked Gaiman if he'd compose a comic book panel to be inscribed on Olivier's back as a large tattoo. Gaiman was game and wrote a poem which was then illustrated by famed comic book artist David Mack.
As Gaiman write on his website, he accepted the request as long as the design could be used to support the Comic Book Legal Defense Fund (CBLDF).
Tirdad Derakhshani

, Inquirer Sideshow Columnist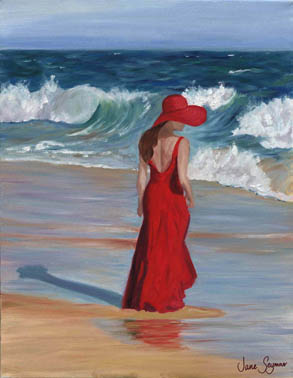 Dr. Quinn Medicine Woman star Jane Seymour (whose actual, real given name is groovy: Joyce Penelope Wilhelmina Frankenberg) will make two appearances Friday (7-9 p.m.) and Saturday (5-8 p.m.) in King of Prussia.

Seymour, 61, is making in-gallery appearances in support of a joint exhibit of paintings by the actress and her son, Sean Flynn at the Wentworth Gallery at the Court at King of Prussia, 690 West Dekalb Pike, #2016.

Gallery info at 610-337-8988 or at http://bit.ly/LaXXjp

Info on Seymour, her appearances and images of her work:
http://www.janeseymour.com/home.htm
Tirdad Derakhshani

, Inquirer Sideshow Columnist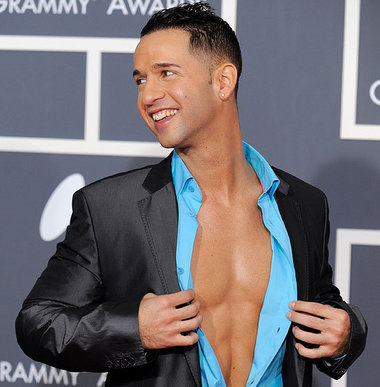 He's dazzled us with his remarkable talent for belching, boozing and babe-ing and his incredible prowess as a suntanning machine.
Now Mike "The Situation" Sorrentino dims the lights, so to speak, to whisper to us of his pain as an addict and his road to salvation and sobriety.
The Sitch, who is famed for his facility with all the difficult problems he faces daily on MTV's Jersey Shore, admits this one situation, staying clean and sober, may be a challenge.
Tirdad Derakhshani

, Inquirer Sideshow Columnist
If reports are correct, producers of the James Bond film series are committing one of the greatest outrages since the unjust trial and barbarous execution of Jean d'Arc:
Replacing the MI6 agent's trademark beverage vodka martini shaken not stirred (and with "a large thin slice of lemon-peel," as Ian Fleming wrote in Casino Royale) with beer. Why?!
There are 45,000,000 reasons:
Tirdad Derakhshani

, Inquirer Sideshow Columnist
Cherry Hill High School West grad Gary Gagnon will face the entrepreneurial, cut-throat capitalist sharks on the Mark Burnett-created reality competition show Shark Tank for its season finale Friday on NBC to sell them on a type of eco-friendly footwear he calls Remyxx sneakers.
"These are 100 percent recyclable, land-free sneakers," Gagnon, 43, tells us. "Right now, shoes and sneakers are put in landfills. My sneakers are made of recyclable materials."
Gagnon's laid-back unisex street sneakers (they're not for running or other sports) come in various sizes, colors and patterns for all ages.
Tirdad Derakhshani

, Inquirer Sideshow Columnist
I'm told some Neil Gaiman fans have suffered insomnia for months, years, even decades, kept awake by burning questions about the author, screenwriter, graphic novelist, comic book writer, children's book writer, songwriter, husband and father.
Perhaps you take issue with his use of a particular comma in a particular panel in an early issue of Gaiman's famed The Sandman series?
Are you haunted by the inky existential darkness Gaiman imposes on poor Coraline?
Tirdad Derakhshani

, Inquirer Sideshow Columnist
The world already is way ready to move on From The Big News of The Month, to wit that Britney Spears has signed a fat (albeit most definitely not phat) $15 million deal to share her worldly wisdom and considered opinions as a judge on Simon Cowell's answer to Simon Cowell's American Idol, The X Factor.
Demi Lovato also has been signed by the show, TMZ adds to the multiple Brit reports.
Thing is, we can't move on.
Tirdad Derakhshani

, Inquirer Sideshow Columnist
British actor Sean Bean most recently loved and admired for his turn as a wintry lord in HBO's Game of Thrones was arrested by London police on Wednesday for allegedly making harassing, abusing phone calls to his ex-, Georgina Sutcliffe, London tabloid Daily Mirror revealed today
Bean who questioned but has not been charged with a crime.
Bean married Sutcliffe who was married to Bean from 2008 to 2010 was his fourth wife.