Archive: April, 2012
Tirdad Derakhshani

, Inquirer Sideshow Columnist
She came days and days ago. Almost two weeks to be more precise.
But Gloria Ray Sarsgaard is brand new to the world.
Us Weekly reveals that Maggie Gyllenhaal and Peter Sarsgaard welcomed their second baby April 19 in New York. Gloria Ray joins older sis, Ramona, who was born Oct. 3, 2006.
Tirdad Derakhshani

, Inquirer Sideshow Columnist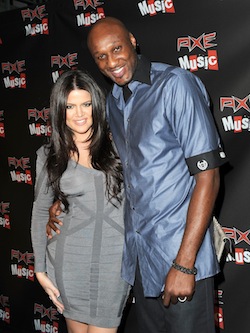 UPDATE: IT'S NOT OVER!
Don't panic just yet: Khloé and Lamar may not be dead after all.
A Khloé says reports that the show was going to reality show heaven were greatly exaggerated. Well, actually he says they are totally false.
Tirdad Derakhshani

, Inquirer Sideshow Columnist
The Roots will help celebrate our nation's roots on the Fourth of July as the house band for the Philly 4th of July Jam at Eakins Oval on the Benjamin Franklin Parkway, Mayor Nutter announced on Thursday.
"The Philly 4th of July Jam is the grand finale of our Wawa Welcome America! festival and the largest free concert in the United States," said Nutter. ""This year, it will be nothing short of spectacular."
The show is the brainchild of Welcome America! musical director Ahmir "?uestlove" Thompson, who has invited an array of headliners, including Pottstown native, singer and star of web reality show Live From Daryl's House, Daryl Hall and superstahs Queen Latifah, Common, and Joe Jonas.
Tirdad Derakhshani

, Inquirer Sideshow Columnist
Doylestown-raised American Idol superstar Justin Guarini is taking Atlanta by storm as one of the stars of a stage musical written by Stephen King.
A Stephen King musical? Yep, that's right.
The purveyor of putrefied gore, the master of the macabre has combined forces with John Mellencamp to create Ghost Brothers of Darkland County at Atlanta's Alliance Theatre,
Tirdad Derakhshani

, Inquirer Sideshow Columnist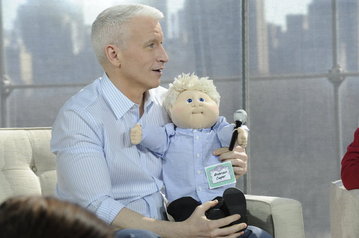 There's always been something so cuddly about Anderson Cooper.
Even when he reports on disasters and hurricanes and other tragedies, the CNN newsman gives off a take-me-home-I'm-a-cute-cuddly-puppy aura.
So it's just as well that the people behind the Cabbage Patch Kids Doll brand (who is behind it all? I'd be terrified to meet them) have created a special Anderson Cooper-Alike Cabbage Patch Kid Doll.
Tirdad Derakhshani

, Inquirer Sideshow Columnist
Talk about a rebel. A nonconformist. A man who marches to the beat of his own drum.
Ted Nugent, who was in hot water last week with the Secret Service for making alleged threats against President Obama's life, has fessed up to doing naughty things of a different nature: Illegally killing a bear on his TV show.
The Anchorage Daily News in Alaska reports that The Motor City Madman has signed a plea deal with prosecutors in which he admits that in May 2009, he shot and injured one bear and later shot and days later shot and killed a second black bear in Tongass National Forest. He later the footage on his Spirit of the Wild TV show.
Why Nugent broke the law
Tirdad Derakhshani

, Inquirer Sideshow Columnist
Matt Groening's naughty animated Fox satire The Simpsons celebrated the 25th anniversary of its network home, Fox, Sunday night with a star-studded episode. The show, however, will most likely be remembered for a naughty anti-Fox News message it delivered with this title card.
As the New York Times reports, this is one in a long line of disses the show has heaped on America's most beloved most "fair and balanced" news network which is owned by the same people who own the animated show …
Tirdad Derakhshani

, Inquirer Sideshow Columnist

In a curious addendum to the Dick Clark story, TMZ reports that the TV icon had undergone prostate surgery the day before he suffered the massive heart attack which killed him April 18 at the age of 82.

The revelation comes thanks to Clark's death certificate, which TMZ has posted on its site.

"According to the report," TMZ says, "doctors performed a transurethral resection of the prostate for benign prostatic hyperplasia on April 17. The procedure is usually performed when the prostate is so enlarged, it makes it extremely difficult to urinate."