Archive: January, 2012
Tirdad Derakhshani, Inquirer Sideshow Columnist
Comic and red carpet gadfly Joan Rivers and her daughter and partner in crime, University of Pennsylvania alum Melissa Rivers, will make a guest appearance on Fox29's Good Day Philadelphia tomorrow (Tuesday, Jan. 31) morning at 9:30 a.m.
The Riverses will chat about tomorrow night's episode of Joan & Melissa: Joan Knows Best? (The show airs 9 p.m. Tuesdays on We tv.
Here's the episode description from We tv:
Tirdad Derakhshani, Inquirer Sideshow Columnist
Fans of this Spring's upcoming comic book movie, Marvel's The Avengers from sci-fi film god Joss Whedon can chat! live! by! Twitter! with writer-director Weadon and cast members Tom Hiddleston (Loki) and Clark Gregg (Agent Phil Coulson) tomorrow (Tuesday, Jan. 31) from 2 to 2:30 p.m. (11 to 11:30 a.m. PST).
You'll also be able to see a 10-second tease of the 30-second Super Bowl spot set to air Feb. 5 on NBC.
To submit a question, include the @Avengers handle or the #Avengers hashtag. You can check out Marvel's The Avengers official Twitter page here: https://twitter.com/avengers
Tirdad Derakhshani, Inquirer Sideshow Columnist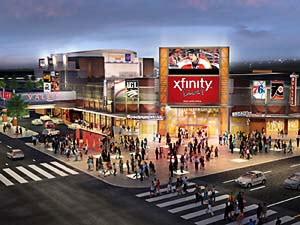 XFINITY Live! Philadelphia, a "dining and entertainment district" located at the site of the fallen Spectrum, will open March 30, virtually a whole week than earlier announced!
Plan to see one or both of Bruce Springsteen's shows March 28 and 29? Then you'll have an exclusive pre-concert preview of the complex. It'll be open at 4 p.m. for all ticketholders.
XFINITY Live! Philadelphia will have its formal grand opening March 30 featuring a show by a yet-to-be-named "national headlining act."
Tirdad Derakhshani, Inquirer Sideshow Columnist
Newly-emancipated bachelor, lady's man and hot tub jockey Ashton Kutcher, was reportedly tripping the light fantastic miles away in Sao Paulo, Brazil, even as his estranged wife, Demi Moore, was being rushed to the hospital with a range of alleged maladies identified variously as exhaustion, epilepsy, anorexia and drug-and-alcohol addiction.
The Two and a Half Men heartthrob caught a Bruno Mars concert, then let it loose on the dance floor with a bevy of superbly hot – professionally-hot – supermodular babes, including Victoria's Secret model Alessandra Ambrosio.
Celebuzz.com says, "finally as he wrapped up a night of partying, the 33-year-old actor was spotted outside with petite brunette, but it doesn't appear that the two left together."
Tirdad Derakhshani, Inquirer Sideshow Columnist
WITH UPDATE: See below!

Has life in this, her apocalyptic post-Ashton Kutcher, era been too hard to bear?
Did her highly-publicized breakup with the boy-wonder leave her totally defenseless and miserable?
Tirdad Derakhshani, Inquirer Sideshow Columnist
Forget the U.S. fighter jets and Predator drones, the most potent weapon against Iran is a dainty lil' plastic thing — Barbie.
The Islamic nation's morality police are yanking the Mattel doll off store shelves as part of its "soft war" against the West's decadent cultural influences.
The doll was officially banned as un-Islamic in 1996, but Barbie, who has had an off-and-on thing with Ken for decades, continues to be sold.
Tirdad Derakhshani, Inquirer Sideshow Columnist
Country star Merle Haggard is being treated for pneumonia in a Macon, Ga., hospital and has been forced to cancel the rest of his January concerts, his rep has announced.
Tresa Redburn says she had a phone chat with the 74-year-old singer Wednesday night in his hospital room. She says Haggard was admitted to hospital Tuesday after canceling a Macon show.
Haggard, who released his latest album, Working In Tennessee, in October, was briefly hospitalized this weekend in Texas after canceling a Fort Worth show Saturday night. His rep did not disclose his illness at the time.
Tirdad Derakhshani, Inquirer Sideshow Columnist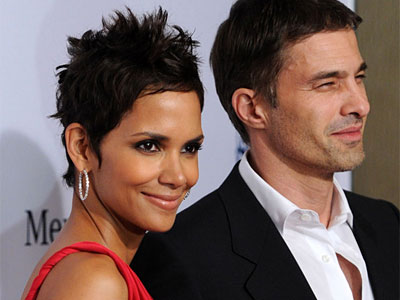 Halle Berry, who last year supplanted French-Canadian male model Gabriel Aubry with real Frenchman Olivier Martinez has decided to marry the Gaul, whose mere gaze causes such collective bosom-heaving and sighing, it registers as a magnitude 7.3 earthquake.
So says People.com, which cites a rep for jewelry designer Gurhan, who says Olivier, 45, gave his hon' a diamond-and-emerald engagement ring.
The couple, who have been together a year, met in late 2010 on the set of scary white shark thriller Dark Tide, where they gave off dangerous sparks.