Tirdad Derakhshani

, Inquirer Sideshow Columnist

A hip-hop hero to many in the region, Beanie Sigel (Dwight Grant) is headed to prison.

The South Philly-born Lansdale resident this afternoon was sentenced to 24-months in prison by U.S. District Court Judge Jan E. Dubois for failing to file federal income tax returns, the U.S. Attorney's office in Philly has announced.

The "All the Above" singer must report to prison on Sept. 12.
Tirdad Derakhshani

, Inquirer Sideshow Columnist
Could it be true?
In a tragic report for gossipmongers around the globe, TMZ says the TomKat divorce – that all-time most awesome breakup circus sideshow of all – is over.
As in settled, done, finished kaput.
Tirdad Derakhshani

, Inquirer Sideshow Columnist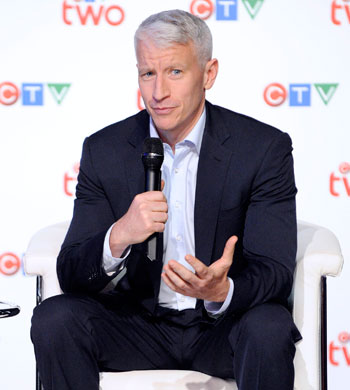 .... so the CNN anchor and talkshow host writes in an open letter posted this morning on Cooper pal Andrew Sullivan's Daily Beast blog, "The Dish."
"The fact is, I'm gay, always have been, always will be, and I couldn't be any more happy, comfortable with myself, and proud," Cooper writes.
Cooper's sexual orientation has been an open secret for years, but he has previously avoided any explicit mention of it in public forums, including his own memoir.
Tirdad Derakhshani

, Inquirer Sideshow Columnist
Amazing Spider-Man star Andrew Garfield and his Spidey-girl Emma (yes! They're a real-life couple!) Stone sexed it up last night at a Worldwide Orphans Foundation event in NYC. The dot.org honored Garfield for his work raising awareness of the plight of orphans across the globe.
Garfield, 28, went on a fact-finding mission to Ethiopia and Haiti with WWO founder, pediatric infectious diseases expert Dr. Jane Aronson.
Aronson last night made Garfield the WWO Sports Ambassador. She said Garfield's work presents "an opportunity to show young people how service can enrich their lives."
Tirdad Derakhshani

, Inquirer Sideshow Columnist
Some fantasies, it seems, can come true:
This weekend you can watch ... wait for it ...
... Nadya "Octomom" Suleman ... wait for it ...
Tirdad Derakhshani

, Inquirer Sideshow Columnist
While the rest of us are counting the days until her royal wedding to Brad Pitt, Angelina Jolie is keeping busy saving the world one refugee at a time.
Jolie, 37, marked World Refugee Day yesterday by making a $100,000 donation to the cause, reports USAToday.com. The Mr. and Mrs. Smith star, who is a Special Envoy for the United Nations High Commissioner for Refugees, backs up the money with a message in two formats: A video and a statement on the UNHCR website.
"UNHCR believes even 1 person forced to flee is too many. And it's true. Every individual refugee matters. Each has their own story. Each has suffered and survived more than I could ever bear. And yet, they rise up to live another day," Jolie writes. "We risk forgetting the individual when we speak in numbers, but the numbers tell an important story. In the past year 4.3 million people have become displaced. … And for the fifth consecutive year the number of forcibly displaced people worldwide exceeded 42 million."
Tirdad Derakhshani

, Inquirer Sideshow Columnist
Justin Bieber fans: How much do you love that 18-year-old torrent of raging talent and hormones and Canadian politesse?
Do you love him so much you'd let him spit on you and love him all the more for it?
That was one of the weighty philosophical issues on the menu at an intimate tête-à-tête between Justin and DJ Elvis Duran, a veteran of the Philly radio scene, on this morning's edition of Elvis Duran and the Morning Show at Z100 (WHTZ) in New York.
Tirdad Derakhshani

, Inquirer Sideshow Columnist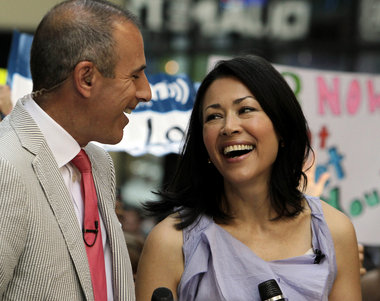 Meredith Vieira fans: I'm afraid the 14-year Today veteran who was replaced last year by Ann Curry won't be back on the daytime show anytime soon.
TMZ says NBC, which the New York Times says is in negotiations to oust Curry, reached out to Vieira with a multi-gazillion-dollar offer. She apparently turned them down.
Curry's departure has been in the works for more than three months: TMZ says her co-hos Matt Lauer dislikes working with her. What's more, she was at the helm this spring when the show lost its decades-long dominance after bitter ABC rival Good Morning America beat it out in the ratings for several weeks.