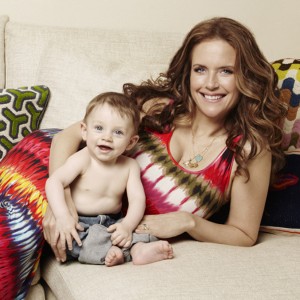 "I love the closeness," says Kelly Preston of the joy and love she feels when breast-feeding her "miracle baby," 16-month-old son, Benjamin Hunter Kaleo, whom she delivered Nov. 23, 2010 at age 48.
The bond forged through breast-feeding will be hard to sever, not just on the child, John Travolta's wife tells People mag.
"When I stop, it's going to be really hard on me. I love nursing so much. … and knowing that I'm giving him the best as far as nutrients and antibodies. And he really loves it, too."
In an epochal, historical event sure to echo down the generations, Angelina Jolie, 36, and Brad Pitt, 48, have announced they are to wed.
We're all choked up. Is this how people felt when Neil Armstrong took those fateful first steps on the moon?
"It's confirmed," Pitt rep Cynthia Pett-Dante tells Reuters. "It is a promise for the future and their kids are very happy. There's no date set at this time."
"Oh boo hoo hoo," you can hear Sean "Diddy" Combs exlaim.
"Someone's eaten my Beluga!
Someone's been drinking my Cristal!
Someone's slept in my crib!"
Someone has. And more than once.
Like all great and true Philadelphian before him, Will Smith, 43, has no intention of letting his marriage be anything but perfect.
You heard right: Will's 13-year marriage to Jada Pinkett is a-okay. It's good. It's better than good, it's solid, happy, copasetic, beautiful, marvelous, stable, exciting, refreshing.
It's a good marriage.
Alec Baldwin fired off a tweetering missive Thursday night saying he'll return to his hit NBC sitcom 30 Rock next season after all.
It directly contradicts what he said a day earlier, which has the media totally confused and flustered – thus reports such as this.
See, it all started Wednesday when a fired-up Baldwin fired off a fiery set of tweets hatin' on NBC because a crew from Today had showed up outside his pad following the arrest of accused Alec's stalker, Genevieve Sabourin right outside his New York apartment.
(See UPDATE below! Eszterhas says he has proof!)
In a scathing letter to Mel Gibson, screenwriter Joe Eszterhas has accused the writer-director of displaying a range of disturbing opinions, including anti-Semitism, his rages against ex-girlfriend Oksana Grigorieva, not to mention an irrational hatred of John Lennon.
Gibson: "I'm going to kill her!"
Eszterhas claims Gibson admitted hitting his ex-girlfriend and threatened on numerous occasions to have her murdered.
The blogosphere went into hyper drive Wednesday after 30 Rock star Alec Baldwin, 54, tweeted he's dumping NBC after having an infuriating run-in with a news crew from the network's Today show. Numerous journos were camped out at Alec's digs following the arrest of accused Alec's stalker, Genevieve Sabourin outside his New York apartment.
Seems Alec felt he was ambushed when he and fiancée Hilaria Thomas stepped out of his digs.
"A story about stalking sure brings out the stalkers in the media," the actor. "But, the Today Show?" Alec seemed disgusted that the show was there ""alongside the other stalkers from the tabloid press" and concerned that "no one from NBC contacted me until the Today Show arrived." He finally concluded, "I think I'm leaving NBC just in time."