Tirdad Derakhshani

, Inquirer Sideshow Columnist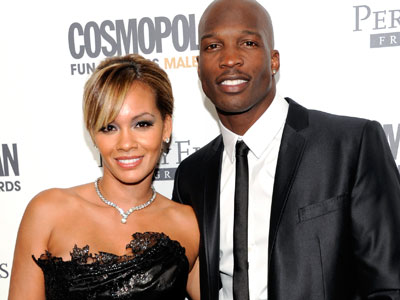 Barely a month after his Independence Day wedding to Evelyn Lozada, NFL player Chad Johnson (the receiver formerly known as Ochocinco) this weekend was:
Accused by his wife of cheating on her.
Allegedly assaulted her during the heated argument.
Was arrested and charged for domestic battery.
Was fired by the Miami Dolphins.
And his reality show was yanked by VH1.
And all that in just two days.
The six-time Pro Bowl player, who shared his romance with Lozada with the world on their VH1 reality show, Ev and Ocho, got into an argument with Lozada after she found a receipt in his car for condoms. According to a report by police in Broward County, Fla., obtained by TMZ, Lozada was so frightened of Johnson's rage, she ran out of her house and sought refuge with a neighbor.
Tirdad Derakhshani

, Inquirer Sideshow Columnist
Madonna's concert Saturday in Paris contained two bits of naughtiness, one of which may get the Bay City, Mich., Native sued.
The Mystical Mom played a video which showed French politico Marine Le Pen, head of the right wing party, the National Front, with a swastika on her face which moments later was replaced by an image of Adolf Hitler and then of Madonna herself with Hitler's mustache.
It doesn't take a semiotics professor to decode the message.
Tirdad Derakhshani

, Inquirer Sideshow Columnist
Ah, the dreams we dream, such dreams we enjoy, so many dreams varied and diverse.
But the greatest of our dreams is to walk the red carpet, arm in arm, shoulder-to-shoulder with Batman!
Can't have reality? There's always the virtual! The video uplink!
Tirdad Derakhshani

, Inquirer Sideshow Columnist
We honor and praise you, Uma Thurman.
The 42-year-old actor yesterday gave birth to her third child at an undisclosed location, Us Weekly reports. The baby girl was brought into being with help from Uma's paramour, EIM Group founder, Arpad Busson. The bairn's name, weight and height have yet to be announced.
Uma and Busson, 49, a multi- gazillionaire "fund of funds" company founder, have had a tumultuous relationship. They got engaged shortly after they began dating in 2007, but broke up in November 2009. Last year, they reconciled, reportedly at her employer Louis Vuitton's spring/summer fashion show in Paris. (What can I say, Vuitton's strapless numbers have that effect on couples.)
Tirdad Derakhshani

, Inquirer Sideshow Columnist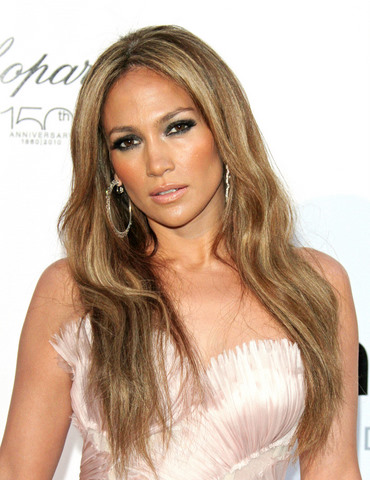 Jennifer Lopez this morning finally addressed recent rumors she plans to duck out from her exalted role as a judge on Fox' American Idol.
Her future on Idol, J.Lo told Natalie Morales on NBC's Today show, has been a subject for great refelction.
"It's been on my mind a lot, as you can imagine," said Lopez. "You know, I signed on to American Idol to do one year, and … I wound up doing the two years. And now it's like, 'OK, do we continue on this journey?' I've loved it so much. I enjoy the show so much. I enjoy just the whole process of the show and the whole thing. So it's a tough decision either way. But I have to say that there are so many other things that I do, and that I put on hold for that. At the end of the day, whichever way, it's a heartbreaking decision if I'm going to have to go."
Visit msnbc.com for breaking news, world news, and news about the economy
Tirdad Derakhshani

, Inquirer Sideshow Columnist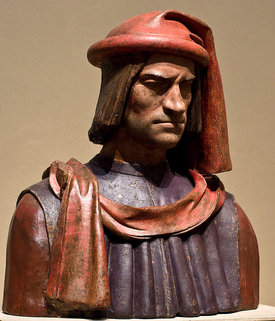 In an announcement that is sure to be discussed for days in the nation's Corridors of Power, Nicole "Snooki" Polizzi has confirm that she's assigned a signifier to signify the Being of her yet-to-be-born baby.
Could it be Snookles? Snookette? MiniSnooke? Snooker?
Try Lorenzo.
Tirdad Derakhshani

, Inquirer Sideshow Columnist
Want to lose? A lot? Want to be the biggest loser of them all?
Here's your chance to shed pounds in front of millions of viewers. (Think of all the scrutiny, the mocking, the nasty tweets, the ad hominem insults you'll generate. Totally magical, right!)
NBC's popular weight-loss competition reality show The Biggest Loser is on a nationwide quest to find photogenic hefty men and women for its 14th season which premieres January 2013.
Tirdad Derakhshani

, Inquirer Sideshow Columnist
Artists, critics and pundits have been coming out of the woodworks over the past week praising pop singer-songwriter Frank Ocean for declaring on his tumblr that he was once in love with a man. (Ocean, however, has never officially come out as a gay man, whatever that means.)
But it seems he has few fans among the suits who run box store chain Target.
The store has decided not to stock Ocean's new album, Channel Orange, which feature songs about Ocean's sexuality.