The New Year is a time for reflection and goal-setting. Unsurprisingly, my list of resolutions (like my Christmas wish list) turned out to be pretty bike-centric. Some of these goals are personal, some are professional, some blur that line. I hope to achieve them all in 2014!
1. First thing's first: Get back on my bike. I recently had a fairly serious bicycle crash in Philadelphia involving trolley tracks. I won't subject you to the gory details, but I am a little nervous about getting back in the saddle at the moment. However, I know that bicycling brings too much joy to my life on an everyday basis for me to stay down long. As soon as this snow melts, I'll be pedaling strong again.
2. Invest in (the right) gear. I can get frustrated with gear-obsessed cyclists who seem more interested in how much they paid for their new pedals than where those pedals have taken them lately. I firmly believe that one does not need the newest, most expensive gear to have a wonderful time riding a bicycle. That being said, I ride my bike often enough that investing in products that make doing so easier and more convenient can sometimes make a lot of sense. Case in point: I recently picked up a rain cape from Cleverhood, and I love it so much that I now actually look forward to riding my bike on rainy days. In 2014, I hope to find the perfect pannier bag for my bicycle: roomy, stylish, and affordable. Recommendations welcome!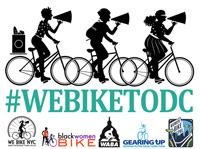 3. #WEBiketoDC. At the end of February, I am going to be part of a very unique and exciting bike tour. Along with 9 other women bicycle activists representing 5 different bicycle organizations, I will be riding my bicycle from New York City to Washington D.C. -- stopping in Philly along the way, of course! Our destination is the National Bike Summit put on by the League of American Bicyclists. The goal of the ride is to push for greater diversity in the bicycle advocacy movement. After all, bicycles are for everyone ... the bike movement should be, too. Consider supporting the tour: there are some great perks for donating.
4. Double my fleet. My beloved green bicycle, Helena, is about to get a sister! (I'll let you all know when I give her a name.) In the next week I'm picking up a brand new Fuji Absolute -- she's matte black, sleek and fast, and definitely more capable of getting me from NYC to DC in 4 days than dear old Helena. I will still ride my trusty Trek around the city for commuting purposes, but my new bike will let me ride farther and faster for recreational purposes when I feel like it. Now I just need to figure out how to fit two bikes in my tiny little house...
5. Grow Women Bike PHL. I'm proud of the program I founded at the Bicycle Coalition of Greater Philadelphia in 2013. Women Bike PHL has hosted over 30 rides, classes, and events, brought together 450+ local bicyclists in an online forum, built community partnerships throughout the city, and even got a story in the Philadelphia Inquirer. I am excited to build on our successes in 2014 and get more Philadelphia women riding bicycles.
6. Spread the word about Gearing Up. In addition to running Women Bike PHL, I am honored to be working for Gearing Up, a local nonprofit that provides women in transition from abuse, addiction and/or incarceration with the skills, equipment, and guidance to safely ride a bicycle for exercise, transportation and personal growth. Gearing Up's mission is innovative and inspiring, and I am passionate about making sure more Philadelphians hear about it! If you're interested in supporting Gearing Up (and getting some great exercise while you're at it), check out our upcoming spin and yoga fundraiser at the end of the month.
7. Welcome a safe, accessible, and affordable bike share system to Philadelphia. The biggest news for the Philadelphia bike scene in 2014 will undoubtedly be the launch of a bike share system this fall. For a primer on bike share, check out my recent Philly Pedals article on the topic. To keep abreast on new bike share announcements as they are released by the city, keep an eye on www.phila.gov/bikeshare.
8. Visit Amsterdam, the bicycle mecca. I had plans to visit Amsterdam for the first few weeks of 2014, but unfortunately had to cancel them due to my bike accident. I hope to make it over there later this year, though. As far as I can tell, no city beats out Amsterdam for bicycle-friendliness (although some come close). This amazing video from Streetfilms is a good intro if you're unfamiliar. Knowing that there are places where biking is a completely normal way for most of the population to get around inspires me to push Philadelphia closer to that goal.
9. Keep having fun … because that's what it's all about. Biking is affordable, healthy, environmentally friendly, and efficient, but most importantly it makes me -- and lots of other people -- deeply happy. I plan on continuing to enjoy the ride in 2014. Join me!
Do you have bike-related goals for 2014? Whether it's getting back on a bike for the first time since you were a kid, riding to a new place, getting a friend riding, learning a new bike maintenance skill, or setting a new personal mileage record -- I'd love to hear it! Share them in the comments.