Archive: June, 2009
This year, in addition to introducing this year's winners, we also plan to check back with singles featured in previous roundups to see what they've been up to. Meanwhile, here're some photos of last year's winners.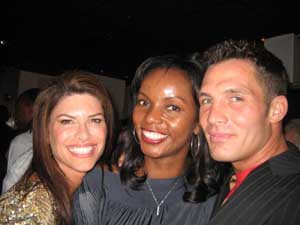 People have been asking about this year's Sexy Single party. Mark your calendars. The tentative date is Sept. 10.
We decided to wait to host the party until after Labor Day to make sure folks are back from their summer vacations. Stay tuned because more details to come. It'll generally be like last year and by that I mean it will take place in a Center City nightclub on a Thursday night. The singles and their guests will be treated to a VIP reception followed by a party open to the general public.
After three days of makeup adjustments, wardrobe disasters and ego inflation we packed up our cameras and rolled out our clothing racks and went home.
It was a wild three days. I felt like my role was a weird cross between motivational speaker ("You look just lovely in that leopard print bikini.") and camp counselor ("Ok singles, now we're going to migrate on over to the pool for the bathing suit shots. Stick together!")
We have two celebrity sexy singles who couldn't join us in A.C. so we're photographing them this week. Otherwise we're finito. You wouldn't think organizing a photo shoot for 30 sexy singles would be so exhausting, but I had trouble staying awake on the car ride home.
At 7 a.m. I reluctantly rolled out of my plush, king sized bed to greet a new day and 13 more sexy singles for the Daily News sexy single photo shoot in Atlantic City. This time the singles were even more diverse--film producers, actresses, radio show hosts and local politicians among them.

We had the singles tell us if their love life were a reailty TV how, what it would be called. Some of the best responses...

"Fast Cars, unruly dates and bright lights"
"Do you have protection?"
"That show would be cancelled by now…"
"Survivor"

Clearly, it's not easy to be single, no matter how sexy.
Only one wardrobe fiasco today, which a trip to the Calvin Klein outlet store quickly remedied.
We're getting some great shots around the Taj Mahal and a few additional at The Chelsea--a hip, gorgeous 70's themed hotel. Think metalic couches, mirror walls and deep purple pool tables. My favorite shot of the day was of a young pianist/songwriter dressed in greys and sitting at a white baby grand. Favorite outfit? The dresses are cute but you can't get sexier than a leopard print bikini one female film producer wore.
Mmm, breathe in the saltwater…and the hairspray. Today kicks off the sixth Sexy Single photo shoot where ten out of a total 30 singles primped, prepped and posed for a photo spread appearing in the Daily News later this summer.

I walked into the Trump Taj Mahal today for the shoot and was immediately greeted by color changing chandeliers, elaborate fountains and the slow shuffle of Tuesday afternoon casino goers.

The shoot, which runs through Thursday, is based at the casino which spans such a large chunk of the boardwalk, I burned off lunch walking back to the parking garage.

Now, as an editorial intern, when it comes to photo shoots, I'm a newbie. (Newbie being a euphemism for clueless). But I'm pretty sure day one came and went with surprising ease. No major wardrobe disasters. No model meltdowns…yet.

A brigade of hair stylists, make up artists, fashion consultants and photographers crowded inside our small room charged with the task of making the sexy even sexier.

I'm not allowed to give you the names of the 30 singles who were chosen by the editorial staff last week. (You'll have to wait until they're revealed in the Daily News) But I can say there's quite a range. From Maxim model mom to TV reporter, radio personality to state trooper.

And they are hot. I was skeptical at first—nobody looks like their mail-in picture, afterall. But some of these people look even better then the photos they sent us. We're talking uncontrollable-gawking-provoked attractive.

Today's ten went from hair to makeup to wardrobe to an individual video interview and then finally to their photo location.

The senior citizens here to gamble don't know what's going on. I overheard one explaining to her friend that we were shooting that "Country's Best Model show."

The lesson for today was that beauty can come at a painful price. One single had to freeze her bikini-clad butt off on the 50-degree, overcast Atlantic City beach.

Another came in despite a badly bruised upper lip. (Apparently lip collagen and five hours of football don't mix well.)

But everyone made it out alive and seems ready to move (fashion) forward tomorrow.
-Julia Terruso