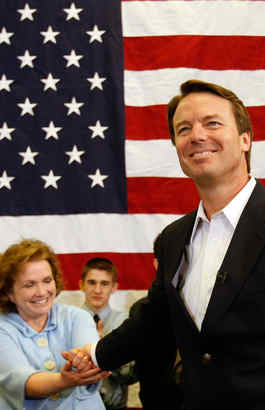 I really hope this isn't true but I just read that the National Enquirer is reporting that disgraced former presidential candidate John Edwards has proposed to the mother of his 2-year-old. I'm usually loathe to quote the Enquirer, but the paper has been way out ahead of other news outlets on this story. Now, it's reporting that the newly widowed Edwards is purchasing a $3.5 million home on the beach for Hunter and him. There's no word yet on whether Edwards will make good on the promise he reportedly made to Hunter that the Dave Matthews Band will perform on a New York City rooftop at their wedding after Elizabeth's death. Elizabeth died exactly one month ago tomorrow.

The search is over. The 2010 Sexy Singles have been selected. We are on day three of its annual photo shoot, capturing gorgeous images of the sexiest singles in Philadelphia.
Want to see who made the cut? Well, you'll have to wait until the end of July when we'll be unveiling the photos and contact info of the area's most fabulous bachelors and bachelorettes.
The Daily News' Annual Sexy Singles Winners Celebration will be held Thursday, Sept. 10, at the Waterworks Restaurant and Lounge behind the Philadelphia Museum of Art. The event begins with a VIP reception for Sexy Singles, their guests and sponsors from 7 p.m. until 9 p.m. There'll be an open bar and appetizers. The general public will be admitted after 9 p.m. All are welcome. Come and meet the Sexiest Singles in Philadelphia!
.I just learned that the Daily News' annual party honoring the Sexiest Singles in Philadelphia has been postponed because of reasons beyond our control. JL Sullivan's, which was to host the event on Sept. 10, is being revamped and won't be ready in time. We apologize profusely. Please stay tuned for further details.
.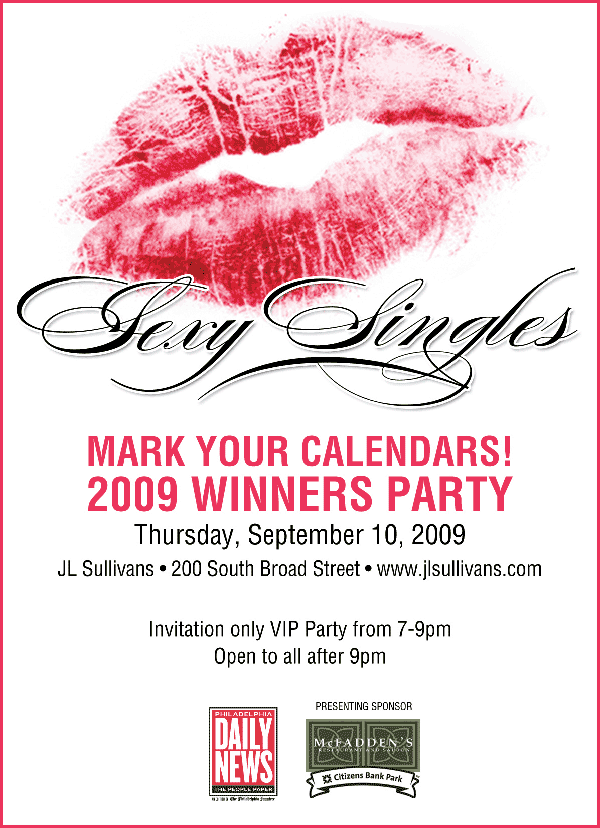 Sexy single tee-shirts are now available for purchase at philly.com/store. The cute fitted women's tees come in white and pink. All shirts cost $21.99 with no shipping fee.
Did you miss your chance to mingle with the Daily News Sexy Singles? Then, check out these photos from Thursday night's Sexy Single Mingle at McFadden's at Citizen's Bank Ballpark. Bachelors and bachelorettes who were featured in last year's layout as well some new faces served as celebrity bartenders. Needless to say, a good time was had by all. To find out which lucky Philadelphians made the cut this year, make sure to log on to Philly.com or else buy the Daily News during the last week of July. Photos of the featured singles will appear in the paper beginning July 27 and continuing through July 30. Also, mark your calendars: The Sexy Singles Winners Celebration takes place Sept. 10 at J.L. Sullivan's at Broad and Walnut.
Five weeks ago we brought 36 sexy singles down to Atlantic City to be beautified and photographed. Here are some behind the scenes photos from the shoot. Look for the pictures in the Daily News the last week in July and come out to the Sexy Single Mingle tomorrow night--Thursday, July 16th at McFadden's at Citizen's Bank Park 5:30-8:30p.m.