Archive: September, 2012
Kristen Graham
Philadelphia School District chief academic officer Penny Nixon is taking an educational sabbatical effective Nov. 1.
The sabbatical was announced to principals in an email from Nixon and to other staffers in an email from William R. Hite Jr., the new superintendent.
Nixon, who has overseen academics during an incredibly tough and tumultuous time in the district, will finish her doctoral studies at the University of Pennsylvania's Graduate School of Education.
Kristen A. Graham
Inquirer schools reporter Kristen Graham chats online about Philadelphia public schools on Monday, Oct. 1. The chat starts at noon. On a mobile device? Click here to join the chat.
Kristen Graham
I'll be live tweeting the September SRC meeting, scheduled to start at 5:30 today. Follow along.
On a mobile device? Click here to follow along.
Kristen Graham
Follow along here as I live tweet this evening's School Reform Commission meeting. (Follow me on Twitter, too!) The meeting is scheduled to begin at 6 p.m.

On a mobile device? Click here to follow along.
Kristen Graham
Powel Elementary, a tiny public K-4 school in West Philadelphia, has long been regarded as an oasis in the neighborhood - a safe, strong school where kids achieve. But parents often worry - with a dearth of good post-Powel options, what happens after children finish fourth grade?
They got a boost on Monday when the Philadelphia School Partnership awarded Powel a grant to plan to add a fifth grade, expand its enrollment, and plan for a brand-new middle school modeled after Science Leadership Academy, one of the city's top schools. Drexel University will partner with Powel and SLA to help plan the new school, which would likely be located on the same campus as Powel, perhaps in the nearby former Drew School, which closed in June.
The goal is to serve an additional 500 students in West Philadelphia.
Kristen Graham
UPDATE, 2 p.m.
Across Pennsylvania, scores fell statewide for the first time since the PSSA was first administered, in 2002. Read the full story here.
UPDATE, noon.

Kristen Graham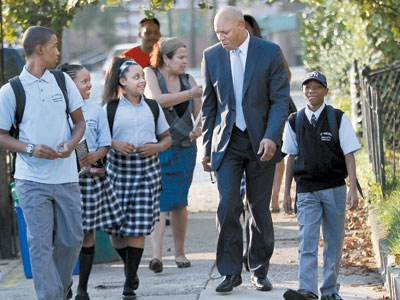 For William R. Hite Jr., the clock started ticking today.

It was the new Philadelphia schools chief's first day on the job full time, the first day of factfinding for a plan he said he will release on Jan. 2.

Hite said he will spend the next 90 days crisscrossing the city, visiting classrooms and churches, talking to students and parents and community members — anyone with a stake in the Philadelphia School District.