Archive: May, 2012
Kristen Graham
Update, 7:15 p.m.

The $2.5 billion 2012-13 Philadelphia School District budget passed unanimously, with SRC members making it clear that they were voting only on the spending plan, but not on any transformation plan. "Shame on you!" shouts went up as commissioners voted.
Update, 6 p.m.
Kristen Graham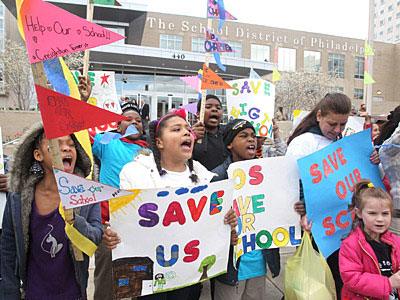 Teachers at Creighton Elementary School got e-mails today informing them they were being force transferred at the end of the school year. Panicked educators wondered: does that mean the school's fate has been sealed?
Creighton, in the Northeast, was one of four Philadelphia School District schools slated to be turned into a charter in September. But community protests - and the Creighton school advisory council's pick of a teacher-led turnaround over any charter option - caused the School Reform Commission to hold off on making a decision on Creighton.
Spokesman Fernando Gallard said Thursday night that no decision had been made on Creighton, and that the letters appear to have gone out in error.
Kristen Graham
Updated at 2:20 p.m.
Several thousand blue collar union members marched through Center City today, snarling traffic in a midday protest against planned cuts and layoffs by the Philadelphia School District.
After marching from the Municipal Services Building across from City Hall to the School District headquarters on North Broad Street, scores of the protesters retraced their steps and sat down at Broad and Race Streets.
Kristen Graham
Tonight's SRC meeting is scheduled to begin at 5:30. It's a fairly light agenda, all things considered, though 35 speakers have signed up to address the commission on topics ranging from the proposed district reorganization plan to school nurse layoffs. Follow along with me as I livetweet the meeting.
For some background on where the district is right now, here's my story from today's paper detailing some back-and-forth between district officials and City Council members.
Kristen A. Graham
City Council has more questions for the Philadelphia School District. Kristen Graham tweets as it happens, beginning at 1 p.m.
Follow along here! If you're on a mobile device, click here to follow along.
Kristen A. Graham
Kristen Graham live tweets today's City Council hearing on the Philadelphia School District's proposed budget, which includes a $94 million funding increase request. It's likely to be a point of contention since it depends on council approving a controversial actual value initiative that would mean higher city property taxes. On a mobile device? Click here to follow the coverage. In a recent story, school officials said that without the extra money, schools may not open in the fall. Daily News Opinion writers are asking these questions.
Kristen Graham
The Philadelphia School District is set to have its first public hearing on the 2012-13 budget tonight, and I'll be livetweeting.
A few bullet points:
-The overall spending plan is $2.5 billion. It contains a $218 million budget gap that will have to be made up through borrowing. The district already spends 10 cents of every dollar on debt service.