Archive: April, 2012
Kristen Graham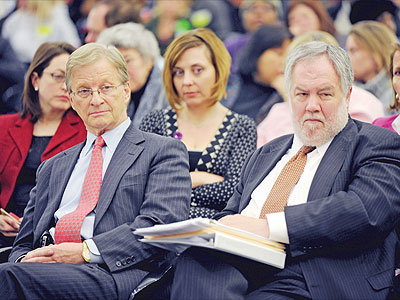 School Reform Commission Chairman Pedro Ramos was blunt in a Tuesday news conference (which I live Tweeted here) announcing that the Philadelphia School District's current structure will essentially be blown up.
"What we know through a lot of history and evidence and practice is that the current system doesn't work," Ramos said.
The future, Ramos and Chief Recovery Officer Thomas Knudsen said, will include decentralization, performance-based "achievement networks" of schools that operate on contracts, and, beginning in 2013, 40 fewer school buildings for the district to run. After closing those schools, the district plans on shutting six more schools per year through 2017. (It does not plan on teacher layoffs, Knudsen said, but it's not clear how it's possible to close 40 buildings and not lay off any teachers.)

Kristen Graham
As I reported in today's paper, the Philadelphia School District is poised to undergo a massive restructuring - a complete change in the way schools are organized and run.
Its leaders are planning to close 40 schools next year and an additional 24 more by 2017.

The district faces a $218 million shortfall for fiscal 2013, more than initially announced, and that number could rise.
Kristen Graham
I keep a picture of Tamika McNeill at my desk. It keeps me focused.
Tamika was 12 when classmates from Cleveland Elementary School in North Philadelphia grabbed her, forced their hands inside her shirt and tried to fondle her breasts. They threatened to attack her if she told the truth. School officials didn't report the incident for months. Tamika thought about killing herself.

I remember sitting in her living room, listening to Tamika struggle to articulate the terrible things that had been done to her, things that no child should have to endure, especially at school.

Kristen Graham
Hello! With so much up in the air for the Philadelphia School District, every School Reform Commission meeting is a big one. Tonight's meeting, scheduled to begin at 5:30, is no different.
The two biggest items on the agenda are Renaissance school approvals and charter closures.
Renaissance schools: the SRC will vote on whether to give four struggling district-run schools to charter organizations. The four - Creighton, Cleveland, H.R. Edmunds and Jones - will likely be matched with Universal, Mastery, String Theory and American Paradigm, respectively, if the SRC adopts recommendations made by its staff.
Kristen Graham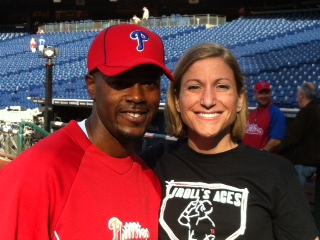 For months, third grade teacher Hillary Linardopoulos has been on a mission to get Jimmy Rollins to visit her class at Julia deBurgos School in Kensington. She waged a creative, exhaustive Twitter campaign — several Tweets a day, sometimes — to get the star shortstop into her classroom.
Linardopoulos (@MrsL132) is a major Phils fan and had already used her powers of persuasion to get Mayor Michael Nutter to visit to her class. But she wasn't going to stop there — "I want other people to know what I know, how awesome they are," she said.

Why JRoll?
Liz Gormisky and Kristen Graham
Hope you're all enjoying spring break.
Here's some non-district, University of Pennsylvania news from my colleague Liz Gormisky:
Penn students bemoaned the loss of beloved salad shop Sweetgreen and questioned the free student newspaper's choice to start charging for online content today. But it was the lead story that really stirred up campus — the university decided to replace commencement speaker Geoffrey Canada.
Kristen Graham
I met Tazhe Cooper in 2009, when he was the Philadelphia School District's Senior of the Year, about to graduate from Furness High. He was awarded one of the district's "Grow Your Own" scholarships, given to graduating seniors who plan to pursue education careers, who pledged to make a three-year commitment to Philadelphia schools once they qualified as teachers. He had been interested in a career in education since he was a young; it seemed like a great fit.
Tazhe e-mailed me recently to say that he's been watching the district closely, and he's changed his mind about wanting to work there. "It saddens my heart that I don't want to teach in Philadelphia," he said. He elaborated in a phone conversation. He's been really rattled by the district's money problems – it has already cut more than $600 million from its 2011-12 budget, and still must slash $26 million by June. On top of that, it's facing a $186 million shortfall for next school year. Hundreds of teachers were laid off last year, though many were ultimately called back.
"I often hear student teachers saying, 'Philly is a mess. We don't want to go there. We don't want our jobs on the line every year," said Tazhe. "I don't want to give up on the district, but I'm thinking about another city. Maybe Chicago." I reminded Tazhe that urban public schools around the country are in tough spots. Still, he said, he's lost faith in his hometown system. "Everything's falling apart – bigger class sizes? Cutting nurses? When I left, it was in OK shape, but then, everything fell apart with the money, and now they're closing schools. It's really scary," he said.